25 Super Bowl Recipes That Will Score Major Points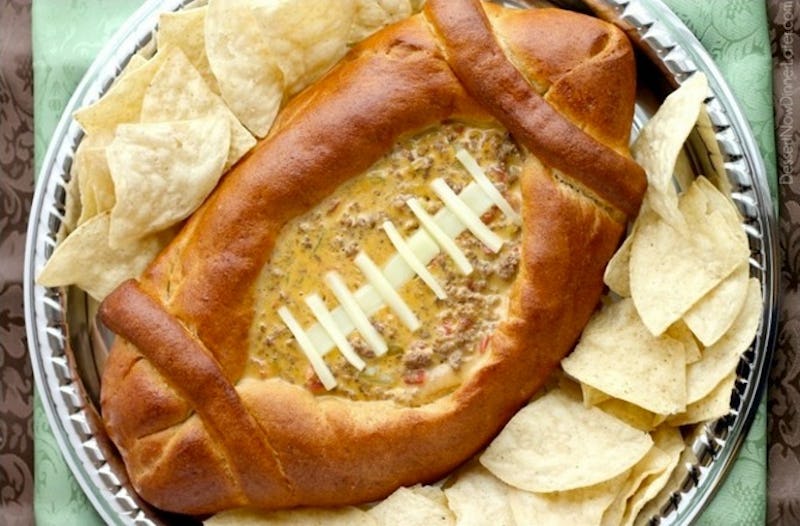 No matter your level of fandom, everyone knows that Super Bowl Sunday requires a bounty of game day snacks. Whether you're hosting your own game viewing party or just want an excuse to cook up some delicious apps, here are 25 Super Bowl recipes that are sure to score some points.
This recipe lineup takes fan favorites up a notch with unexpected ingredients and fun synergistic twists. Jalapeño poppers get loaded to the brim with buffalo chicken and potato chip crumbs. Deviled eggs get even more sinful by way of bacon grease. Juicy sliders are served up with fried pickles and pretzel buns. Whatever your cravings, these creative mashups take on football-watching favorites like potato skins, hot wings, and chili cheese dogs. Game day classics get next-level crave-worthy for an abundant buffet worthy of Super Bowl Sunday. The genre-busting refreshments will make your food spread the star of the halftime show (and might serve as a welcome distraction to any guest rooting for the losing team). From bite-sized starters that are finger-licking good, to mouthwatering mains sure to tide you over through the game, to delectable desserts to finish everything off, these recipes aim to please from kick-off to the final second on the clock.
The Bites
1. Devils On Horseback
Before kickoff, have guests nibble on these morsels of Medjool dates, poached pear, and bacon. As recipe creator The Crepes Of Wrath instructs, "Serve warm and watch them disappear."
2. Loaded Sweet Potato Skins
Loaded potato skins are a must on game day, so have some fun with ones of the sweet potato variety by How Sweet It Is, coated with a brush of olive oil and a sprinkling of sea salt.
3. Buffalo Chicken Jalapeno Poppers
These spicy jalapeño poppers from Half Baked Harvest hit the spot in a big way. Loaded with shredded chicken breast, bacon, sharp cheddar cheese, blue cheese, buffalo sauce, corn flake and potato chip crumbs, your guests are sure to have all their game day cravings satiated.
4. Baked Honey Sriracha Wings
Take this Super Bowl staple up a notch with this recipe twist by Damn Delicious. These wings combine sweet and spicy by way of honey and Sriracha, complete with charred smokiness when "baked to absolute crisp perfection."
5. Potstickers
Achieve "the best potsticker dumplings" for your buffet spread with this traditional recipe from Steamy Kitchen.
6. Chicken Teriyaki Skewers
Cooking at home doesn't mean you have to forgo the appeal of takeout. Serve up these bamboo skewers of chicken teriyaki with this easy recipe by Baked By Rachel.
7. Bacon Blue Deviled Eggs
These bite-sized delights from How Sweet It Is are an upgrade to your usual deviled eggs. The yolks are whipped into a mousse with roasted garlic, a touch of mayo, yogurt, mustard, and a liberal serving of bacon grease.
8. Crispy Baked Fish Sticks With Tartar Sauce
Bring some comfort to any guests rooting for the losing team with this childhood favorite from The Comfort Of Cooking that will "hit the spot for little (and big) kids."
9. Guacamole Shrimp Wonton Cups
This epic appetizer by Damn Delicious finds synergy in the unexpected combination of wonton wrappers, cajun seasoning, grilled shrimp, and guacamole.
The Dips And Spreads
10. Super Bowl Dip Bowl
There's no reason your dip bowl situation can't be completely on-theme with this creative concoction by Dessert Now And Later.
11. Mango Salsa
Serve up some salsa with sweet and spicy flair from Cookie And Kate that's perfect with chips, or all on its own.
12. Zesty Guacamole
Recipe creator A Spicy Perspective says that when it comes to guacamole, they're "suddenly at the mercy of a bowl of green obsession and bag of chips." For all your game day guests overcome by the same thing, serve up some grade-A guac to satisfy their cravings.
13. Crab Dip
Top off this Parmesan and Monterey Jack crab dip from Brown Eyed Baker with some Old Bay seasoning and hot sauce for a party-perfect snack.
14. Pepperoni Pizza Football Cheese Ball
If there's a cheese ball on the agenda, make sure it's Super Bowl-sized and shaped like a pepperoni-covered pigskin with this oversized innovation from Mom On Time Out.
The Mains
15. Chipotle Beer Shrimp Quesadilla
Beer will be aplenty on Super Bowl Sunday, and for that reason it's only appropriate that it also makes it onto your plate. This fresh number from How Sweet It Is calls for marinating shrimp in lime juice, adobe sauce, peppers, and beer, for the ultimate south-of-the-border snack.
16. Chili Cheese Dogs
Feel like you're up in the stands with these requisite chili cheese dogs from Joy The Baker.
17. Tequila Lime Fish Tacos
Tilapia and tequila come together for a delicious good time with these zesty fish tacos by Love And Lemons.
18. Cheesy Pickle Pretzel Sliders
No game day spread is complete without sliders and these juicy patties from My Name Is Yeh, served on a pretzel bun and complete with a cheese-fried pickle, really deliver.
19. Loaded Cheddar And Blue Cheese Buffalo Chicken Dogs
For an alternative to the classic chili dog, try these buffalo chicken dogs by Half Baked Harvest that combine two game day go-tos for a funky twist.
20. Mini Deep Dish Pizzas
Give your guests some deep dish deliciousness with these two-bite personal pizzas from Damn Delicious.
21. Mini BBQ Pork Sliders
Another slider idea that's decidedly more sloppy, these BBQ pulled pork burgers by Table For Two are deceptively small and super saucy.
22. Easy Beer Mac And Cheese
Mac and cheese is another must for your Super Bowl spread, and this beer-infused option by How Sweet It Is packs an extra punch.
The Desserts
23. Spicy Caramel Bacon Popcorn
Nothing beats popcorn when in front of the big screen, so for the Super Bowl take the snack to new heights with this spicy caramel and bacon loaded version by A Cozy Kitchen.
24. Adult Root Beer Floats
Root beer ale is all you need to make this childhood favorite take the edge off. Recipe creator My Baking Addiction suggests topping off the adult beverage with whipped cream and chocolate syrup.
25. Chocolate-Covered Strawberries
Last but not least, add one last shot at game day spirit with these football-themed chocolate-covered strawberries by Domestic Fits.
For more ideas, check out Bustle on YouTube.
Images: Domestic Fits, The Crepes Of Wrath, How Sweet It Is (4), Half Baked Harvest (2), Damn Delicious (3), Steamy Kitchen, Baked By Rachel, The Comfort Of Cooking, Dessert Now And Later, Cookie And Kate, A Spicy Perspective, Brown Eyed Baker, Mom On Time Out, Joy The Baker, Love And Lemons, My Name Is Yeh, Table For Two, A Cozy Kitchen, My Baking Addiction