18 Valentine's Day Desserts To Enjoy This Year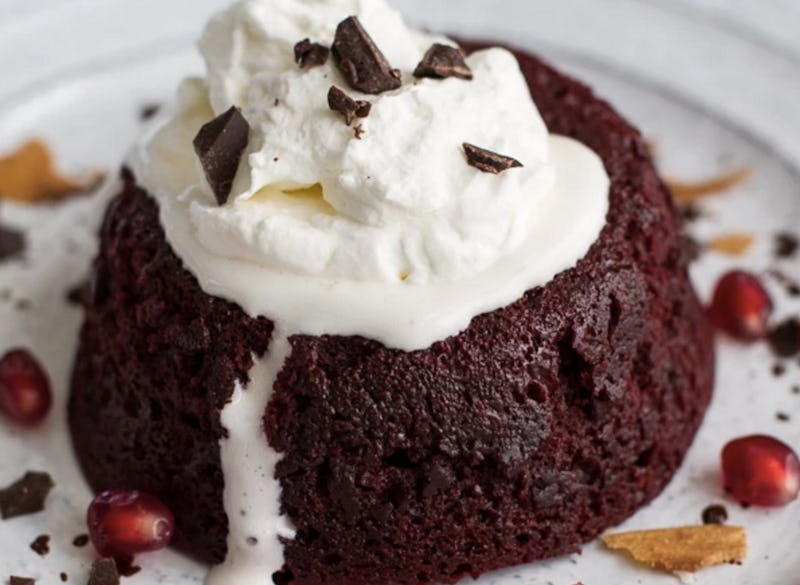 While some people see Valentine's Day as a holiday that is ultimately all about spreading and showing love to the important people in your life, others are perfectly content appreciating the holiday for one reason: the food. And while Valentine's Day is the perfect opportunity to stock up on plenty of chocolate, it's also an excuse to try out some fancy Valentine's Day dessert recipes. Who doesn't love an extra reason to eat sweets?
Chocolate may be the dessert that's most regarded on Valentine's Day, but it isn't the only option. Mimic an Edible Arrangement with fresh fruit desserts for a fresh take. And if you do opt for a chocolate dessert recipe, go big. If there's ever been a time to finally attempt making a chocolate lava cake, it's now. All sorts of brownies and cookies are also fitting for the holiday — it's not all chocolate-covered strawberries, after all. Pour some champagne and try making as many desserts as possible to practice some serious self-love this V-Day.
Whether you're a cheesecake fanatic or a traditional chocolate lover, there are unlimited tasty recipes to try out. These 18 dessert recipes will guarantee a delicious holiday, even if you're a Valentine's Day pessimist.
1. Pavlova Rose Water Whipped Cream
This lighter-than-air dessert by A Beautiful Mess is guaranteed to impress your date, if you're looking to seriously wow this Valentine's Day.
2. Red Velvet Chocolate Brownie Swirl Bars
Red velvet is pretty much a no-fair V-Day option. But when it's swirled in with brownies, it's all the better. Thanks, Averie Cooks!
3. Chocolate-Dipped Rice Krispies Treats
Rice Krispies treats look totally grown-up when they're dipped in irresistible chocolate. Mel's Kitchen Cafe's dessert is a tasty treat for everyone.
4. Chocolate Pomegranate Petit Fours
A Spicy Perspective's petit fours are almost too cute to eat — but a filling of chocolate cake, pomegranate spread, and chocolate cream has me drooling.
5. Mini Espresso Bundt Cakes
An espresso chocolate cake screams "fancy." Naturally Ella knows how to make Valentine's Day even more refined.
6. Strawberry Fudge Magic Bars
Made with strawberry cake mix, marshmallows, Oreos, and plenty of chocolate, Inside BruCrew Life's fudge bars may be the most magical dessert of all.
7. Raspberry Goat Cheese Brownies
If strawberry's not your taste, then a mix of goat cheese and raspberries makes a slightly tart topping that pairs incredibly well with The Kitchn's dark chocolate brownies.
8. Strawberry Banana Cupcakes
There's nothing like a good cupcake — and The Crepes of Wrath's strawberry-banana recipe is as cute as it is tasty.
9. Red Velvet Molten Lava Cakes
Half Baked Harvest's red velvet chocolate lava cakes are the perfect size for sharing. Decorate with pomegranate seeds for a pretty look.
10. Berries And Chocolate Bowls
For a simple-yet-sweet dessert, make A Beautiful Mess' chocolate bowls ahead of time. Once they're piled high with berries and cream, they'll be seriously delectable.
11. Red Velvet Chocolate Chip Cookies
If you're a devotee to chocolate chip cookies, try out Averie Cooks' red velvet twist on the classic recipe.
12. Heart-Shaped Cream Puffs
What's better than a cream puff? A big heart-shaped cream puff! Mel's Kitchen Cafe works wonders with dough.
13. Valentine Chocolate Bark
Whether you want to make a homemade gift or make some nibbles for yourself, A Spicy Perspective's cherry chocolate bark is a sweet way to satisfy that chocolate craving.
14. Strawberry Mousse Brownie Cake
Fresh strawberries and cream cheese make the most incredible layer in Inside BruCrewLife's brownie cake.
15. French Silk Pie
The Kitchn's classic French silk pie tastes light yet decadent — so you don't have to feel bogged down after a little indulging.
16. Mini Peanut Butter Chocolate Kisses
Incorporate some V-Day candy into your dessert with Half Baked Harvest's simple peanut butter bites.
17. Cherry Chocolate Cake
This vegan cake by Cookie and Kate is healthy while also tasting super indulgent. A cup of coffee gives it a subtle mocha flavor.
18. Tart Cherry Cheesecake Parfaits
A hint of coconut makes Love and Lemons' cheesecake parfait slightly tropical while tart cherries perfectly complement the creamy component.
For more ideas, check out Bustle on YouTube.
Images: A Beautiful Mess (2); Averie Cooks (2); Mel's Kitchen Cafe (2); A Spicy Perspective (2); Naturally Ella; Inside BruCrew Life (2); The Kitchn (2); The Crepes of Wrath; Half Baked Harvest (2); Cookie and Kate; Love and Lemons