15 Chocolate Recipes For Valentine's Day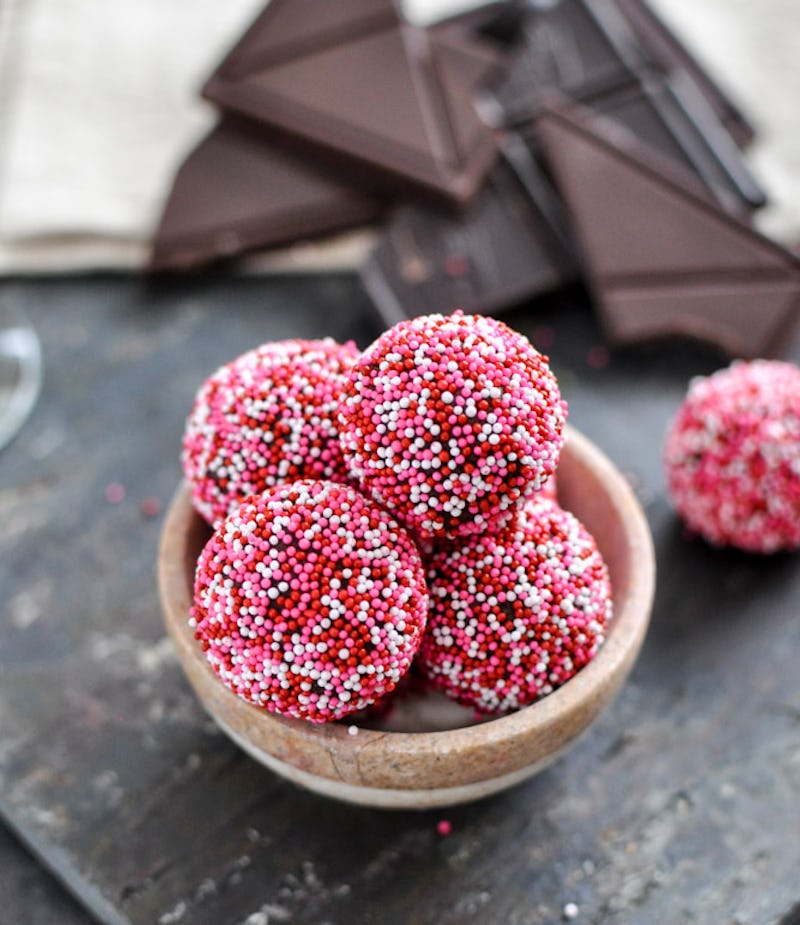 Whether you are single, casually dating, or in a serious relationship, it's important to spend Valentine's Day with your one true love — chocolate. Before you head out to the store for the biggest heart-shaped box you can find, check out these chocolate Valentine's Day recipes instead.
Whenever I'm feeling sad, happy, and anything in between, do you know what I turn to? Chocolate. I'm not ashamed to admit it. Chocolate is one of the most reliable friends a person can have. It brings a level of satisfaction that makes my heart go all aflutter. And with so much variety, you can eat it however you want, whenever you want — Valentine's Day or otherwise.
Things can get a little stressful around Valentine's Day. You know who wants to help you? I will tell you — chocolate. Get yourself dressed, hit the store for some serious ingredients, come home to your PJs, and put on some chick flicks. Then whip up any of these delicious Valentine's Day recipes. Dudes, you can do the exact same thing. In fact, I encourage it. Whoever you are, just follow my chocolatey lead — because that's how you do Valentine's Day like the boss you are.
1. Valentine Chocolate Bark
Having a pile of this chocolate bark from A Spicy Perspective hidden in my end table is my ultimate dream. There's nothing like a little midnight sweet treat to make life feel a little sweeter.
2. Fudgy Brownie Heart with Fresh Raspberry Buttercream
If you want to be wrapped up in a giant chocolate hug with a raspberry on top, look no further than this recipe from A Farmgirl's Dabbles. These hearts are full of fudge, chocolate, and are way more perfect than a Valentine's Day date.
3. Valentine's Molten Chocolate Cakes
You know those molten cakes you get at fancy restaurants? This is your homemade fix from Love & Lemons that'll have you melting into a heavenly chocolate coma.
4. Cabernet Chocolate Truffles
You want to step it up a little with your chocolate indulgence this Valentine's Day? How Sweet It Is has the answer with these cabernet-infused chocolate truffles. My mouth is already watering…
5. Chocolate Cupcakes with Red Velvet Frosting
There's a soft spot in my heart for a moist chocolate cupcake, and this red velvet frosting from A Spicy Perspective puts it way over the top. Can't. Even. Handle.
6. Chocolate-Covered Strawberries
I firmly believe that the classics are classics for a reason. These chocolate-covered strawberries from The Comfort of Cooking embody exactly that. There's nothing more romantic than curling up with a plateful of these, even if you don't have a special someone to share them with (more for you).
7. Chocolate Cherry Valentine's Day Bark
Want something to go along with that mega Valentine's Day movie marathon you have planned? Chocolate cherry bark from Confessions of a Cookbook Queen is great on its own, but just imagine how mind-blowing it would be when paired with some salty popcorn.
8. Rustic Chocolate Raspberry Almond Valentine Cake
Sometimes the need for chocolate is so great, you can't think of anything but a big slice of chocolate cake in front of you. When that craving strikes on Valentine's Day, turn to this ridiculous layered cake from Parsley Sage Sweet. You'll thank me later.
9. Mini Chocolate Valentine Cheesecakes
This one goes out to all my chocolate-lovin' cheesecake fanatics. These mini chocolate cheesecakes from Gluten Free on a Shoestring are the perfect individual size.
10. Red Velvet Chocolate-Swirled Brownie Bars
Chocolate, red velvet, brownie… This combo from Averie Cooks is almost too much to bear. I'm literally restraining myself from running to the kitchen to make them immediately.
11. Sno Ball Chocolate Cake Cups
Remember those Sno Balls from when you were a kid? Bring the fun of Valentine's Day back to life with these childlike dessert cups from A Farmgirl's Dabbles. Be a total child for the night, no one will judge you.
12. Chocolate Strawberry Cake Truffles & Pink Velvet Cake Truffles
Each of these truffles from How Sweet It Is is packed with chocolate, and perfect for popping mass amounts into your mouth during the most emotional scene of whatever chick flick you have queued up on Valentine's Day.
13. Dark Chocolate Raspberry Cupcakes
Chocolate and raspberry is a match made in heaven for Valentine's Day and these cupcakes from Gluten Free Canteen make that heaven a reality.
14. Chocolate Pomegranate Petit Fours
Are you kidding me with the cuteness? I would feel like a princess devouring these petit fours from A Spicy Perspective. A princess who doesn't need any prince to rescue her, gosh darnit.
15. Chocolate Cherry Candy Cups
If you've got your heart set on a box of chocolates, skip the store-bought drab and go for these chocolate candy cups from A Farmgirl's Dabbles. Throw them in a box and send them to yourself for the loving surprise you've been waiting for.
Time to unite, chocoholics.
For more ideas, check out Bustle on YouTube.
Images: A Spicy Perspective; A Farmgirl's Dabbles; Love & Lemons; How Sweet It Is; A Spicy Perspective; The Comfort of Cooking; Confessions of a Cookbook Queen; Parsley Sage Sweet; Gluten Free on a Shoestring; Averie Cooks; A Farmgirl's Dabbles; How Sweet It Is; Gluten Free Canteen; A Spicy Perspective; A Farmgirl's Dabbles