21 Easy Super Bowl Appetizers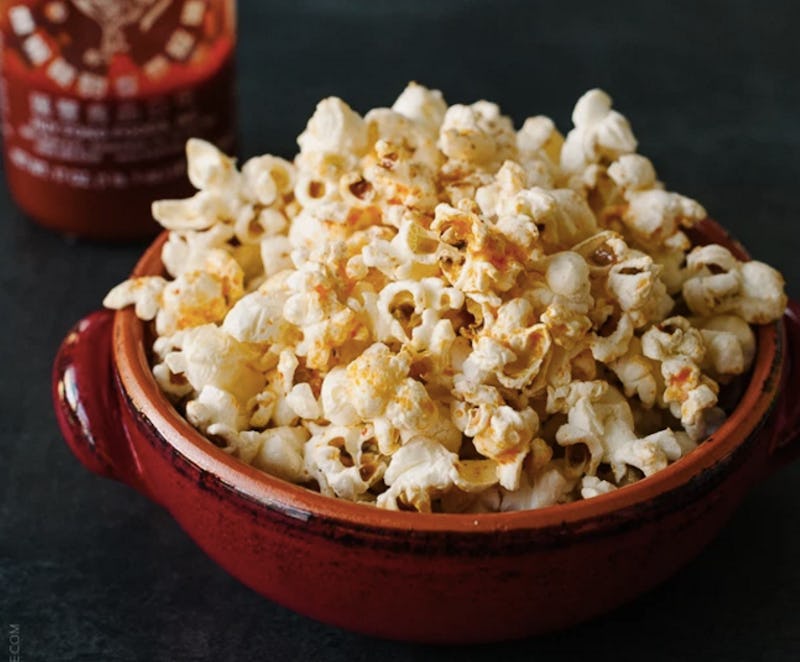 I love football as much as the next New Englander (please don't hate me, I was born this way), so I get pretty excited when the Super Bowl comes around. It's a chance to gather my obnoxious Patriots-loving friends, paint our faces, and scream at the TV, but the very best part of the yearly event is, obviously, the food — especially these easy Super Bowl appetizers.
As someone who likes to host Super Bowl Sunday rather than go out to watch the game, I know how stressful it can be to cook for loud, angry, and hungry football fans. Usually, the game lasts for around four hours, which means the food table has to be constantly stocked with platter after platter of finger food. If, like me, you actually like watching the game and not just the commercials, it can be tough to keep your guests happy and full without spending a lot of your time in the kitchen. That is, unless, you master the art of the easy appetizer. When it comes to preparing for game day, you want appetizers that are easy to make, easy to serve, but are still as visually appealing and appetizing as if you'd spent all morning putting them together.
Because you want to be on the couch yelling at the refs along with the rest of your friends, here are 21 easy Super Bowl appetizers, so you can spend less time in the kitchen and more time actually watching the game.
1. Oven Baked Buffalo Wings
It's not a Super Bowl party without chicken wings, and these oven-baked buffalo style ones from The Kitchn are a cinch to make, and even easier to clean up. Get the napkins ready.
2. 10-Minute Nacho Cheese
It doesn't get much easier than this 10-minute recipe from Damn Delicious. In no time, it gives you an irresistible, gooey dip that's so good, your party guests will be scraping the bowl clean.
3. Taco Croissants
Just when you didn't think tacos could get any better, Whitney Bond figured out how to put them in croissants. Spicy, buttery, and topped with cool sour cream, these are a mess-free way to eat your favorite appetizer.
4. Spicy Sriracha Popcorn
Appetizers come in all shapes and sizes, but sometimes, the best of them are the simplest. Kitchen Confidante's spicy Sriracha popcorn is a light and spicy snack that's easily passed around the couch.
5. Baked Coconut Shrimp
Sure, shrimp cocktail is the easiest appetizer of them all, but why not go the extra (but still simple) mile? A Cozy Kitchen's coconut shrimp is oven-baked, easy to make, and better than boring old shrimp on ice.
6. Pull-Apart Cheese Bread
If you want an easy appetizer that will please everyone at the party, there's no simpler way than with The Kitchn's pull-apart cheesy bread. It's a warm and gooey snack that takes around a half hour to make, and only minutes to disappear.
7. Corn Dog Mini Muffins
Corn dogs are incredible, but they're a lot of work to make — until now, that is. Damn Delicious' corn dog mini muffins don't require a deep fryer, but they will still make you smile.
8. Simple Super Bowl Sunday Guacamole
Everyone loves guacamole — everyone. So, you better make sure you have some on your menu. This effortless recipe from Kitchen Confidante will make your Super Bowl Sunday utterly perfect.
9. Cheese Jalapeño Corn Fritters
Who needs jalapeño poppers when you have these crispy, crunchy cheese jalapeño corn fritters from Simply Delicious? Easily made into mini bites, this appetizer is so good, it will be gone long before half time.
10. Spiral Wrapped Sausage On A Stick
When planning a Super Bowl party menu, it's important to include foods that don't require too many plates and utensils, since your guests will likely be jumping up and down on the couch, food in hand. These spiral wrapped sausages on a stick from Mom On Time Out are ideal appetizers for fans who will undoubtedly be yelling and waving their hands at the TV — not to mention, they're absolutely hearty, heavenly snacks.
11. Bacon-Wrapped Potato Bites
Everything — and I cannot emphasize this enough — everything is better wrapped in bacon, including these hot potato appetizers from The Kitchn. A simple recipe that combines two basic yet amazing main ingredients, this dish only gets better with the addition of its cool and creamy sour cream dipping sauce.
12. Antipasto Skewers
If you're looking for an easy appetizer for game day that requires little to no actual cooking, look no further than A Pretty Life's antipasto skewers. Loaded with fresh vegetables and bursting with flavors, this appetizer is easily customized to fit the tastes of you and your fellow football-watching friends.
13. Bacon Ranch Beer Cheeseball
This dip from Mom On Time Out combines everything a football fan lives for: beer, cheese, and bacon. Need I say more?
14. Cheesy Baked Salsa Dip
With help from A Pretty Life, you can whip together this hot and gooey dip in 10 minutes or less. Just be warned — it might take longer to cook than it does to get gobbled down.
15. Grownup Prosciutto & Cheddar Hot Pockets
There are a few key ingredients that make up the best Super Bowl snacks: meat, cheese, and bread. These flaky, cheesy, grownup hot pockets from The Kitchn meet all those requirements and more. Is your mouth watering yet?
16. Honey Garlic Little Smokies
A little sweet, a little savory, and completely tasty, Damn Delicious' honey garlic little smokies are the finger food your appetizer table has been waiting for.
17. Loaded Potato Crisps
Potatoes come in so many delicious shapes, sizes, and preparations, but the perfect finger food form can be found in A Pretty Life's loaded potato crisps. These bite-sized spuds are loaded with enough cheesy goodness — the crowd will go wild.
18. Grownup Pizza Bagels
Pizza in the morning, pizza in the evening, and pizza at Super Bowl time, thanks to this easy grownup version of everyone's favorite bite-sized snacks, pizza bagels. With unlimited options for toppings for these bagel bites, you can create a delicious appetizer everyone will love.
19. Hot Artichoke And Spinach Dip
A guaranteed crowd pleaser, A Pretty Life's artichoke and spinach dip is a must have on Super Bowl Sunday. The hot, bubbling, cheesy dip is loaded with enough spinach, artichokes, and beans that you can almost pretend you're eating something healthy... almost.
20. Five-Minute Salsa
Forget hours of prep and clean up, and take five minutes out of your day to learn how to make Whitney Bond's simple salsa. Fresh and delicious, it's a time-saving recipe that will promise you won't miss a single Super Bowl commercial.
21. Chorizo Nachos With While Queso Sauce
Looking to step up your nacho game, Super Bowl style? Look no further than The Kitchn's chorizo nachos with white queso sauce. A sophisticated twist on a football favorite, you'll never look at nacho cheese the same again.
For more food ideas, check out Bustle on YouTube.
Images: The Kitchn (5); Damn Delicious (3); Whitney Bond (2); Kitchen Confidante (2); A Cozy Kitchen; Simply Delicious; A Pretty Life (4); Sadie Trombetta; Mom On Time Out (2);