9 Hacks For A Luxurious Home If You're On A Budget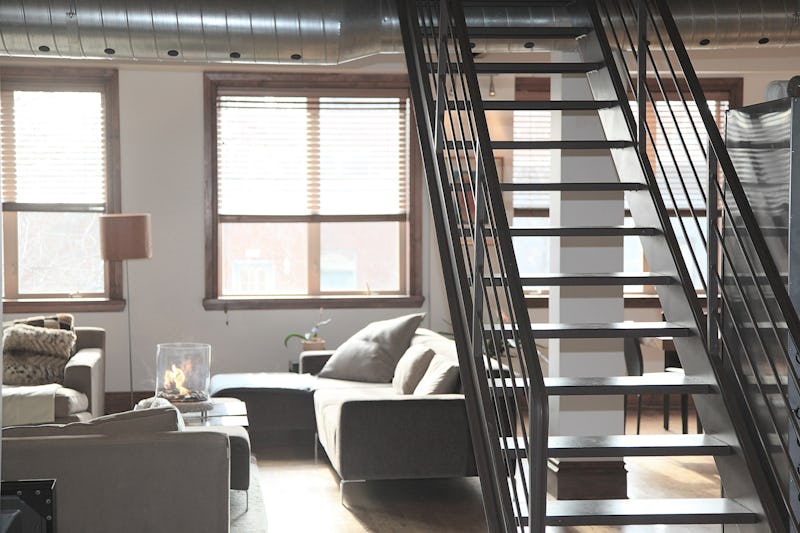 I reached a point in my late 20s when I got really tired of unstable futons and cheap décor. I was ready for more luxury, but I definitely didn't have a luxury-level bank account. Lucky for me, there are a ton of luxurious looks on a budget that can even make us starving artists feel sophisticated when walking in the door each night. You just need to know a few home-decorating tricks, as well as what things are actually worth investing in.
In a piece for U.S. News and World Report, professor Graham Roles said, "There is pretty strong evidence that the environment in which people live is closely linked to their well-being. It's sort of like the human animal attachment to territory is built into our DNA." And in a piece for the HuffPost Healthy Living section, psychotherapist Robi Ludwig said, "we need our home environment to be the place where we can take both personal and physical refuge. It is here that we can balance ourselves and our psyches, because our home is the place where we can relax, regroup and reinforce the best part of who we are."
Having a home space that we enjoy is actually pretty important to our well-being, and so it's also important that we ensure our space makes us feel good. If you're feeling like your own home needs a little luxury and love, but you don't have limitless funds, here are nine tips that should help.
1. Layer
Wilder also said that layering objects, textures, and fabrics helps create a plush, and therefor luxurious feel. "A luxurious home always has layers: books and candles decorating the coffee table, a rug covering hardwoods, floor to ceiling curtains framing the windows, throw pillows or a cozy blanket laying on the sofa and bed, crown molding marrying the wall and ceiling—the details are what make a home feel personal and complete," she said.
Luxury Faux Fur Throw, $57, Amazon
2. Light It Up
Glass Shade Pendant Lamp, $59, Gilt.com
"Nothing makes as much impact in a room as a new, interesting light fixture" Barnett said. "Lose the builder-grade brass chandelier and install an eye-catching personality piece. You can find a variety of great lighting at big-box home improvement stores that can give you a higher-end look for less than you think." I've also found that a cool light fixture can serve as the main centerpiece in a room, meaning you can save money by spending less on other decorations.
3. Paint Your Doors Black
Arazzinni Astra Alum Interior Pocket Door, $335, D oorsandbeyond.com
A compilation piece on Freshome.com with budget-friendly interior design tips said that simply painting the interior doors in your home black will instantly give it a classier, more refined vibe. They note to just make sure the color-scheme and accent pieces in your home match the doors — otherwise they can look way out of place.
4. Opt For A Neutral Color Palette
In The EveryGirl decor and style section, living editor Caroline Wilder said that staying within a neutral color palette is one of the best ways to create a more luxurious look overall. "When you start with a neutral color palette, you're not only creating a sophisticated space but you're also allowing the room to grow with you. If you decide that you want to give the room a makeover later, all it will take is swapping out the smaller furniture or accessories," she said.
5. Opt For Large Pillows (And Overstuff Them)
Sultry Black Rectangular Pillow, $42, Build.com
In a piece for Houzz.com, interior designer Kristie Barnett said that small throw pillows (which she measures as 18 inches or less) instantly register as store-bought and cheap. "Search for or have larger pillows made for your sofa — you'll make the whole look of your living room more high end," she said. She also suggested overstuffing your pillow covers, saying that, "24-inch down-filled pillow inserts into 22-inch pillow covers for a more luxurious look."
6. Utilize Mirrors
Omni Mirror, $299, Z Gallerie
In a piece for Good Housekeeping, New York-based home stager Cheryl Eisen said that using mirrors behind sofas or in certain corners will create the illusion of a larger space, which is especially helpful if you live in a small apartment. I also especially love the use of mirrors in small nooks and behind large vases of flowers, as it helps amplify the decoration.
7. Add Texture To The Walls
Norwall Wallpaper, $14.99, Mahoneswallpapershop.com
Eisen also suggested creating an accent wall, but instead of just painting it, cover it with grass cloth. She said that the texture adds a bit of warmth and drama to the room, and only doing it on one wall is a major money-saver.
8. Hang Curtains As Close To The Ceiling As Possible
Home Expression Curtains, $30, JCPenny.com
That same Freshome's compilation piece noted that the higher you hang the curtains, the "fancier" a room feels. Conversely, if there's a lot of space between the top of the curtains and the ceiling, the space can look sparse.
9. Get Rid Of Flimsy Frames
Fine Wood Veneer Frame, $35.10, Pictureframes.com
Senior writer at Apartment Therapy Taryn Williford said to invest in a single statement piece for a wall instead of filling your space with lots of little, cheaply made wall pieces. "Take down all your cheap frames and discount bin wooden plaques and donate them to Goodwill. Step two: Replace it all with just one big, bold and beautiful painting or print as a focal point on the wall," she wrote. And as much as I hate to admit it, nothing screams "I still have my art work from college" like super cheap plastic frames or loose-hanging posters. Investing in this small change will seriously take your space to the next level.
Having a "grown up" apartment that you love shouldn't break the bank, and the good news is there are a ton of creative solutions for having a luxury space without luxury prices. Use some or all of these tips, and enjoy feeling fancy!
Images: Pexels