14 Painfully Awkward Presidential Family Photos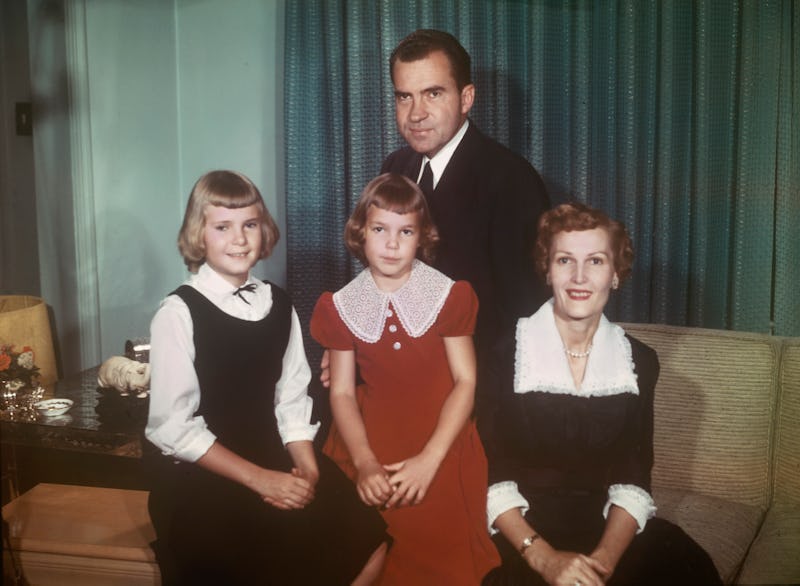 If you've ever been talked (or strong-armed) into sitting for a family portrait, then you'd know just how tedious, frustrating, and all-around awkward it can be. Usually, the more family members, the more disastrous the picture becomes. And if you throw animals in there, then forget about it. You might as well snap a pic of the circus and call it your family. Well, rest assured, because you're not alone. Some very powerful and important people have had to hold smiles for way too long and whisper, "Look at the camera!" out the side of their mouths. Yup, our nation's presidents have had to suffer the same familial obligations as all of us. In fact, these U.S. presidential family portraits might be far more awkward than our own.
Not only do these photos remind us that we're not alone in having incredibly irritating, but well-meaning family members who want to document every single gathering and occasion, but they're also rare glimpses into the personal lives of our past leaders. From Theodore Roosevelt to Bill Clinton, these family portraits provide some visual context of presidential life, the families that stood by their side, and not to mention the decade during which they served.
Take a look at these 14 presidential family portraits for a trip down America's memory lane, and be relieved that they're not your family.
Look at John F. Kennedy (third from right) as a strapping young lad! And how about those perfect postures?
Is this Bush family portrait like an Esprit ad or what? They couldn't look more all-American if there was a bald eagle perched on George W.'s shoulder.
Franklin and Eleanor Roosevelt had 29 grandchildren. Here they are pictured with only a portion of them, which must have already been quite a feat considering how much kids dislike sitting for pictures. Note the three extremely bored-looking ones in the front row.
Ah, the '90s. This photo was taken in 1997, when young Chelsea was preparing to attend Stanford University and Bill and Hillary were all smiles before the whole Monica Lewinsky thing.
And these are the five children who gave the Roosevelts their brood.
Before photo portraits, there were painted portraits. This one is of Theodore Roosevelt, First Lady Edith Roosevelt, and their six children. Needless to say, painted portraits take far longer to produce than a photo portrait. Perhaps that explains why everyone looks so miserable here.
William Howard Taft and his wife, Helen, pose here with their three children, one of whom is clearly up to no good because he's smiling a little too much for a family portrait.
This photo of Richard Nixon and his wife, Pat, and their two daughters, Tricia and Julie, was taken when Nixon was still vice president to Dwight D. Eisenhower. Tricia just wants to get back to listening to her Pat Boone record, Tricky Dick is fantasizing about the White House, Pat is so not in the mood to make dinner, and Julie is all, "Is the world ready for me?"
Even though her father was president of the United States, Amy Carter probably felt the same embarrassment that any teenage girl would feel standing between her parents like that as a crowd watches on.
There is something beautiful and relaxing about this portrait of Calvin and Grace Coolidge with their sons, Calvin Jr. and John. You could just stare at it for hours, no?
Minus one blonde girl, the Fords are basically a real-life Brady Bunch.
This is a rare shot of a former president in his tricycle days. JFK (second from left) poses with his siblings and mother, Rose, who's probably wishing that her kids would stop staring at whatever is happening out of frame.
And here is grown-up JFK in the ultimate awkward family photo. All the elements are here: It's Christmastime, the family pets can't stay still, and the kids are distracted by all the commotion around them. Kennedy is definitely holding in a sigh.
Um, how stylish is Ronald Reagan in this picture? How is he so color-coordinated with wife Nancy and their kids, Patti and Ron Jr.? This portrait, with its kitschy pastel palette, is a perfect snapshot of American life in the '50s.
Images: Getty Images (14)