'90s Album Covers You Didn't Understand As A Kid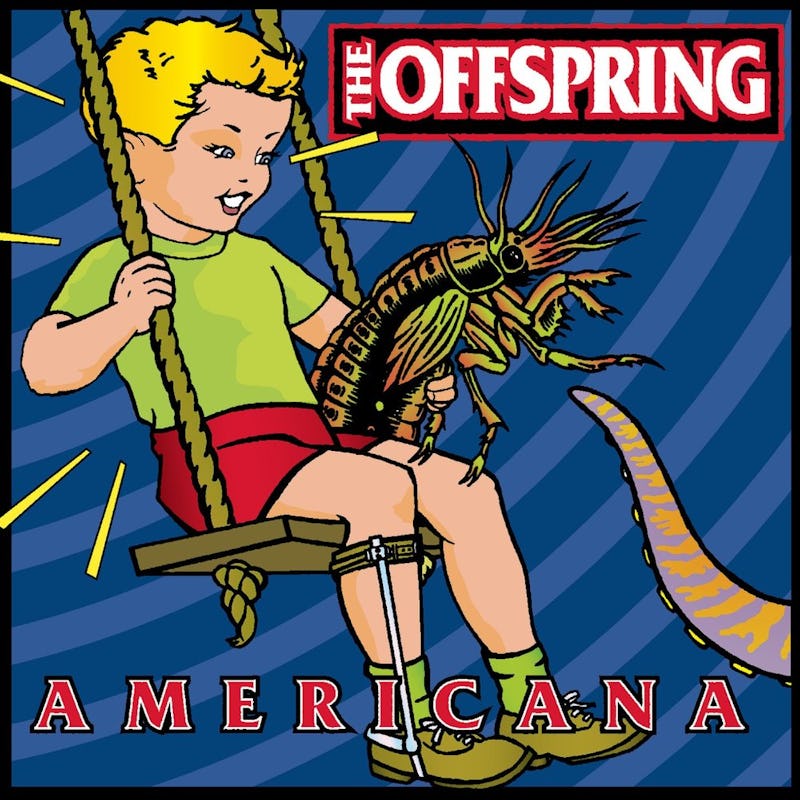 Growing up in the '90s, there were few things I loved more than browsing around the music section at Target (or Best Buy or Coconuts or Sam Goody, etc.). There was something special about gazing out on a store's racks and seeing all of those iconic '90s album covers staring back at you. Today, I've stopped buying physical CDs altogether, and although digital music services like iTunes and Spotify still display album covers, I feel as though they're not as important as they used to be. It's more than a little sad. Back in the '90s, album covers mattered — and they made an impact! So much so that music journalists have spent time highlighting the best and worst album covers of the decade. For me, however, it's all about the '90s album covers you didn't understand as a kid.
Let's face it, the '90s brought us some seriously bizarre album covers. Now that you're older (and hopefully a little wiser), you may understand a few of them... but many are just as baffling today as they were back then (according to me, anyway). Buckle up, nostalgia lovers! Below are 13 '90s album covers you just couldn't wrap your mind around as a child:
The Cranberries, Bury The Hatchet
I didn't own this album (to this day, I think I only know one or two Cranberries songs), but I do distinctly remember the feeling of DREAD that washed over me the first time I saw it on a store's shelves. You can't escape the giant eyeball in the sky! Apparently, your only option is to strip naked, run to the middle of nowhere, and then cower in fear.
The Offspring, Americana
Nothing to see here! Just a kid on a swing holding a giant flea. Oh, and then there's that stray octopus tentacle. The flea seems to be reaching out to touch it, so perhaps they're friends? Yeah, this cover doesn't make anymore sense to me today than it did back in the '90s.
Creed, Human Clay
I suspect Creed were going for something really deep here (the clay man does appear to be at some sort of crossroads?), but mostly it just reminded me of this scary video game based on this scary '90s sci-fi flick called Lawnmower Man that I definitely shouldn't have been playing as a kid.
No Doubt, Tragic Kingdom
I liked its vivid colors, but the Tragic Kingdom cover's "biting" social commentary went right over my head ("Bought and sold out in U.S.A.," etc.).
Eminem, The Slim Shady LP
Are there songs on this album that explain its confusing cover artwork? (I've never listened to it. Oops.) Like, is Eminem the person who's hanging out in that trunk? Is he napping? Or is he dead? So many questions.
Marcy Playground, Marcy Playground
Just a severed head floating inside a wreath of flowers. Totally normal.
Moby, Play
White socks with black pants? Really, Moby?
Chris Gaines (aka Garth Brooks), Greatest Hits
So, the man on the cover was Garth Brooks, but he was pretending to be someone named Chris Gaines so he could... play rock music? Or something? I didn't quite get it. (But apparently, nobody else did, either!)
Blink 182, Enema Of The State
I didn't know what an enema was when Enema of the State came out, but its cover led me to believe it was something super sexy.
Matchbox 20, Yourself Or Someone Like You
"Who is this guy? Why is he so sad? And why is he wearing that funny hat AND a one-shoulder shirt?" — questions I asked myself every single time I saw the Yourself or Someone Like You cover as a kid. (Apparently, the sad-looking gentleman's name is Frank Torres, and he sued Matchbox 20 in 2005 for allegedly using his picture without permission. The more you know!)
The Smashing Pumpkins, Mellon Collie And The Infinite Sadness
I still have no clue what's going on here. I mean, what is that expression on her face? Is she pleased? Exasperated? About to throw up? It's impossible to say.
Michael Jackson, Dangerous
There's A LOT going on in the Dangerous cover artwork (which was created by surrealist painter Mark Ryden), but for me, the bird queen in the purple cape on the right steals the show, hands down. What does she represent? Your guess is as good as mine.
Kenny G, Miracles: The Holiday Album
My parents owned this album. There are no words.
Images: Island; Columbia; Wind-up Entertainment, Inc.; Interscope (3); Capitol (2); EMI; Atlantic; Virgin; Epic; Arista; Giphy