Ways To Make Air-Dried Hair Look Awesome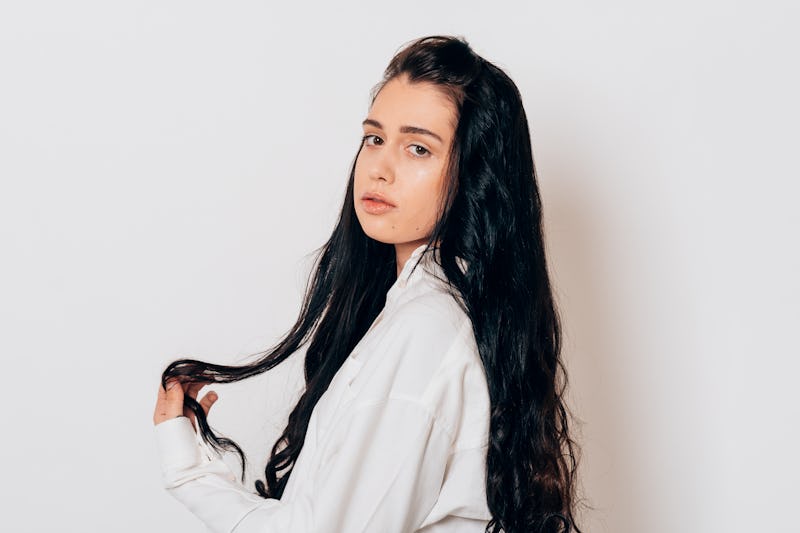 Carlo Prearo / EyeEm/EyeEm/Getty Images
Let's be real — we just don't always have the time or energy to blow dry our hair and make it look meticulously styled every single day. At the same time, air drying can basically make us look like a frizzy, unkempt mess ... or so we think. There are actually ways to air-dry your hair that can make it look amazing — it's just usually a matter of having a few basic products and techniques up our sleeves.
I'm no stranger to bad hair days. My hair naturally frizzes in rain and humid weather and often looks unbrushed or unkempt if not heat-dried, even when it's perfectly clean. If I spend about an hour blowdrying, letting it cool, and then straightening each section, it can look pretty darn good, but the process is absolutely no way conducive or realistic to my low-maintenance preferences. Not to mention it's straight up bad for my hair. According to the American Academy of Dermatology, heat application to hair results in damage to the outer cuticle, which boils down to drying, flyaways, dulling, and breakage. Basically, trying to make our hair look nice in the short-term with heat products can make it look pretty drab in the long-term.
So here was the big a-ha moment for me: There are actually techniques to air drying that make your hair look awesome, without all the damaging and time-consuming maintenance. If you've been noticing that your hair is feeling over-processed, or you just don't have the time for a grueling morning hair-care routine, here are seven tips for air-drying your hair that will make a huge difference.
1. Use A Microfiber Towel
Aquis Microfiber Luxe Hair Towel, $17.99, Amazon
In an article for Women's Health, Julie Featherman, a hairstylist and owner of Philadelphia-based Juju Salon, recommended using a microfiber towel to dry your hair, and said it's important to twist and blot, never tousling. The special towel will not only reduce frizz, but "it takes water out quickly and will literally cut your drying time in half," she said.
2. Use A Wide Tooth Comb
Plugged In Wet Look Shower And Wide Tooth Comb Set, $3.49, Amazon
Featherman also stressed the importance of using a wide-tooth-comb as soon as you're out of the shower, and again when your hair is partially dried. "You don't want to wait until the hair is almost completely dry because it encourages more tangles," she said.
3. Hair Product Is Necessary
Bumble and Bumble Don't Blow It, $31, Check It Out
In a how-to-guide for air-drying on the beauty site The Beauty Department, the editors noted that a drying-mousse is super necessary for controlling frizz and flyaways when air drying — if you don't use some kind of taming product you'll get the classic frizzy mess.
4. Use A Salt Water Spray
Bumble and Bumble Surf Spray, $15, Check It Out
Here's the thing about air drying your hair — it will never look perfectly smooth and sleek, so instead it's better to embrace the tousled beachy look. Contributor at The Fashion Spot Adrianna Barrionuevo said to spritz your (microfiber towel dried) hair with a salt-water-spray from mid-section to root and scrunch a few times. Let it air dry, and enjoy your waves!
5. Scrunch It
The Beauty Department team also then said that it's important to scrunch your hair at the roots periodically as it dries, as this will give it volume and prevent the flat-hair look typical of no heat-styling. You can also flip your hair upside down a few times as it dries for added effect.
6. Braid It
In a piece for Allure, hairstylist Mark Townsend recommended letting your hair dry in a braid for loose, natural waves. And in the same piece, hairstylist Adir Abergel recommended letting your hair dry in four separate braids for an especially beachy look.
7. Let It Dry In A Bun
A list of no-dry hair ideas on Redbook suggested coiling your wet hair into a bun after applying smoothing serum and letting it dry up. This will give your hair the sleekest air-dried look possible.
You should never be afraid to let your hair air dry or feel like you have to spend a ton of time styling your hair every day. It's just about mastering a few basic tricks and understanding what looks work best without heat styling.
Images: Getty Images (2) Giphy (2)