What's In The New PIXI Skincare Range?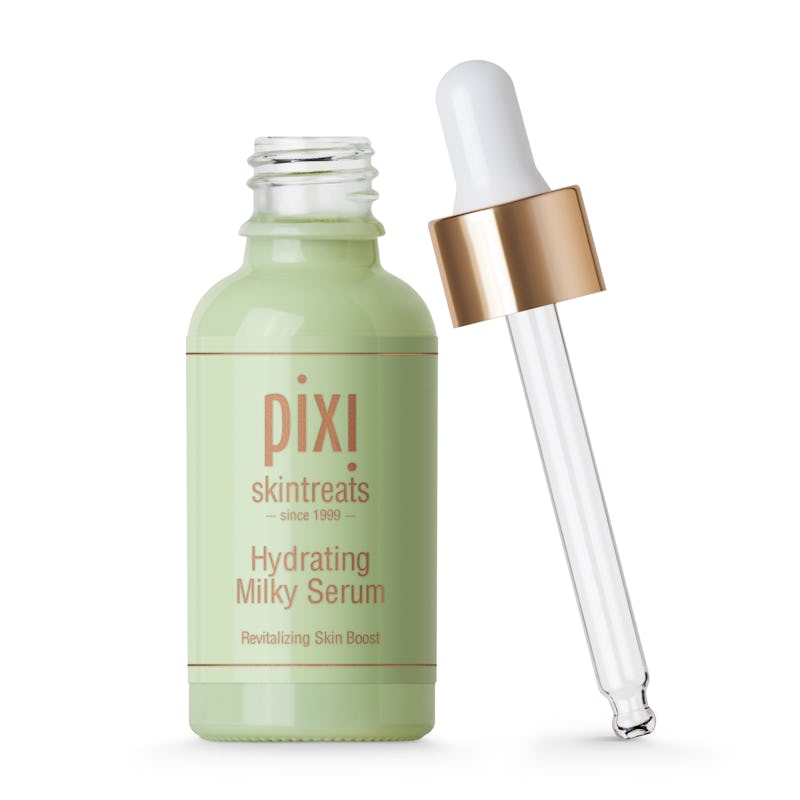 I'm sure you know what it's like to go to Target with two items on your list and to wind up leaving with 12. Yep, I've definitely been there. Well, now, there's even more of a reason to rack up at Target, because PIXI by Petra is launching Skintreats. What's going to be in the Skintreats range, you ask? It's chock full of skincare products that are all about giving you glowing, gorgeous skin. Considering that the products are already available to shop in stores and online — I'm going to be hitting up that makeup aisle pretty hard.
With over 27 products to choose from between their newly released Skintreats line and their incredible spring collection of makeup, you're going to need a cart instead of a hand basket to hold all of these goodies. Skintreats is focused on skincare offering things like mists and serums that will leave your skin looking dewy fresh. But, you can add a bit of color to your flawless skin by shopping from the spring collection, too. Rose gold blush and brow tamer with a subtle shimmer are just some of the ways that you can enhance your makeup look. Oh, and did I mention everything sells for under $25? Life. Made.
See all of what Skintreats and their spring shades have to offer and get ready for a Target shopping spree because these products are too good (and too affordable!) to pass up.
Skintreats:
24K Eye Elixir , $22, Target
This will leave eyes feeling and looking refreshed, so, it just became my new best friend.
Beauty Sleep Cream , $24, Target
A facial moisturizer will give you the best beauty sleep of your life.
Glow Mud Cleanser , $18, Target
Cleanse pores and leave skin feeling refreshed and good as new with this addition to your makeup bag.
Glow Mud Mask , $22, Target
Fight breakouts and brighten skin all with one amazing product.
Glow Peel Pads , $22, Target
These facial wipes exfoliate as they cleanse. Sign me up!
Glowtion Day Dew , $22, Target
This lotion moisturizes, and with a hint of lavender, it also calms the skin. I'll be carrying this around in my purse from now on.
H2O Skindrink , $22, Target
This cream rehydrates skin and gives you a flawless complexion.
Hydrating Milky Mist , $15, Target
Milky mist hydrates the skin and makes the perfect first layer before adding any other makeup.
Hydrating Milky Serum , $24, Target
The Rose flower extract in this serum will leave your skin feeling light and clean.
Moisturizing Cleansing Cloths, $10, Target
These cleansing cloths are perfect for those on-the-go moments. Need to clean up after the gym? Use these!
Nourishing Cleansing Balm , $20, Target
This balm turns to oil as you massage it into your skin and can be used to take away makeup while moisturizing at the same time. Magic.
Nourishing Sleep Mask , $22, Target
Deeply nourish skin while you sleep. A product that does wonders for skin with little to no effort? I like the sound of that.
Nourishing Lip Polish , $12, Target
Exfoliates and nourishes your lips, making it the perfect companion.
Rose Oil Blend , $24, Target
This oil will keep your skin glowing and youthful. It's everything you could want out of a skincare product, isn't it?
Spring 2016 Collection:
Beauty Blush in Rose Gold , $18, Target
Rose gold sounds like an amazing color to sweep across my cheeks, please and thank you.
Black Lacquer Lash Primer , $15, Target
Prep your lashes to be even more voluminous.
Book Of Beauty Contour Creator , $24, Target
Get a Kardashian-worthy contour each and every time.
Cosmetic Set Minimal Makeup , $24, Target
This is the only set you'll need. It's great for adding color to your skin and eyes, stored in one convenient place.
Brow Brightener , $12, Target
Add a subtle shimmer to your brows because, why not?
Brow Tamer , $10, Target
For flawless, slicked-back brows.
Endless Silky Eye Pen In Cobalt Blue , $12, Target
Because a pop of color never hurt anybody, you know?
8. Beauty Blush In Peach Honey
Beauty Blush In Peach Honey , $18, Target
For a light, glowy effect look no further than this blush set.
Endless Silky Eye Pen In Velvet Violet , $12, Target
Purple seems like a fun color to add to your makeup collection, now, doesn't it?
Lengthy Fiber Mascara , $16, Target
Get lashes for daaays.
Lip Contour , $12, Target
Lip liner that won't smudge in a light color palette for natural-looking lips.
Natural Brow Duo , $16, Target
Get brows on fleek with a filler and tamer in one.
Shea Butter Lip Balm , $8, Target
Moisturizing with just a hint of color. Just what I need!
Your Target runs just got better, am I right?
Images: Courtesy PIXI (27)