25 Perfectly Hued Lipsticks For Valentine's Day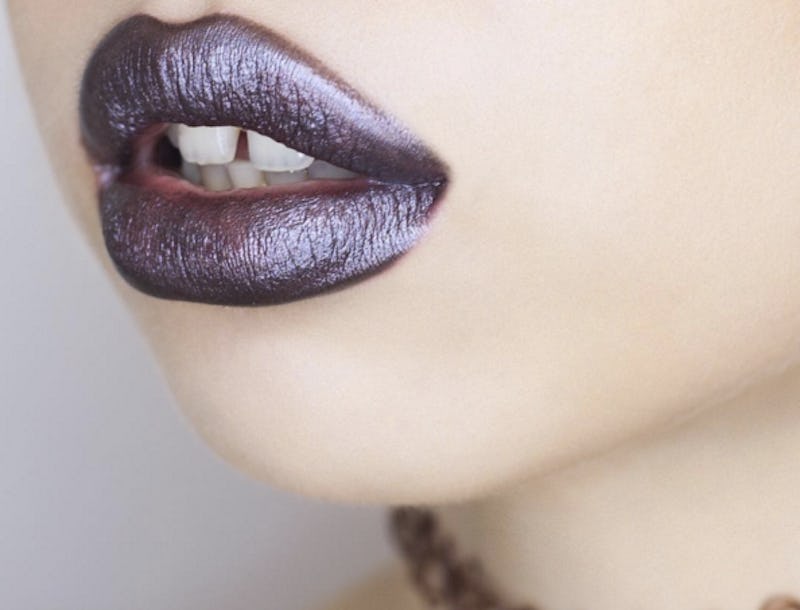 Thanks to Taylor Swift's pop culture reign, a bold red lip has become the go-to beauty look as of late — particularly perfect for the impending holiday of love. While there is no denying that a Swift-inspired rouge pout is epic, there are loads of other lipsticks for Valentine's Day out there. No matter your plans — whether you're headed out with the girls, looking for a holiday-themed daytime look, or prepping for a big date — mixing up your lippy might be the exact beauty update you are looking for.
High shine, shimmer, or matte, the power of a red lip is undeniable, with many of us falling under its spell (NARS Dragon Girl is my kryptonite). However, regardless of whether you are a red loyalist looking for a change or someone who thinks the popular go-to is overrated, there are a plethora of other lip colors dying to be given the chance to become your new must-have on the day of Saint Valentine. From the palest of ballet pinks and pretty peaches to bold pop colors with purple undertones and shimmering metallics, your pout deserves the on-point upgrade these shades can provide.
Prepare to put those beloved red lipsticks on hold and pucker up to a whole new world of Valentine's Day-worthy shades.
1. Palest Of Pinks
Unicorn Lipstick In Coquette, $8, limecrime.com
In stark contrast to the bold red lip that has become mainstream, a ballet-inspired pink can be both sweet and sexy — a killer combination for a Valentine's Day spent with the girls or your S.O.
Velvet Matte Lip Pencil In Paimpol, $26, narscosmetics.com
Choose a baby pink hue in a matte finish to get a pretty pastel look without falling victim to OTT bubblegum.
The Lipstick Classic Cream Lipstick In Bonbon, $34.50, sephora.com
A classic cream lipstick will have your lips looking pretty in pink.
Stila Stay All Day Liquid Lipstick In Bellissima, $24, sephora.com
Light pink liquid lipstick gives modern Barbie vibes with a long-lasting effect.
Dior Addict Gloss In Princess, $29.50, sephora.com
For the girliest pale pink of all, add shimmer and shine with a glitter-filled gloss.
2. Neutrals And Nudes
Bite Beauty Luminous Creme Lipstick In Salut, $24, sephora.com
Dare I say nude is the new red? The neutral lip is having a bit of a moment and with the perfect au naturale lipstick for your skin tone, so can you.
Sheer Revolution Lipstick In Walk Of Shame, $22, urbandecay.com
A sheer neutral is fresh and also allows the rest of your look to shine.
MAC Lipglass In C-Thru, $15, maccosmetics.com
Just because nude is your shade of choice doesn't mean you can't make an impact. A high gloss formula will enhance your pout with a patent-like shine.
Surratt Beauty Prismatique Lips In Lame, $36, sephora.com
Champagne sparkles aren't just for toasting. A nude hue with a little glitter is the fanciest neutral of all.
OCC Stained Gloss In Dune, $6, occmakeup.com
Looking for a nude lippy with a little bit of an edge? Go for a heavyweight gloss with a pearlized finish for less sparkle and more shine.
3. High-Shine Metallics
Perlees Matte Pearl Lipstick In Mirage, $18, limecrime.com
If you're looking for your pout to be the style star this Valentine's Day, paint on a metallic lipstick for bold shimmer. Mauve metallic is a must-have for the most unique holiday-themed pucker.
NYX Cosmetics Wicked Lippie In Wrath, $5.99, ulta.com
A bronze lip is the perfect touch for all those Valentine's Day rebels out there. The shine says sweet while the color is expertly un-themed and sultry.
Lancome Color Design Sensational Effects Lip Color In Fashion Icon Metallic, $22.50, ulta.com
Take metallic to a dark and dreamy place with a vampy shade of berry.
Too Faced Melted Chocolate In Metallic Frozen Hot Chocolate, $21, sephora.com
This liquid metallic lipstick in a warm chocolate brown hue is as uniquely sweet as the dessert it's named after.
Ciate London Lip & Mix Lip Pigment In Scarlet, $10, sephora.com
When in doubt, add texture for an out of the box yet on-point look. You may not want to go with the staple red lip, but a multi-glitter pigment that gives metallic rouge vibes is anything but mainstream.
4. Pop Pinks And Purples
Velvetines In Beet It, $16, limecrime.com
If you are a Valentine's Day purist, you are likely looking forward to rocking a pop pink lip for the holiday. Since the day of love falls in the dead of winter, a deep yet vibrant berry color is well suited for both the occasion and the season.
NARS Audacious Lipstick In Fanny, $32, narscosmetics.com
Even though the temperatures have dropped and our skin is no longer sun-kissed, it can be hard to stay away from an audacious pink.
OCC Stained Gloss In Dekadent, $6, occmakeup.com
Take a walk on the wild side with a dark and glossy homage to Valentine's Day's lesser-loved color, purple.
Tarte Tartiest Lip Paint In Yaassss, $20, sephora.com
Go rogue with your themed beauty this year, leaving the pink pout behind in lieu of a full-on purple pucker.
Velvetines In Utopia, $20, limecrime.com
Like the idea of freshly-themed color, but not ready to commit to a purple lip? Pick an orchid-esque shade for a magenta color with purple undertones.
5. Peachy Keen Pouts
Plush Rush Lipstick In Elated, $22, butterlondon.com
If nude isn't enough but pop colors and textures aren't your beauty jam, tint your lips with a peach shade for a pout that softly glows.
Josie Maran Argan Color Stick, $22, sephora.com
Peach is perfect for an all-over glowing look and with a color stick, you can brighten up both your pucker and your cheeks for your night out.
Velvetines In Bleached, $20, limecrime.com
For a more dramatic look, pick up a peach lipstick in a matte finish. The color is still soft and sweet but the flat effect is bold.
Buxom Full-On Lip Cream In Bellini, $20, sephora.com
A glossy lip cream will give high impact to your laid back color choice for a perfectly pulled-together "I woke up like this" look.
Liptropolis In Central Park, $22, lipstickqueen.com
For peach with a punch, choose a color that borders on coral but isn't quite as bright.
It's time to loosen the grip on those bright red lipsticks, guys! There is a whole world of lovely products out there for your Valentine's Day and beyond.
Want more beauty tips? Check out the video below and be sure to subscribe to Bustle's YouTube page for more tricks of the trade!
Images: limecrimemakeup/Instagram (Model c0neja/Instagram); Courtesy Brands