6 Tips For The Single Grocery Shopper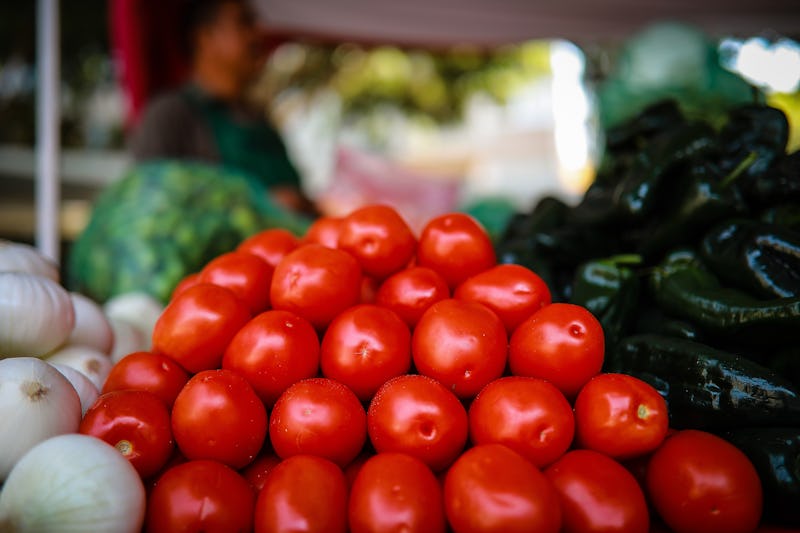 Manuel Velasquez/Getty Images News/Getty Images
No one enjoys shopping for groceries, but if you're single or living on your own, buying food for one can seem even more difficult. If you find that you spend too much or end up with an abundance of leftover food, you may need some tips on how to grocery shop for one. Planning ahead when you're grocery shopping can help you save time and money, and you won't have to feel bad about throwing away any extra surplus.
"Shopping for a family versus a single person can be different," says Beth Warren, RD over email. "Most items in the store come with multiple products that can more easily be consumed by the expiration date if purchasing for more than one person. Also, it can be cheaper to by items in bulk, which means a single person may be buying a product at a higher rate."
Grocery shopping for one can seem less daunting when you figure out how to properly shop and prepare food that can last you awhile and be prepared in a variety of different ways. If you're a single grocery shopper and you're looking for ways to cut down on costs and food waste, try these six tips that will help you with buying food for one.
1. Buy Food You Use The Most
"Prioritize your favorite food options," says Warren. "Since you may be paying more for single size items, try making a list of food must-haves that you'd be willing to spend the extra penny on versus foods that you can have less often." Stick to foods you can utilize in multiple dishes during the week.
2. Buy In Bulk & Save
Just because you are purchasing for a single person doesn't mean you can't still save time and money by buying foods in bulk that you can freeze for later on. "This can be done before or after preparing a dish, such as chicken, fish, or other proteins," says Warren.
3. Purchase Frozen
"If you think fresh produce may go bad, opt for frozen varieties," says Warren. "They can be just as healthy, and at times even better, than fresh produce." According to a study done by the Institute of Food Research, frozen vegetables contain more nutrients than fresh vegetables found in supermarkets, as frozen vegetables are picked up peaked ripeness with their nutrients preserved.
4. Buy Produce In Season
"If you may be paying more for smaller portions of fresh fruits and veggies, try purchasing seasonal produce, which may be more affordable," says Warren. Produce that's in season is more cost-effective, since it is more readily available.
5. Plan Ahead
"Get organized," says Warren. "Plan your weekly menus in advance paired with a detailed shopping list, so you are sure to grab just what you need." Create menus that include similar foods, and try to incorporate any leftovers you may have from the previous week.
6. Opt for Cans
Whether it's beans or soup, cans are inexpensive and have a long shelf life. They're a good choice for protein and fiber, and you can use any leftovers later on in the week.
Figuring out what type of grocery shopping works best for you might take some trial and error, but once you get into the swing of things, preparing meals for one will become a breeze.
Images: Getty Images (7)