These Outdated Lizzie McGuire Outfits Are Awesome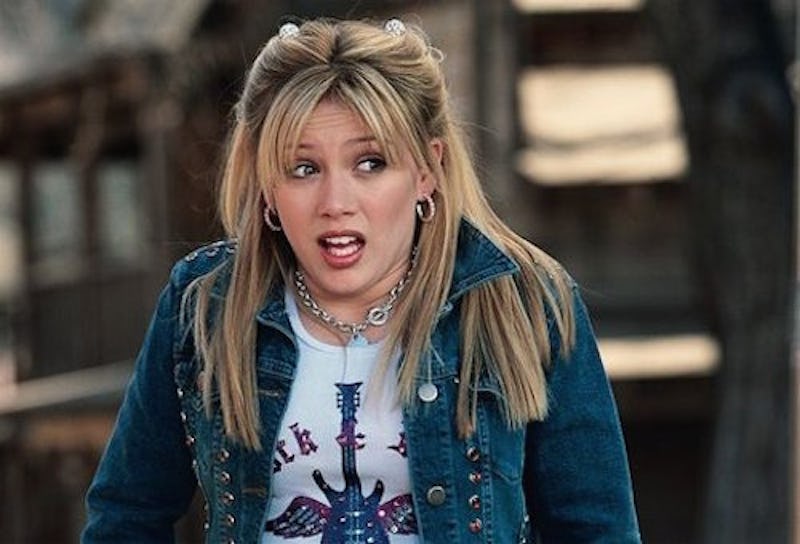 With her epic '00s mismatched perfection and randomly crimped and braided hair, Lizzie McGuire will forever live on as one of my dearest tween fashion icons. But looking back on the TV show, I can now acknowledge there are some seriously outdated Lizzie McGuire outfits that will never, ever come back in style. With a mournful heart, I've scouted out all the best of the now "worst" Lizzie outfits to honor them one last time and appreciate all the quirkiness that was early '00s style.
And before I dive into the epicness that was Lizzie McGuire's gloriously weird style, I'm happy to report to all you diehard fans out there that Gordo is alive and well. I recently swiped right to Gordo on Tinder (yes, friends, Adam Lamberg is on Tinder), and even ended up getting drinks with the no-longer-geeky-and-totally-hot-in-a-nerdy-hipster-way man. He is totally his wonderful Gordo self, and I had to put in serious effort to not feel like I was doing Lizzie wrong by finding him cute.
Regardless of my Gordo affections, my heart first and foremost belongs to Lizzie herself, which is why I pulled together the most memorable, but officially most outdated, Lizzie McGuire outfits of all time. Prepare for the nostalgia fest.
1. High Ponytail With Braids + Orange Cheetah Print Short Sleeve Shirt
The early '00s bridged '90s grunge with preppy hair and the result was, well, maybe not the best.
2. Striped Pants & Newsboy Hats
Could you even try to escape this look when you walked into a Limited Too?
3. Striped Pants With Striped Blazer
Why did the early '00s obsess so hard over stripes?
4. Clear Shades & Hoops
Remember when Lizzie went all diva? Those shades scream 2004.
5. Dark Tie Dye & Crimped Hair
Man, Lizzie got serious 'tude at one point in the most boppy Avril Lavigne "punk" way.
6. Tie Dye & White Pants
The tie dye strikes again...
7. Tie Dye Ruffly Top
I can't even handle this.
8. The Movie Concert Outfit
Remember when this look was the freaking epitome of cool? I'm sad to say that metallic flares are probably not slated for NYFW.
9. Pink Camo With A Coordinating Choker
Who else recalls the time pink camo was the trendiest thing you could possibly own?
10. Blocky Tie Dye & Half-Curled Hair
OK, was the show actually called Lizzie McTieDye and I missed something?
11. Cut-Off T & Low Rise Jeans
Oh low rise jeans, my dearest '00s denim style.
12. Newsboy Hat & Turtleneck
Another Limited Too style look, did any of us leave the early '00s without rocking this?
13. Bandana & Spiked French Twist
Before the top knot, there was that spiky french twist thing that was all the rage. Add a bandana and call it an early '00s day.
14. Butterfly Clips, Graphic T, And Corduroy Jacket
Oh man, all the nostalgic trendy feels.
15. More Tie Dye
I rest my case. Lizzie McGuire must've been sponsored by a tie dye company and that's why it showed up LIKE EVERY EPISODE.
Want more style tips? Check out the video below, and be sure to subscribe to Bustle's YouTube page for more hacks and tricks!
Images: Disney Channel