ALA Youth Media Awards Upsets and Surprises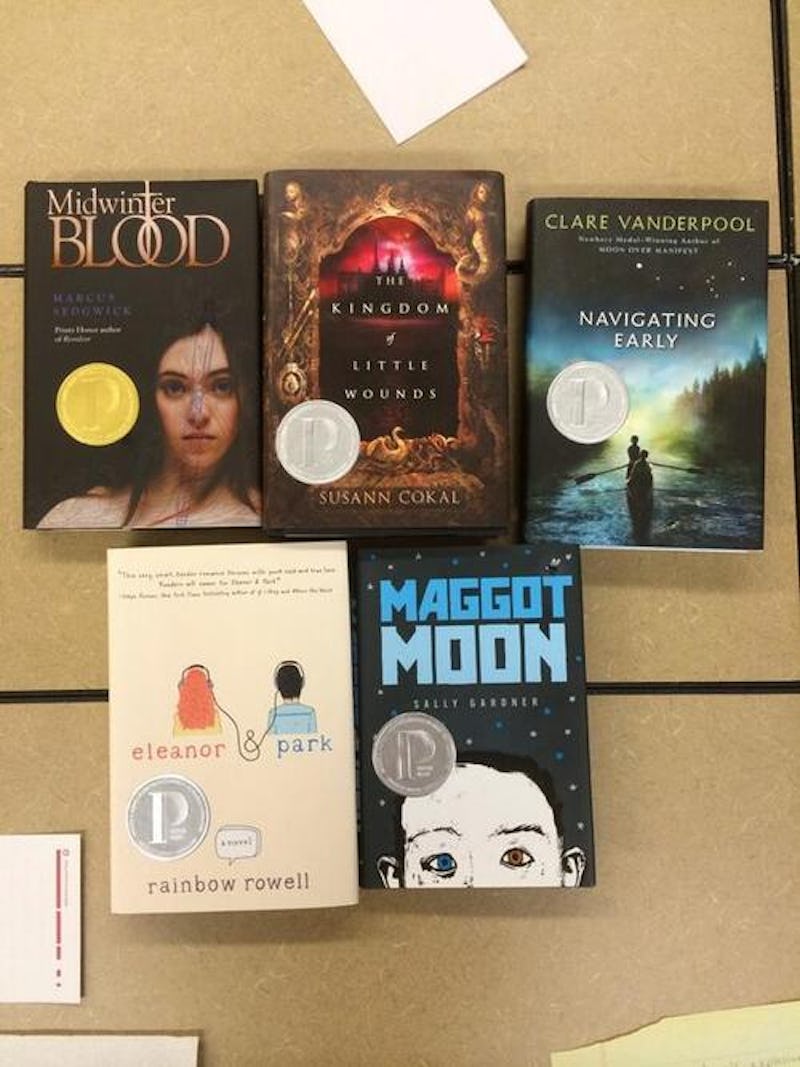 The Grammys may have been last night, but the Oscars of children's and YA literature, the American Library Association's Youth Media Awards, happened this morning. Avid readers, librarians, and publishers were so psyched about it they crashed the ALA website.
The awards were announced live at 8 a.m. ET in Philadelphia and via webcast. YA favorites like Marcus Zusak and Rainbow Rowell were recognized — with the former winning the Margaret A. Edwards Award for lifetime achievement in young adult writing — but like all of our favorite awards ceremonies this season, the ALA awards had some surprises and upsets.
Though there are 18 total award categories, some with several winners and additional "Honor Books," the most famous awards are the Michael L. Printz Award for Excellence in Young Adult Literature and the Newbery and Caldecott Medals, the winners of which are often considered the most distinguished author and illustrator, respectively, of children's books published during the previous year. While the likely front-runner for the Newbery Medal, Kate DiCamillo's Flora & Ulysses, took home the prize, the other two awards were largely considered upsets, at least according to the industry folks posting on Twitter. DiCamillo earned her second Newbergy Medal for her story of an unlikely superhero; her first was The Tale of Despereaux in 2004. Because of Winn-Dixie gained DiCamillo her first Newbery Honor, the award given to runners up, in 2001.
However, the 2014 Printz Award and Caldecott Medal weren't as likely choices.
The Printz Award went to Marcus Sedgwick for Midwinterblood , published by Roaring Book Press, an imprint of Macmillan. Though widely recognized as one of the best YA books of 2013 — including being listed as a Publishers Weekly Best Children's Book of 2013 and Kirkus Best Teen Book of 2013 — it had some of its spotlight stolen by a Printz Honor Book. The award can name up to four Honor Books, and it used all four slots for women: The Kingdom of Little Wounds by Susann Cokal (Candlewick), Maggot Moon by Sally Gardner (Candlewick), Navigating Early by Clare Vanderpool (Random House), and many people's expected winner, Eleanor & Park by Rainbow Rowell (Macmillan). Rowell's story of two star-crossed misfits was considered a shoo-in for a Printz Honor Book, though many thought it deserved the award. Across Twitter, celebration for Rowell's story, which has already won several awards this season, overshadowed Sedgewick's win:
The Printz Honor was Rowell's second Honor nod of the morning. Eleanor & Park also received an Odyssey Honor, awarded to outstanding audiobooks for children and young adults.
For the Caldecott Medal, some industry insiders on Twitter noted that the win, by Brian Floca for Locomotive , was a bit of an upset — but a well-deserved one.
The runners-up for this award, dedicated to gorgeous and unique illustrations, included Journey, written and illustrated by Aaron Beckerand (Candlewick); Flora and the Flamingo, written and illustrated by Molly Idleand (Chronicle Books); and Mr. Wuffles!, written and illustrated by David Wiesnerand (Clarion Books).
First-time YA author Stephanie Kuehn won the William C. Morris Award for a debut book for Charm & Strange.
The ALA Youth Media Awards also give an opportunity to books sometimes overlooked in other award categories in order to shine a spotlight on underrepresented authors and themes. The Coretta Scott King Book Award honors children's and YA titles by African American authors. This year, the awards were given to P.S. Be Eleven, written by Rita Williams-Garcia (Amistad), for winning author and Knock Knock: My Dad's Dream for Me, illustrated by Bryan Collier (Little, Brown and Company) for winning illustrator.
Schneider Family Book Award is awarded to a children's or young adult book that embodies an artistic expression of the disability experience. It is given in three age groups, and the winners were, for children 0-10: A Splash of Red: The Life and Art of Horace Pippin, written by Jen Bryant, illustrated by Melissa Sweet (Knopf) — which received a massive ovation from the crowd in Philadelphia; for children 11-13: Handbook for Dragon Slayers, written by Merrie Haskell (HarperCollins); for young adults: Rose under Fire, written by Elizabeth Wein (Hyperion).
The Stonewall Book Award is given to children or YA titles of exceptional merit relating to the LGBT experience, first awarded in 1971. There were two 2014 winners: Beautiful Music for Ugly Children, written by Kirstin Cronn-Mills (Flux) and Fat Angie written by e. E. Charlton-Trujillo (Candlewick).
For the full list of awards, you can visit the ALA website.
This article has been updated.
Image: Tumblr / John Green