11 Nonfiction Books All Artists Should Read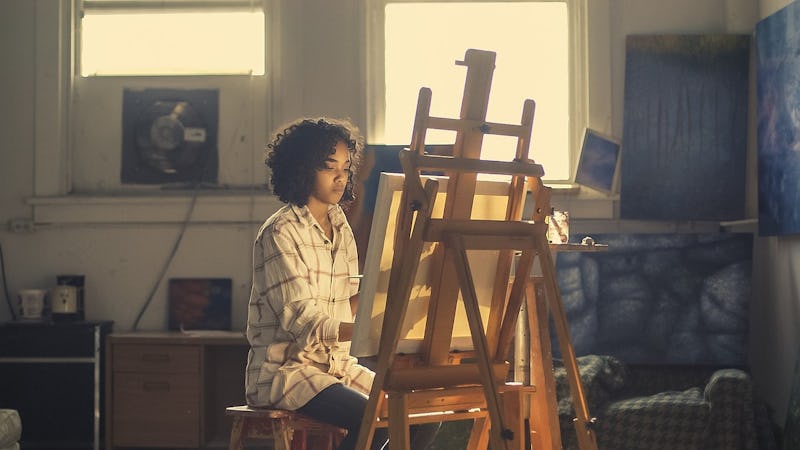 Whether you're a painter, a musician, or a poet, you're an artist, and like most other artists, you're constantly looking for new ways to grow and nurture your craft. There are plenty of methods you can use for honing your skills, but I think everyone can agree that reading is a great way to nourish that thing you love most — your art.
Being an artist isn't just about mastering your technique. Whether it be music, writing, or visual art, to be the best you can be, you have to immerse yourself in your craft by engaging in the community and learning from those who came before you.
From memoirs to essay collections to biographies, nonfiction books about other artists or the expression of art itself offers a certain insight that is both informative and inspiring. Reading about the accomplishments of an artist you admire not only gives you an inside look at your idol's life and work, but it can influence your own creative endeavors.
If you're looking to boost your creativity, learn something new, or just read a story about someone you can relate to, here are 11 nonfiction books all artists should read. There's no telling what you can learn from someone who's studied your art from for years, or another artist who has been where you are and has gotten to where you want to be.
Elizabeth Gilbert is know for her inspiring prose, and Big Magic is no different. A kind of self-help book for the creative people of the world, it's intimate, inspiring book that can help to ignite anyone's passion, no matter what they're art form.
The extraordinary life of legendary Mexican painter Frida Kahlo is brought to life in Hayben Herrera's thoughtful, well-researched biography. Absorbing and engaging, Frida explores not only Kahlo's groundbreaking art, but her personal struggles and health issues, her complicated marriage with Diego Rivera and the other loves of her life, and her log-lasting legacy. Whether you're a painter or another kind of artist, you'll appreciate the story of this incredible woman's life.
If you're a writer and you want to learn from the master, look no further that Mary Karr's The Art of Memoir . A guide to writing that goes much deeper than technique, Karr's insightful, impassioned book is about the craft of memoirs and so much more.
Venture inside the mind of one of the most influential creative figures in American culture through his own diary entries. The Andy Warhol Diaries , which span the 1970s to days before the artist's death in 1987, gives readers an intimate, revealing look at the life and work of Warhol and his very famous friends. A must-read classic for every kind of artist.
While there's a lot to be gained from reading artist memoirs and biographies, there can be even more learned from critical works about art itself. The third collection in a series of essays on art, John Updike's Always Looking examines masterpieces from legendary artists from Norman Rockwell to Frederic Edwin Church, and each essay is full of thoughtful critiques, astute observations, and, most notably, a deep appreciation for art in all it's forms.
If you're a critic, whether it be of gallery art or punk music, your observations transcend that of the art form you critique, but the culture surrounding it. There is no better example than Jessica Hopper, a celebrated music critic and one of the sharpest, thoughtful writers in the business. An interesting and immersive read, The First Collection of Criticism by a Living Female Rock Critic is a valuable resource for anyone interested in music and it's culture.
One year can change your entire life, and in Kristin Hersh's extremely personal and candid memoir, Rat Girl, you can see exactly how much. A musician who had just seemed to find her groove, the founder of the band Throwing Muses's entire world was turned upside down when she found out she had bipolar disorder, and quickly after that, learned she was pregnant. A moving story of a girl not only coming of age, but coming to terms with illness, learning how to be a mother, and, all the while, still trying to create music and art.
Artists aren't only struggling at the beginning of their careers, just ask Abigail Thomas. In her memoir, What Comes Next and How to Like It , Thomas explores what it takes to overcome the curves life throws at us — from losing a loved one to being betrayed — and create tiny miracles out of them. It's not only a book about aging, love, and family, but an insightful read about creativity and its challenges throughout a lifetime.
What's better than learning about one inspiring female artist? Learning about 25 from an expert critic, obviously. In 25 Women, Dave Hickey examines the contributions of incredible artists like Joan Mitchell, Karen Carson, and so many more. If you're an artist or an art lover, this needs to be on the top of your reading list.
If you're an artist, you probably appreciate a book that includes more than words. Photographer Sally Mann's memoir, Hold Still, includes telling, not to mention breathtaking, photographs alongside her own personal and family history. A truly unique book that every artist should add to their TBR pile.
A truly beautiful artist's memoir, Drawing Blood combines two things Molly Crabapple does best — creating stunning artwork and crafting remarkable prose. A true confessional, it's an expansive memoir that explores art, politics, and growing up and finding yourself. Every kind of artist can benefit from the experience of reading Drawing Blood.
Images: Pixabay