These Are Dita Von Teese's Lingerie-Wearing Tips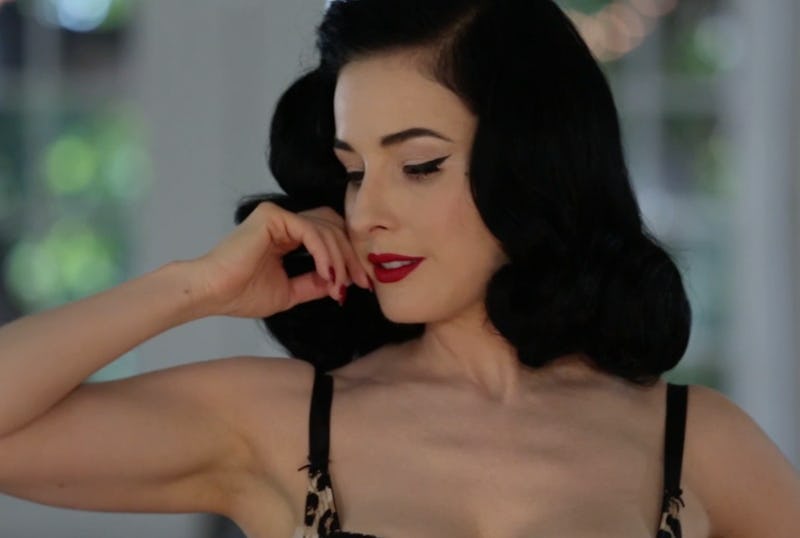 Many people think lingerie falls into one of two categories. You have your sexy and perhaps naughty intimates for dates or romance. Then you have your basic (and maybe even a little boring) undies for everyday life. However, burlesque model and bombshell Dita Von Teese believes in everyday lingerie, considering it a "tool of seduction, of course, but moreover, a moment of everyday glamour and beauty that is functional." In this video for Mode, which we're exclusively sharing first, Von Teese espouses the virtues of underthings and reminds us that investing in daily lingerie is an easy way to feel privately sexy. Her tips and tricks are super useful and easy to apply Monday through Friday.
That is, wearing sexy undies needn't be a major production. It won't add much extra time to your daily routine, either. It will, however, be an added detail. There's nothing wrong with adding a dose of personal lingerie glamour, even if it's not outwardly displayed.
In the clip, Von Teese declares that lingerie "can be all-in-one and it can be effortless when you wear in your everyday life."
If you adopt these three tenets, as directed by the throwback and old school beauty Von Teese, you will get a sexy confidence boost, too.
1. Try Leopard Print
Von Teese believes that leopard print has become a basic these days and she loves the pattern for its subtle sexiness. She notes, "No matter what your fashion style is, underneath your clothes, you can be whoever you want to be." So wear something with a leopard print for extra oomph that only you know about.
2. Garter Belts
Garter belts came into vogue in the '20s as an alternative to corsets and girdles as women's fashion changed, according to The Lingerie Journal. Von Teese would like to see them return to prominence over the pantyhose which replaced them. She has garter belts in her own lingerie line, with six garters instead of the usual four. There is something so retro and a tad naughty about garter belts.
Garter belts may have been popular in your grandmother's day and age, but they remind me of a glam and ladylike era long gone.
If you go with a shorter hem and a garter belt, you might flash a little here and there. But you'd have to be careful on that front — perhaps save that for private sexy time with your significant other.
3. Old School
Von Teese's lingerie line boasts stockings made from the same mills as the '40s and '50s. They might feel a bit unusual at first, since there is no lycra. There is also something discreetly sexy about nylons. Plus, they can polish off your look when wearing a dress.
Watch the exclusive video below.
Images: Mode (4)