These Are The Liquid Lipstick Hacks you Must Know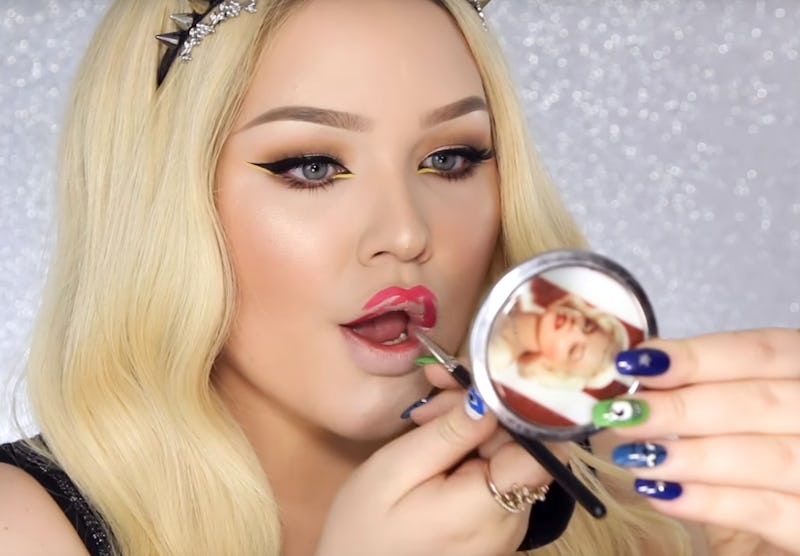 Finally, a makeup product trend that isn't about brows and contouring. Liquid lipsticks are all over the place, and rightfully so: long-lasting and opaque, they're the lip product that keeps on giving. Whether you're a newbie or a ninja with a doefoot applicator, with these liquid lipstick hacks, you're guaranteed to get the most out of your tube of unicorn goo.
If you haven't yet made the foray into the land of liquid lipstick, you're totally missing out. There are options at plenty of different price points, such as ColourPop's beloved Ultra Matte Lip, so trying out the trend doesn't require a huge initial investment. Application can be tricky at first, but once you get the hang of it, you'll never look back at traditional lipsticks. Liquid lipsticks are highly pigmented, so if you struggle to apply lipstick out of a tube, you might want to line your lips first or apply the product with a brush to avoid accidental clown mouth (more on that below). Practice and be patient. Good things come to those that wear liquid lipstick. I promise.
Once you get the hang of applying liquid lipstick out of the tube, congratulations! You're practically a beauty guru. But there is more to liquid lipstick than you'd think. Among other things, it can be used with a stain for ultra long-lasting results,or even applied as a blush. Check out these hacks so you can make the most of your favorite liquid lipstick.
1. Apply It With A Brush
Too much liquid lipstick? Say hello to flaking. It can be hard to apply thin coats with a doe foot applicator (though totally doable!), so try NikkiTutorial's method: use a lip brush for maximum control.
Blot After Applying For A Stain
The appeal of liquid lipsticks are that they offer opaque coverage, but if you're not feeling it, Cosmopolitan recommends blotting your lips before the formula dries. Voila — you've got a lip stain. Check out the video for VintageOrTacky's blotting paper recommendations, because nobody wants linty lips.
Combine With Lip Liner For Magical Results
Thanks to Kylie Jenner, big, overdrawn lips are all over the place now. If you weren't born with full lips, first commiserate with me, and then grab a lip liner, because that baby is going to change your... lips. Temporarily. Above, Desi Perkins offers tips for overdrawing your lips without going overboard.
Use Lighter Shades To Enlarge Your Lips
As Rihanna so beautifully demonstrates above, the principle of using white liner and highlighter to make your eyes appear larger applies to lip color as well. Light makes objects appear bigger, whereas dark makes them appear smaller, so grab your favorite nude lip color if you want to maximize your mumbler.
Got Fading? Apply A Glossy Stain
YSL Vernis À Lèvres Glossy Stain, $35, Amazon
Although I've yet to experience success combining liquid lipstick and, well, anything else, the folks over at XOVain found that glossy stains might be the one kid on the playground this lip product gets along with. This is one hack I can't wait to try out.
Put It To Work: Make It A Blush
It's easier to justify spending $25 on a lipstick if you can use it as a blush too. Liquid lipstick alone is too thick and pigmented to apply smoothly, but as Beautezine points out, all it needs is a bit of face primer. Mix on the back of your hand and bam — you've got a cream blush.
Use It As A Liquid Liner... Or Not
That's right: according to PopSugar, liquid lipstick also makes the perfect liquid liner, which is a godsend for anybody who's ever worn red liner and ended the night with an onset of pink eye bags (am I the only one?). But this hack might be the one you avoid. Take heed: the FDA recommends against using products around your eyes that are meant for use on your mouth, as the lip product might contain color additives that could cause irritation to your peepers. Also, lip products could harbor bacteria that could lead to an eye infection. Actually, it might be better to leave his hack to the beauty bloggers.
Images: NikkieTutorials/YouTube, Giphy (2), Courtesy Brands