Netflix Movies To Watch If You're Single On VDay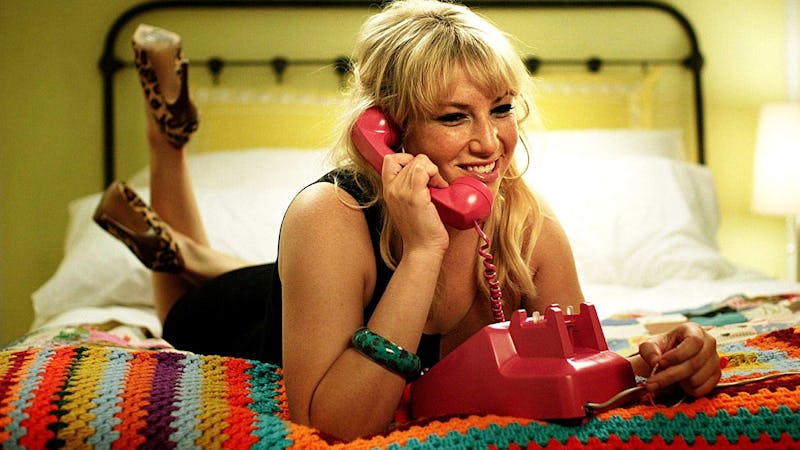 No matter if you're cozily coupled up or happily single this February, there are plenty of reasons to dread the holiday that falls in the middle of the month. Valentine's Day can be super stressful, if only because there's so much pressure to get into a romantic mood. If you're one half of a couple, you have to decide if you're doing anything for the Big Day this year — and whether it's worth it to actual make reservations somewhere nice or wing it and end up at chomping on wings at a TGI Fridays. Couples don't get out of the obligatory anxiety, but single people may have it worse: society tells them that they can either bemoan their status for the entirety of Feb. 14, or they can go out and rage in celebration of singlehood. I, however, propose a third option: pick up a container of red and pink cookies, slip into your coziest pajama pants, and go to town on your own single-approved Netflix marathon.
Movies can soothe the soul, which is why Netflix is the best remedy for when you're feeling just a tad bit blah about the whole "let's celebrate romance" thing. Instead of feeling down, make a line up of the below movies and have a perfectly lovely Valentine's Day, either solo or with some of your best single buds. The movies on this list aren't all devoid of romance; it's just that a love story is anything but front and center. Instead, these movies focus on the awesomeness of building friendships, achieving your dreams, and following your bliss — perfect for any single lady.
1. Clueless
The modern day adaptation of Jane Austen's Emma is sprinkled with romance (how cute are Cher and Josh, despite the step-sibcest thing?!) but mostly, it's about getting to know yourself and striving to be the best version of it that you can be. And admit it: you still wish you could dress like Cher and Dionne on the reg.
2. The Last Five Years
The musical deconstructs a couple's relationship from alternate perspectives throughout two separate timelines that eventually meet in the middle. Single people should watch it to remember that flying solo is far better than wasting five years of your life with a Dan Humphrey-type who will cheat on you with his publisher.
3. For A Good Time, Call...
Consider this the When Harry Met Sally of friendships. Two very different women bond over their phone sex line company, and find themselves in a beautiful BFF relationship. It's proof that sometimes your friends can be your ultimate soulmates, so maybe throw your real-life bestie some heart-shaped chocolates this year.
4. Philomena
This story, about a mother searching for the son she lost years earlier, is definitely a tearjerker, but Judi Dench's knockout performance as the resilient titular character is a reminder that females are strong as hell.
5. Vampire Academy
Twilight this movie is not. It's about two super tight BFFs who will stop at nothing to keep the other one safe, even if it means taking on an ancient vampire clan.
6. Heathers
Mr. Robot star Christian Slater has never looked better than as J.D. in Heathers, but you so do not want to date this bad boy, who makes murders look like suicides and has cultivated a seriously warped manifesto. Winona Ryder's Veronica is along for the ride, until she's not. At its core, Heathers is about carving out your own identity, despite the less-than-stellar influences along the way.
7. The Babadook
A mom struggling to deal with her husband's death and her son's hyperactive behavior is our protagonist in this horror flick that will guarantee at least one night sleeping with the lights on. Despite the seriously disturbing imagery, the film is ultimately about the sacrifices we make for familial love, which doesn't get much appreciation on Valentine's Day.
8. To Kill A Mockingbird
Your favorite high school novel is stuffed with important themes that resonate as strongly today as they did in the '60s, plus it stars a young, feisty girl who has a lot more to handle than most kids her age. The film will remind you of the Big Picture — and having a Valentine's Day date is so not it.
9. Legally Blonde
What starts off as your standard "get the boy back" movie ends up as a seriously inspiring girl power tale. Elle Woods may look like the classic blonde "bimbo," but looks can be deceiving — and Elle isn't about to listen to any haters who say that she can't be a kickass lawyer and a master at mixing patterns.
10. Middle Of Nowhere
Before she made Selma, Avu Duvernay made this film about a woman whose life takes a sharp turn when her husband is imprisoned. The story about a woman getting back to herself after a serious relationship struggle should inspire single women everywhere.
11. Free The Nipple
A feminist doc about a woman's right to show her body in public? Sounds like required viewing for any woman, single or not.
12. Melancholia
Technically, this film starts out with a wedding (the groom is Alexander Skarsgard!) but it's no love story. This film is super bleak (the world is ending) but before the worst happens, two sisters attempt to reconnect. I would recommend watching one of the above comedies afterwards as a palette cleanser.
13. Beyond The Lights
Though this movie does have a pretty beautiful love story, the real message is the importance of respecting and taking care of yourself. In the film, rising star Noni (Gugu Mbatha-Raw) is pressured into becoming a hyper-sexualized artist she doesn't identify with, and attempts to find her own voice in the industry that tells her she can only be one thing. It's a great Valentine's Day reminder to love yourself first.
14. 13 Going On 30
It's absolutely a "chick flick," and it remains adorable despite numerous re-watches. The tale of a woman who gets a flash-forward of her life as a grown-up is a sweet love letter to the hopeful teenager inside all of us.
15. Frances Ha
If you've ever felt lost in your 20s, then this film will remind you that you are not alone. The movie follows an aspiring dancer as she moves from one place to the next, seeking fulfillment and success without much luck. It's not a bleak movie, just one that reminds you it's totally OK to feel a little bit hapless.
16. A Girl Walks Home Alone At Night
The vampiric blood sucker in this movie is a single woman who takes down the town's criminals with her gaze and fangs. It's refreshing to see a female-driven film where the leading lady is the one to be feared.
17. Joan Rivers: A Piece Of Work
The late Joan Rivers was far more complex than most people gave her credit for. This documentary explores Rivers' climb up the comedy ladder, and should inspire any woman to pave her own path. You don't need a significant other in your life in order to be your most badass self, and Rivers proved that.
Settle in on the couch with a few of these movies (and, possibly, a bowl of conversation hearts) and you're guaranteed to have a lovely V-Day, sans date.
Images: Focus Features; Giphy (15); gifthescreen, kristenschaals/Tumblr