The One Shirt The It Girls Are Wearing This Winter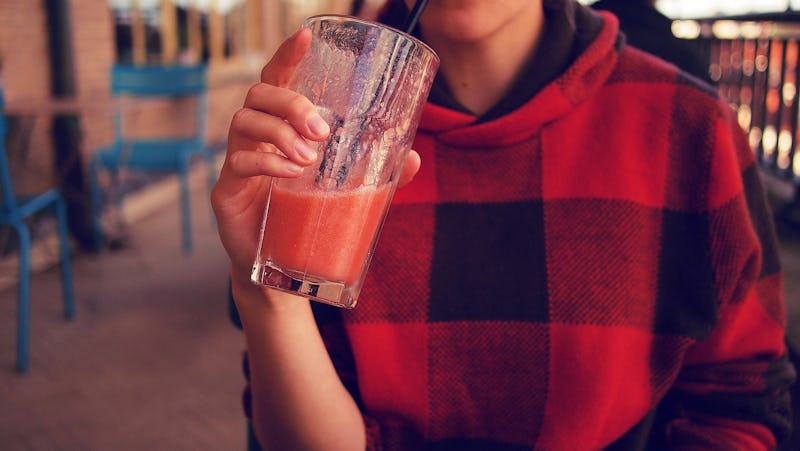 ICYMI, it's winter, and for me, that means busting out a flannel shirt (usually for Flannel Fridays in my office) in an effort to bring some color to the dreary outdoors (and my otherwise neutral wardrobe). So when Gigi Hadid, Selena Gomez, and Italian blogger Chiara Ferragni all wore basically the same plaid shirt, I took notice. It turns out, the one shirt all the It girls are wearing this winter is a comfortable staple everyone should have in their cold-weathered wardrobe: a buffalo check shirt.
According to Ad Week, buffalo check is an 165-year-old pattern that was first developed in Pennsylvania in 1850. It was named after its designer, who happened to have a herd of buffalo. Regardless of its interesting back story, the classic black and red plaid pattern has been seen everywhere in the past few months. Olivia Culpo wore a buffalo check Madden Girl coat from Kohls last fall, and White Mountaineering even showcased the plaid print in its fashion show at the menswear shows in Paris this week. In other words, this pattern is gaining some major steam right now, when you're probably thinking about updating your winter wardrobe.
For a bold look, you can style it like Gomez, who paired her buffalo check shirt with a diamond choker and gold-studded bustier.
And, check out that gorgeous eye makeup.
Gigi Hadid went a little more casual with cropped black pants and heeled black booties with her buffalo check.
Finally, Italian style star Chiara Ferragni layered her buffalo check between a grey graphic tee and a cute black moto jacket. I love the little hint of black and red.
No matter how you wear it, a buffalo check plaid shirt is a fun addition to your winter wardrobe. Here are four of my favorite looks to shop right now.
Buffalo Check Flannel Shirt, $59, woolrich.com
Woolrich, an outdoors outfitter, created the original buffalo check pattern. Its button down is classic and simple.
Flannel Ex-Boyfriend Shirt in Buffalo Check, $59.99, madewell.com
This slouchy Madewell style is similar to both Gomez and Hadid's look (and I love the name).
Buffalo Plaid Button Down Tunic, $26.98, target.com
This longer length top (currently on sale!) would be adorable with leggings for a low-key day.
Buffalo Plaid Longline Shirt, $24.90, forever21.com
This shirt deviates slightly from the classic black and red style (if you look closely, it's navy not black), but it's adorable so I'll give it a pass. I love the longer length in the back.
With these tops, you'll be able to dress like an It Girl all winter long.
Want more style tips? Check out the video below, and be sure to subscribe to Bustle's YouTube page for more hacks and tricks!
Image: Pixabay