9 Tips For Cleaning Out Your Closet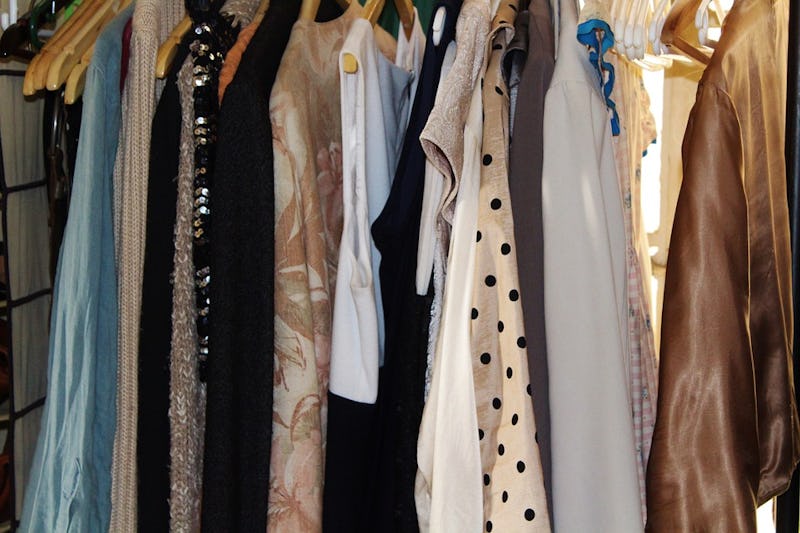 It's that time of year again. Your closet is getting cluttered, and you're running out of space to fit all of your clothes. While it may not be your favorite task, cleaning out your closet and organizing your wardrobe doesn't have to be an utter chore. There are plenty of ways to spruce up your space without it being a total drab. It's all about streamlining your wardrobe, while keeping in mind the total amount of space that you actually have.
While we all save to keep every last article of clothing that we own, it isn't always practical. I mean when are you actually going to wear your prom dress again? It's time to ditch your boring, dated, and unused clothes, and give your closet a little breathing room. Plus, be honest with yourself. You weren't going to wear those things anyway. Clean up your wardrobe by cleaning out your closet. It's an easy way to upgrade your home from cluttered and clunky to simplistic and fabulous. It's the best way to kick off the new year in style. Wondering where to start? Here are nine tips for decluttering your closet and ditching your old clothes.
The Life-Changing Magic of Tidying Up: The Japanese Art of Decluttering and Organizing, $10, Amazon
1. Turn Around Your Hangers
We all have those clothes that we swear that we are going to wear "one day." BuzzFeed suggested that in order to cut back to clothing that you honestly don't wear, take the time to invest in this handy closet trick. Simply switch around your hangers to face the opposite direction (with the handle facing you). After three months, ditch any clothing that is still facing the opposite direction. If you haven't worn it in months, when are you ever really going to wear it?
AmazonBasics Velvet Hangers, $23.99, Amazon
2. Get Creative With Your Floor Space
What's the point of owning gorgeous shoes if they are just going to be jumbled in a pile on your floor? Utilize the floor space in your closet by investing in a shoe rack or small shelving units. It'll help keep your shoes organized, while maintaining their true shape.
ClosetMaid Stackable Cube Organizer, $29.97, Amazon
3. Start With A Clean Space
This may sound like a no-brainer, but starting with a clean space can really make your decluttering process that much more simple. For instance, when I like to tackle cleaning out my closet, I like to start by tidying up the rest of the room beforehand. That way when I begin going through my clothing, I don't have to worry about jumbled sheets, dirty laundry, or any misplaced items.
4. Try Stuff On
According to TheEveryGirl.com, there are seven questions that you need to ask yourself when you're decluttering your closet. If an item doesn't fit, isn't going to fit in the next few months, if the item is dated, and/or if you simply don't feel confident in it, then it may be time for it to be donated or passed on.
5. Inspect For Damages
If your clothing is damaged, torn, or stained, then it might be time to throw it in the recycle bin. Unless you are determined to fix the problem, there is no sense in holding on to damaged goods.
6. Organize By Type
Take your closet declutter a step farther by organizing all of your clothing by its type. This will give you a better look at the items you truly own. Whichever piles or sections tend to be the biggest are the areas that you should take another look through.
7. Utilize Your Door Space
For those of us with tiny closets, clothing space is a real issue. Take advantage of your closet door by installing hooks. This will allow you to hang scarves, handbags, and any other accessories. It's a simple way to give your closet more space without throwing anything away.
8. Store Seasonal Items Properly
There is no reason that your winter coat should be hanging in your closet all summer long. Refinery29 suggested to place your seasonal items in garment bags and lay flat under your bed. This way nothing gets wrinkled, and you'll have more space for clothing you're actually going to wear.
9. Learn What To Fold, And What To Hang
Some clothing is just simply not meant to be hung up. For instance, SheFinds.com stated that heavy knits and sweaters can stretch if left on hangers. Who needs that? Save yourself some space by folding bulkier clothing items, and placing on your closet's top shelf. It will free up your garment rod, while still keeping everything on display.
Getting an organized closet isn't as hard as you might think. It's all about being realistic with yourself, and knowing how to take advantage of your space.
Images: Pixabay (8)