'OUAT's Bringing Justice To Zelena In Oz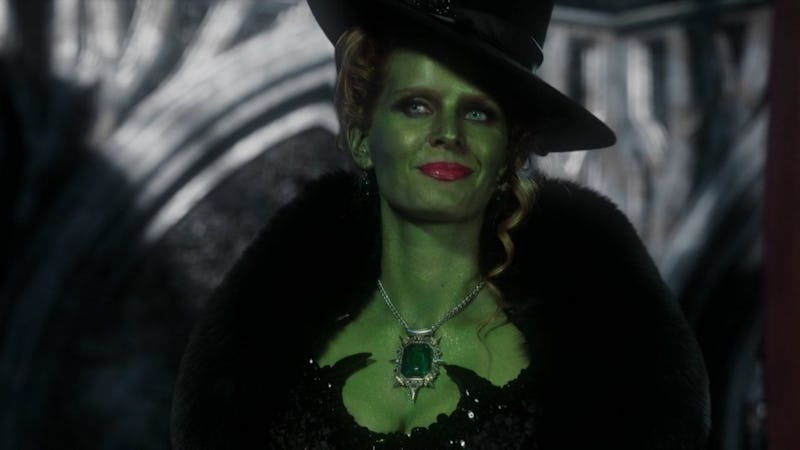 We're only about six weeks away from the premiere of Once Upon A Time Season 5's spring premiere, and it's actually shaping up to be a pretty interesting batch of episodes. Of course, the big storyline being promoted at the moment is this ridiculous trip to the Underworld so that ridiculously (and no longer endearingly) stubborn Emma can attempt to save already (and hopefully permanently) dead Hook. That trip should last a few episodes before we'll actually get to move on to more interesting things. There's Belle backstory to explore, and even more excitingly, a trip to Oz. That should come just in time for Episode 18, entitled "Ruby Slippers", if the script tease from showrunner Adam Horowitz is anything to go by (and it obviously is).
We already knew that Dorothy would be making a return to Once, albeit in slightly different circumstances. This Dorothy is a "warrior" and she's all grown up now. She's out to beat the bad guys, and I think we can agree that Zelena is one of the baddest of all (or the most wicked — you get the drift), so it seems like there's going to be a serious battle ahead, and frankly, I can't wait.
It's hard to say whether "Ruby Slippers" is hinting at something deeper, but given Once's history, that could very well be. We know how important those slippers are to Dorothy in the original Wizard of Oz story — they are truly the source of her power and she's warned by Glinda never to give them up. It stands to reason, then, that they'll continue to help Dorothy as she battles dark forces in the world, and given that Zelena is pretty dark indeed, will the slippers help defeat her once and for all?
Frankly, I kind of hope not. After all, Zelena might be wicked, but she's a whole lot of fun. The character is downright insane and despite a rather dodgy/offensive writing move with the whole Robin Hood's baby thing, she's one of the best villains the show has. Given that the writers seem happy to ruin a good thing, I'm hoping Zelena doesn't become another casualty — who doesn't need a little wicked in their lives, right?
Whatever happens, it'll have to happen quick. After all, if Zelena is going to be sticking around, she'll need to find her way back to Storybrooke sooner or later, and that means Dorothy can't be victorious (and unless she's coming back with Zelena, she won't be sticking around for long, either). I don't know about you, but this is one story I'm actually looking forward to either way.
Image: ABC