Everything To Know About Floating Bonsai Trees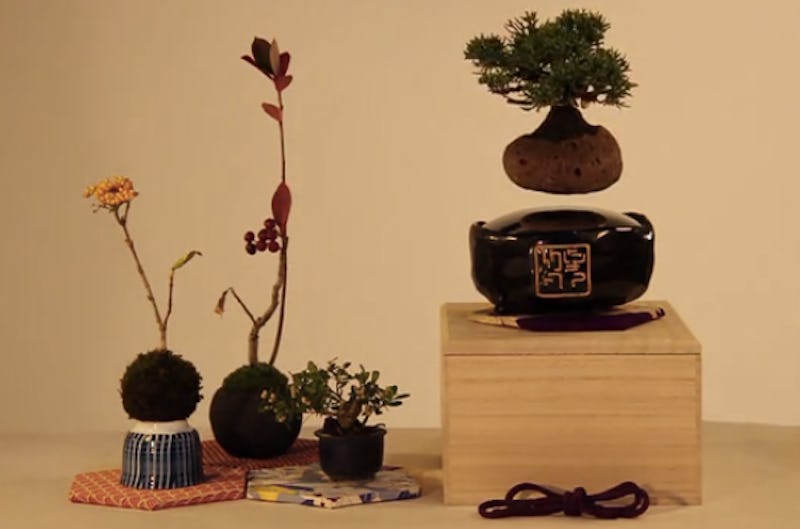 Let me ask you a riddle: "What tree has roots that never touch the ground and whose height never reaches the sky?" Yes, this unique tree does indeed exist, hovering as if by magic — but what are floating bonsai trees? The Hoshinchu Team in Southern Japan have put a new spin on the ancient Japanese art form of growing, shaping and maintaining ornamental dwarfed trees. "Air Bonsai" takes these trees (literally) to another level using magnetic levitation to make these stunted plants float and spin.
The "Air Bonsai" is comprised of two elements: a planter which they call a "little star" and a traditional Japanese 'Imari' porcelain bottom half called the "energy base." When on, the built-in magnets apply an equal but opposing resistance to one another, giving the illusion that the ball is floating peacefully above the base. The plant hypnotically spins, bringing a sense of zen into your apartment— and your life. Truly, it is so mesmerizing you will want to watch it for hours.
The designers are raising money and quite a bit of buzz through their Kickstarter campaign. After launching in January, response has been overwhelming. They have met their original goal of $80,000 five times over.
If you want to get your hands on this floating tree, you can still add money to the campaign till March of this year. The first shipment is set to go out in August. Pledging $200 gets you the basic set, complete with the a mossy circular little star and the sleek white energy base. Thirty dollars upgrades you to the porous white "lava stone" little star, and for a few hundred more, you can customize your base with different handmade versions. And for those who cannot get enough of this tree magic, pledging $10,000 equals a trip to Japan and a tour of the craft workshop, which looks pretty darn meditative.
For those residing in the US, these starter kits do not come with the bonsais seen on the website. US-based backers receive tiny pine trees which have been locally-sourced. As the designers explain on the Kickstarter page, "Strict plant quarantine regulations prohibit exporting plants from Japan." There are instructional videos on the page, showing how you can transplant any tiny plant of your dream into your little star and watch it flourish. Unfortunately, at the moment, the base is powered by AC adapter, and you must keep it plugged into an outlet at all times (no watering while it spins!).
Keeping a bonsai tree healthy requires skill and careful attention. Some of the oldest bonsais in the world are over 800 years old and have been cared for from generation to generation. To maintain the tree, it will need pruning and wiring; you can check out this infographic for helpful hints. Frequent watering and fertilizing is also vital to its health, but the beautiful results are well worth the time and effort. If you don't believe you have a green thumb, the floating mossy ball looks pretty cool on its own. Or you could always purchase some floating bluetooth speakers— though I doubt they'd have the same zen effect.
Images: The Hoshinchu Team (4)