Where's The 'Lemony Snicket' Cast Today?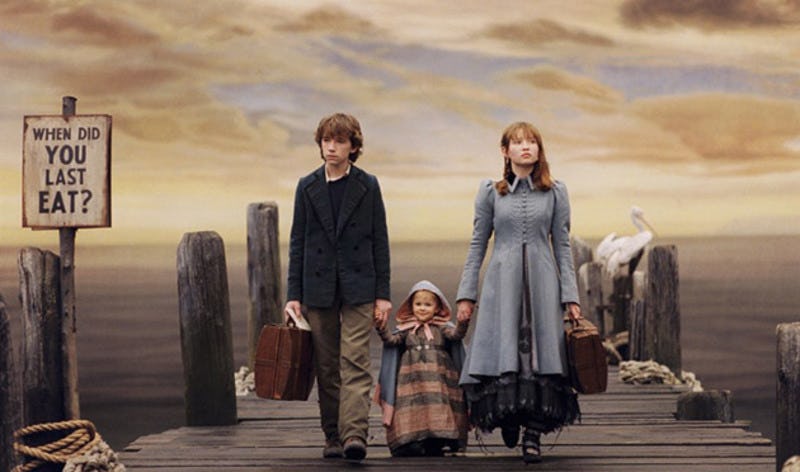 It has been 12 years since the film Lemony Snicket's A Series of Unfortunate Events premiered on the big screen, and now, Count Olaf is back to reign terror on the Baudelaire children once again — but this time, on the small screen. Netflix has announced that they will be releasing a show based on the book series Lemony Snicket's A Series of Unfortunate Events. The show is set to premiere this year, and has already cast Neil Patrick Harris as Count Olaf. The characters of the two eldest Baudelaire children, Violet and Klaus, were also recently cast, and will be played by new comers Malina Weissman and Louis Hynes.
The film was narrated by Lemony Snicket and followed the three Baudelaire children during the aftermath of a devastating fire that killed their parents. They are sent to live with their only relative, Count Olaf, who attempts to steal their entire fortune. The film follows the kids as they attempt to out wit Olaf and survive another day. It's a bit of a dramatic plot for a children's film, but oddly enough, it works. The first movie, starring Jim Carrey, was released over a decade ago, in 2004. Since then, each of the cast members have had a great amount of success both on and off screen. (Maybe they'll even make a cameo or two in the new series?)
Here's what they've been up to:
Emily Browning As Violet Baudelaire
Emily Browning's portrayal of Violet is one of my all time favorite movie roles. Her craftiness, wit, and just downright feminine strength was a sight to behold in this film. She is still regularly acting in film, and she ended 2015 with a starring role in the film Legend opposite Tom Hardy.
Liam Aiken as Klaus Baudelaire
Liam Aiken has gracefully mastered the divide between child actor and true leading man with ease, and I'm hoping we'll be seeing a lot more of him. Thankfully, little Klaus Baudelaire is not so little anymore, and dare I say, extremely good looking. Aiken is still actively working in the film industry, and is set to star alongside Amber Tamblyn in the drama Cleveland.
Kara And Shelby Hoffman As Sunny Baudelaire
As per usual in Hollywood (Full House, anyone?!), the youngest Baudelaire baby was played by twins. Kara and Shelby Hoffman shared the role, and provided equal cuteness during their time onscreen. The two haven't been seen publicly in a while, except for a few appearances on the Kroll Show . While neither have opted as of yet to return to film, who knows — maybe a cameo on the new Netflix series is just what they need to get back into the game.
Jude Law As Lemony Snicket
Yes, Jude Law was in this film. He was Lemony Snicket, and did the voice narration for the entire film. While he was an important character in the film, we basically know what he's been up to, and he looks the same. But, just because I like to look at pictures of Jude Law, here's another one:
For a cast of fairly young Hollywood talent, they have all done pretty well for themselves in the years since the film's debut. No major scandals or problems to report, and they all have strong careers to boast for the most part. Luckily, their real lives didn't turn out to be a series of unfortunate events.
Sorry, I had to.
Images: Paramount Pictures (2)