'RHOP' Star Robyn Is Close With Her Ex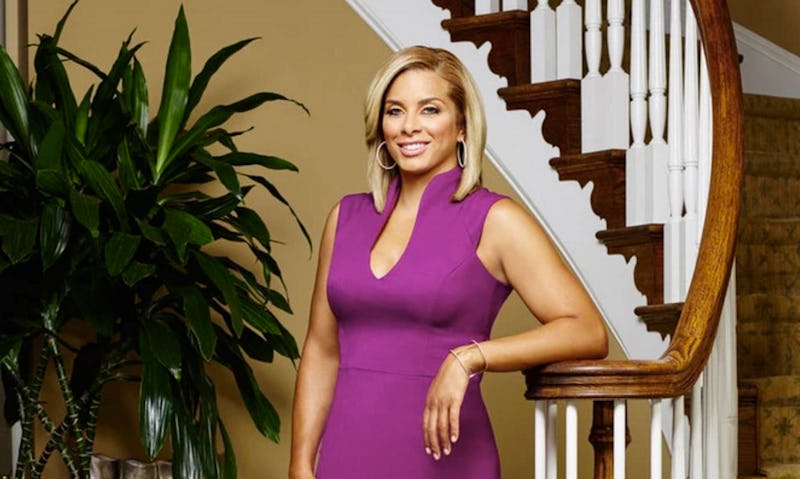 Fans are still getting to know the stars of Bravo's new reality series, The Real Housewives Of Potomac, which premiered earlier this month. But, as we learn about the show's leading ladies, we are also learning about the men in their lives, including Robyn Dixon's unconventional roommate and ex-husband Juan Dixon. But, how did Robyn Dixon meet Juan Dixon to begin with?
According to her Bravo bio, the pair were high school sweethearts. Juan met Robyn when he played a basketball game at a rival Maryland high school, which also happened to be where Robyn went to school. Though the two found love as teens, during what was a difficult time for Juan, as ESPN reported both of his parents passed away from AIDS-related complications by the time he was 17. ESPN also reported that Juan has tattoos with both of his parents' names ("Nita," short for Juanita, and "Phil") on his left bicep in their memory.
According to her Bravo bio, the couple's courtship continued at the University of Maryland where, in 2002, Juan led the Terrapins basketball team to their first national title. After college, Juan became an NBA star, playing for the Washington Wizards, Portland Trail Blazers, Toronto Raptors, and Detroit Pistons throughout his career. All the while, Robyn was by his side.
Bravo reported that Juan popped the question while the couple was vacationing in Miami. Juan inscribed "RB — will you marry me?" in the sand on the beach. According to Bravo, the couple said "I do" before 400 of their family and friends at the Galleria at Lafayette Center in Washington, D.C. in 2005. The marriage resulted in two children, 7-year-old Corey and 6-year-old Carter. However, their romance came to an end, and the pair divorced in 2012, according to The Baltimore Sun.
But, this divorce has not led to a separation in the traditional sense. Juan, now a special assistant to the head coach at University of Maryland, and Robyn, a D.C. publicist, still live under one roof — and share a bed. In a clip from the RHOP premiere episode, Robyn and her friend and co-star Gizelle Bryant discussed this unusual living situation while Robyn was wearing her old wedding dress. In the clip, Robyn was asked if Juan is seeing other people while the family is living together, to which Robyn responded, "Not that I know of … but, there's no rule." Gizelle was unsurprised by this answer and responded in a cutaway with her perspective on the duo: "Juan and Robyn have been together four or five thousand years. Juan ain't going nowhere. We tried to get rid of Juan. Where'd he go? He went outside to the mailbox and he came back," she said.
Like Gizelle said, this couple has been together FOREVER. And, after only a few episodes of RHOP, fans are becoming invested in what happens with the pair. Will the high school sweethearts finally work it out or continue to live as atypical roommates? We'll have to tune in to see the drama unfold.
Image: Tommy Garcia/Bravo