These Couples Are Having More Sex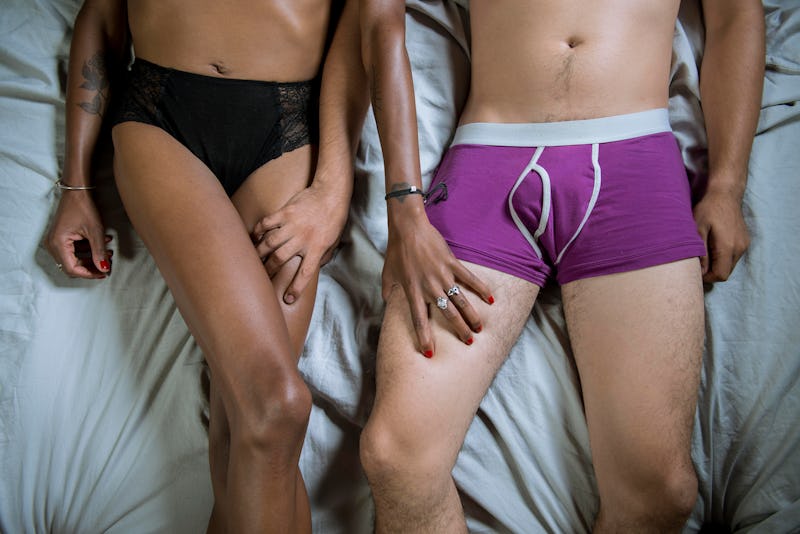 New research has found that married couples who use birth control are three times more likely to have regular sex than couples who don't. But lack of access or cost of birth control isn't the only reason some couples aren't using it. According to the study from the Johns Hopkins Bloomberg School of Public Health, access to contraception and cost has decreasingly become a reason as to why women don't use birth control. Instead, women are concerned about birth control's side effects — even the the misconception that contraception can cause infertility or cancer. And, many women reported they aren't using contraception because they are having infrequent sex.
The findings, which were presented at the International Conference on Family Planning in Nusa Dua, Indonesia took data of 210,000 sexually active women of childbearing age from Demographic and Health Survey questionnaires since 2005. All women studied were either married or living with their partner. One question in particular asked women whether they had sex during the past four weeks and whether contraception was being used.
As the study found, 90 percent of women who used contraception reported to having sex in the past four weeks. For women who didn't use contraception, 72 percent said they had sex in the same given time frame. Women who were more likely to have sex during those four weeks were between the ages of 20 and 29, had more education, and wanted to wait to have children in the next two years.
Access to proper family planning is a basic human right. According to the United Nations Population Fund, over 225 million women from developing countries lack access to safe contraception. However, Bell and her research team say current estimates have actually overestimated the unmet need of contraception."We need to put sex into conversations about family planning in order to understand how that factors into a woman's decision to use contraception or not," the study's lead author, Suzanne Bell, MPH, a doctoral student at the Bloomberg School said. "Risk of pregnancy is not uniform across users and non-users, as our results suggest."
According to Bell, sex is often left out of conversations around family planning, but modern contraception has allowed women and couples to separate sex from pregnancy.
"We want women to have better, healthier, safer sex lives, and contraception enables that," Bell tells Bustle. "Incorporating sex into our family planning conversations and research can help us better understand how sex frequency factors into a woman's decision to use contraception or not."
Although she notes that her research can't be sure greater contraceptive supply will lead to more frequent sex, if future research is able to establish a link from contraceptive availability to frequency of sex, then reductions in unmet need for contraception could mean good things for the sex lives of men and women worldwide.
Overall, the study sheds light on the importance of women's sexual needs. "If women are not using contraception because they are having infrequent sex, my hope is that these women still have access to quality information, counseling, and commodities for the full range of contraceptive methods," Bell says. "Family planning is not one-size-fits-all, and women's preferences or willingness to accept the risk associated with unprotected sex may vary across time and partners. I would hope women have access to quality family planning counseling and services to ensure that they can meet their sexual and contraceptive needs."
Want more of Bustle's Sex and Relationships coverage? Check out our new podcast, I Want It That Way, which delves into the difficult and downright dirty parts of a relationship, and find more on our Soundcloud page.
Images: Andrew Zaeh/Bustle; Giphy(2)