How 'Grease Live!' Will Differ From The Movie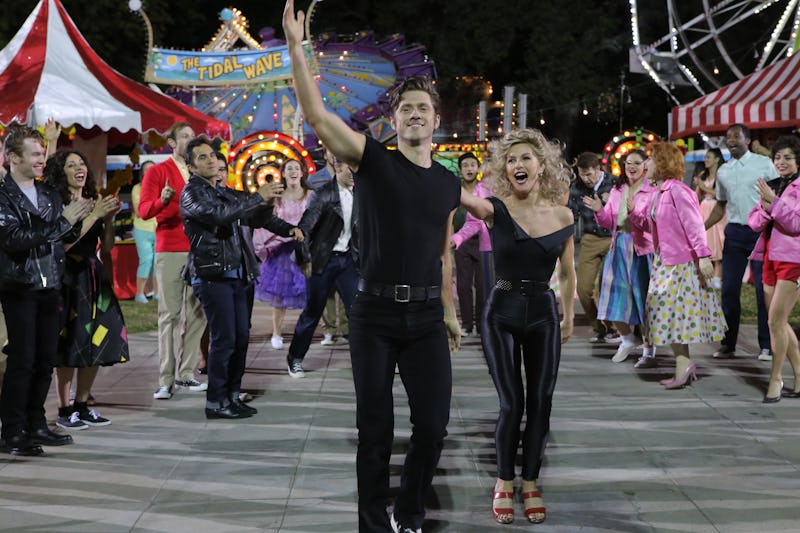 Chang chang changitty chang shoobop. If you understood that, you probably speak fluent Grease and are likely jazzed about FOX's upcoming Grease Live! television event. But, before you movie fans get too excited, you should know that this isn't an exact recreation of the 1978 classic. So, how will Grease Live! be different from the Grease movie?
On the heels of NBC's live musical specials, starting with The Sound Of Music in 2013, FOX is hosting its own musical event Jan. 31 with Grease Live!. And though if NBC's performances have taught us anything, it's that live TV doesn't have to be great to be lucrative (The Sound Of Music brought in 22 million viewers, despite mixed reviews), there is hope that FOX, the network behind musical Glee, will put on a good show. After all, Grease is a multigenerational classic. And for the latest generation, Grease may be pretty different than what longtime fans are used to thanks to FOX's updated version, and the fact that there were already some pretty big differences between the original Broadway musical and the film adaptation.
Here are the changes between Grease Live! and the movie that you should know about to get psyched for the live FOX broadcast. Wop ba-ba lu-mop and wop bam boom!
New Music & Different Performers
The Grease songbook has always varied between the original musical's repertoire and the film's. While this televised stage version of the classic musical will not include all of the original tracks, there will be a few songs from Grease's theatrical performances that were not included in the movie. Most notably, "Those Magic Changes" and "Freddie My Love" will be sung by Keke Palmer's Marty, according to HollywoodLife. And Entertainment Weekly reported that Grease Live! will premiere a new song, written by the composers of If/Then and Next to Normal and performed by Carly Rae Jepsen's Frenchy.
At FOX's TCA panel earlier this month, it was also confirmed that some lyrics will change to make Grease Live! more family friendly, as reported by Deadline. But, don't let that worry you too much, because other more mature subjects will still make it through, such as Rizzo's pregnancy storyline.
More Diversity
The 1978 movie featured a predominantly white cast, but luckily, Grease Live! is changing that. Palmer explained to USA Today that though the live musical is set in 1958, the cast reflects a modern, diverse audience. "We're still in that era, but of course we have a multicultural cast," she said. "Everything is more what our world looks like today."
Sandy's Accent (Or Lack Thereof)
In the stage production of Grease, Sandy is always the new girl, but she isn't usually Australian. She was only an Aussie in the film because she was portrayed by Olivia Newton-John. Another difference between the two? Sandy's last name in the film is Olsson, though on stage it is usually Dumbrowski. Julianne Hough's Sandy on the cast page does not have a last name listed, but whether she goes by Olsson or Dumbrowski, it is likely that Hough will speak in her American voice, like Sandy's stage portrayers.
The Supporting Cast May Get More Screen Time
With Marty's two additional songs confirmed and a new solo for Frenchy, it seems that Grease Live! will follow the theatrical tradition of giving the supporting characters more screen time. The film was very focused on Sandy and Danny, while the play sheds more light on all of The Pink Ladies and T-Birds (though in the original play Danny's gang is known as the Burger Palace Boys).
We Will See Some Familiar Faces In Different Roles
Didi Conn, who played Frenchy in the movie, will perform as diner waitress Vi in the FOX version, opposite Jepsen's Frenchy, Billboard reported. Barry Pearl, who played Doody in the film, will also make an appearance.
It's nice to see that even with some changes, FOX's Grease Live! is finding ways to honor the 1978 film that introduced so many people to the classic musical.
Images: Kevin Estrada/FOX (4)