7 Feminist Heroines You Were Never Taught About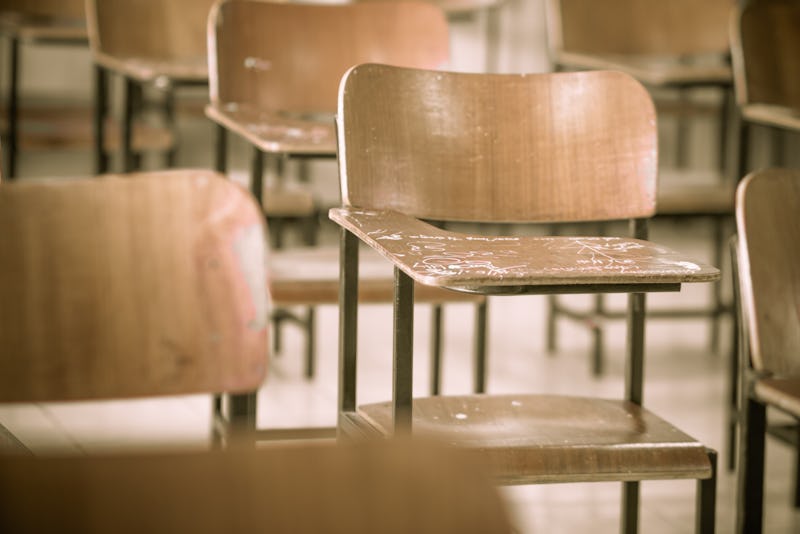 During my time as a history student, one of the most frequent questions that I have found myself thinking about has simply been: "Where are the women?" It always seemed that in order to hear women's perspectives or read about female movers and shakers, I'd have to dig deep into the far reaches of the Internet, go to the "women's history" section of the library, or check out small independent bookstores that catered specifically to women. During history classes, even at the university level, I was taken aback at how many times I felt like my teacher forgot to mention women at all, and I'm clearly not alone in that sentiment.
When I noticed that a great many more of the historical figures I personally admired were men, I decided to engage in my own version of affirmative action. I began to seek out female role models from history whose vision and work transcended that of their time; real feminist heroines who prove that women are just as crucial to the course of human history as men, despite not always making it into my history teacher's syllabus.
So, without further ado, here are seven unlikely feminist heroines from history that your teacher probably forgot to mention in class. Be inspired to always bring your A-game, no matter what you end up doing with your time and talent.
Shirley Anita St. Hill Chisholm
Chisholm has the distinction of being the first African-American woman elected to Congress, the first woman to run for president as a Democrat, and the first black candidate from a major party to seek the presidency. Her 1968 campaign slogan, "Unbought and Unbossed," is a perfect descriptor for the way she approached politics and public life. Raised by first-generation Barbadian-American parents in New York City and by her grandmother back in Barbados when her parents were unable to provide a decent living for Chisholm and her siblings, she credited her success to an excellent early education in the traditional British schooling system on the island. Before serving in Congress, she worked as the director of a Quaker nursery school in Brooklyn and built a career as a respected educational consultant, creating a program to help talented, yet educationally-impoverished minority youths gain admission to university and receive intensive remedial support to succeed.
After leaving Congress in 1983, she resumed her career as an educator, lecturing at Mount Holyoke College and touring the country. President Barack Obama posthumously granted Chisholm the Presidential Medal of Freedom in November of last year. Her likeness is pictured above on a series of mock-ups for the new $10 dollar bill, which will feature a woman for the first time in 2020.
Beate Sirota Gordon
In February of 1946, 22-year-old Gordon was included on a top-secret task force to write a new constitution for war-ravaged Japan by American General Douglas MacArthur. The team was given seven days to complete the task, and as the sole woman on the committee of two dozen, Gordon was tasked with developing language on women's rights. How on earth did a 22-year-old, Vienna-born Russian immigrant end up with such a job? Long story short, she was just trying to look for her parents. Gordon left Tokyo in 1939 at age 16 to attend Mills College in Oakland, California. After the attack on Pearl Harbor in 1941, lines of communication with Japan were cut and she was left with no way to get in touch with her family and no money. Fixing it with her school to take her exams without having to sit for lectures, the polyglot used her skills in German, Japanese, Russian, English, French, and Spanish to work for the American war effort at listening stations and writing propaganda.
Gordon graduated in 1943 from Mills with a bachelor's in Modern Languages and became a U.S. citizen in 1945, but the end of the war, she still had no word from her parents. After moving from California to Washington, D.C., she took a job as an interpreter for General MacArthur and left for Japan. She was able to find her parents and nurse them back to health before being tasked with helping craft the new constitution.
Since this was before the Internet, Gordon raided surviving libraries in Tokyo for copies of different national constitutions to research. In the end, she is credited with authorship of two articles in the 1947 document, ensuring "all of the people are equal under the law and there shall be no discrimination in political, economic or social relations because of race, creed, sex, social status or family origin" and granting women the freedom to have the say in basic matters like their spouse and their home, as well as explicitly granting property rights, inheritance, and the right to initiate a divorce. She kept quiet about her role for years, fearing the potential for a political backlash in Japan if it was revealed that a young American woman was responsible for this radical legal change to Japanese society.
Lucy Eldine Gonzalez Parsons
Parsons was most likely born into slavery in Texas during the 1850s to Native American and Mexican parents. After marrying former Confederate soldier Albert Parsons in 1871, the young couple was forced to flee Texas for Chicago to escape the negative attention resulting from their interracial marriage. Upon settling in Chicago, Parsons became a writer, organizer, and orator for left-wing causes like the 8-hour day, ending homelessness, and prisoner's rights. When her husband was executed by the State of Illinois in 1887 for his supposed role in the Haymarket Square bombing, she continued her activist work in earnest.
Snapshots into a public feud with her contemporary and colleague Emma Goldman reveal the added layers of oppression based on race, age, and class that Parsons struggled against her entire life. Goldman's 1931 autobiography, Living My Life, makes two mentions of Parsons' activist work: She is mentioned as actively participating in a convention held in Chicago, and again as the "young mulatto" that Albert Parsons had married. She continued to give speeches into her 80s. After she died in a house fire in 1941, what remained of her library of books and papers was confiscated by police, with some ending up in the hands of the FBI for analysis.
Ani Pachen
Pachen was born around 1933 in Eastern Tibet, to the leader of the Lemdha clan. When she was only 17 years old, she overheard plans to marry her off, so she hopped on a horse and booked it to a Buddhist monastery a three-day ride away. It was at the monastery that she became known as Ani Pachen, which translates roughly to "Nun of Great Courage."
Pachen returned to her hometown in 1958 after her father passed away to assume leadership of the clan — and then promptly began to wage a guerrilla war on horseback with a band of 600 fighters against the Communist Chinese. Captured in 1959, Pachen was imprisoned until 1981. She returned to her hometown and got right back to antagonizing Chinese interests in the area before fleeing on foot for 25 days in the snow to reach sanctuary in Nepal, where she was granted an audience with the Dalai Lama shortly after arriving. Pachen ended up settling in India where she continued her activism and contemplation in exile until her death in 2002.
Jannetje Johanna (Hannie) Schaft
Schaft was a member of the Dutch Resistance during World War II. Known as the "girl with the red hair" or Hannie to her fellow fighters, before joining the resistance, she was a law student at the University of Amsterdam and active in women's groups on campus. Having close Jewish friends during her law studies made her sensitive to encroaching Nazi discrimination. After refusing to sign a loyalty pledge to the Nazi regime in 1943, she was not allowed to continue her degree, and therefore moved back to her hometown of Haarlem to join in active resistance against the occupation. Evading capture until the waning days of the conflict, she was arrested on March 21, 1945 at a military checkpoint while delivering copies of the underground paper, De Waarheid (The Truth).
Despite an agreement between the Dutch authorities and their Nazi counterparts that executions would not be carried out in the waning days of the war, Schaft was the sole woman executed on April 14, 1945 alongside 421 men in the sand dunes of Bloemendaal, less than five miles away from her parents' home. According to her executioners, her last words were "I'm a better shot" — the first shot had missed, which prompted another guard to empty his machine gun out into her. She was 24 years old. Schaft was posthumously awarded the American Medal of Freedom and the Cross of the Dutch Resistance. She was buried with full military honors with the Dutch Royal Family in attendance.
Margaret Heafield Hamilton
Hamilton is the CEO of Hamilton Technologies, has been published over 130 times, and was one of the first to use the term "software engineering." Perhaps her most important contribution to history (and science), though, was in her role as director of flight software development for NASA's Apollo and Skylab missions. Graduating with a major in Mathematics and a minor in Philosophy from Earlham College in 1958, she taught high school French and math while her husband finished his undergraduate degree.
After moving to Boston, Hamilton was hired by MIT to work on weather and anti-aircraft modeling. During her time working on the Apollo program at MIT's Instrumentation Lab (now the Charles Stark Draper Laboratory), her team was in tasked with developing the on-board guidance systems that allowed the Apollo spacecraft to land on the moon and return home safely, pioneering software design principles still in use today during a time when there were no formal academic programs in the fields of computer science or software engineering to begin with.
Beatriz Ximena Allende Bussi
Allende wore many hats throughout her life. Trained as a surgeon, she became a close adviser and confidant to her father, Salvador Allende, President of Chile from 1970-1973. Present at the Presidential Palace during General Augusto Pinochet's military coup on Sept. 11, 1973, she only left the building after her father ordered all women and children to leave. Fleeing to Cuba with her mother, sisters, and daughter, she continued her political activities as the executive secretary of the Anti-Imperialist Solidarity Committee.
Allende ended her own life four years and one month after her father was killed in the coup when she was only 34. Not much has been written in the English-speaking world about the life and times of Allende, but Dr. Tanya Harmer, an expert on Latin America during the Cold War based out of the London School of Economics, is currently working on a biography of her life and politics.
Images: Fotolia, Wikimedia Commons