The 'Grease Live!' Soundtrack Is The One You Want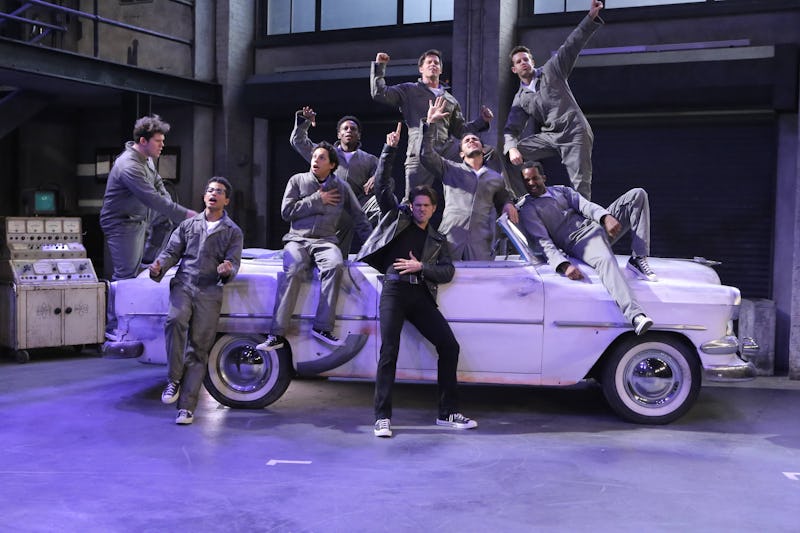 After three editions of live musicals by NBC, FOX is ready to jump into the game with Grease Live! premiering on Sunday night — and I gotta say, I can't wait. Fox is bringing the classic musical to life with stars Aaron Tveit and Julianne Hough, a live audience, and all the awesome songs we know and love. So you'll definitely need to know where you can get the Grease Live! soundtrack, so you can put put all those catchy showtunes on repeat. You're in luck — according to FOX, the digital soundtrack will be released as the Grease Live! broadcast begins at 7 p.m. Eastern (it'll be tape-delayed on the West Coast).
The 16-track album is already available for pre-order on iTunes, which includes an immediate download of Jessie J's version of the theme song, "Grease (Is The Word)." And if you're old school, Target will carry a special edition of the CD soundtrack with four additional songs and it'll be in stores starting on March 4. In addition to Jessie J, Hough and Tveit, the Grease Live! soundtrack will feature tracks by DNCE as Johnny Casino and the Gamblers and '90s favorite Boyz II Men as Teen Angel. According to Playbill, the musical will include two original songs performed by Carly Rae Jepsen (who plays Frenchy) and DNCE.
In a soundtrack filled with must-listen songs, here are the ones to be the most excited about.
"Grease (Is The Word)"
Jessie J's cover of the musical's theme song is the first taste of Grease Live!
"Summer Nights"
It'll be delightful to see Hough and Tveit's take on this catchy he-said, she-said classic song.
"Look At Me, I'm Sandra Dee"
Rizzo was the original Mean Girl, making fun of Sandy while they're at the very same sleepover in the movie version of Grease. Sure, Sandy was in the bathroom as Rizzo broke into song, but those walls can be pretty thin. It'll be fun to see Vanessa Hudgens take on Rizzo's mean streak.
"Beauty School Dropout"
Personally, I can't wait to see Boyz II Men take on this track, which is about abandoning your dreams for the right reasons.
"Greased Lightning"
In the movie version of Grease, this is one of the most entertaining numbers, featuring all the greaser dudes doing some totally macho dancing and jazz hands around a car. I can't wait to see Tveit and Co. take it on.
"All I Need Is An Angel"
According to Playbill, Frenchy is getting her own original song in Grease Live! — mostly because the character is being played by Jepsen. The tune was written by Pulitzer Prize-winning songwriters Tom Kitt and Brian Yorkey (If/Then, Next To Normal).
"Having Carly Rae [Jepsen] in this production and not having [a song] for Frenchy, it just seemed like, 'Here's an opportunity,' and it's a song moment — that moment of being adrift and sort of lost and questioning," Kitt told Playbill. "That's when musical theatre songs happen — when someone is feeling something very emotional and searching for something and that tension."
"Born To Hand Jive"
Joe Jonas and DNCE will get everyone, well, dancing to this track originally by Sha Na Na, which requires a very specific dance (see above).
"Cake By The Ocean"
Yup, you read that right. Jonas and DNCE will be bringing their hit single to Rydell High, but with some '50s flair, according to an interview with Rolling Stone. "We mixed 'Cake' into a Fifties, swooning kind of song," Jonas said. "It's going to be a really cool take on something that's modern."
"We Go Together"
And here's hoping this glorious Grease Live! cast will jive well together for the grand finale on Sunday night, just like in the movie version.
Images: Kevin Estrada/FOX (2)