The New Barbie Shapes & Skin Tones Are So Diverse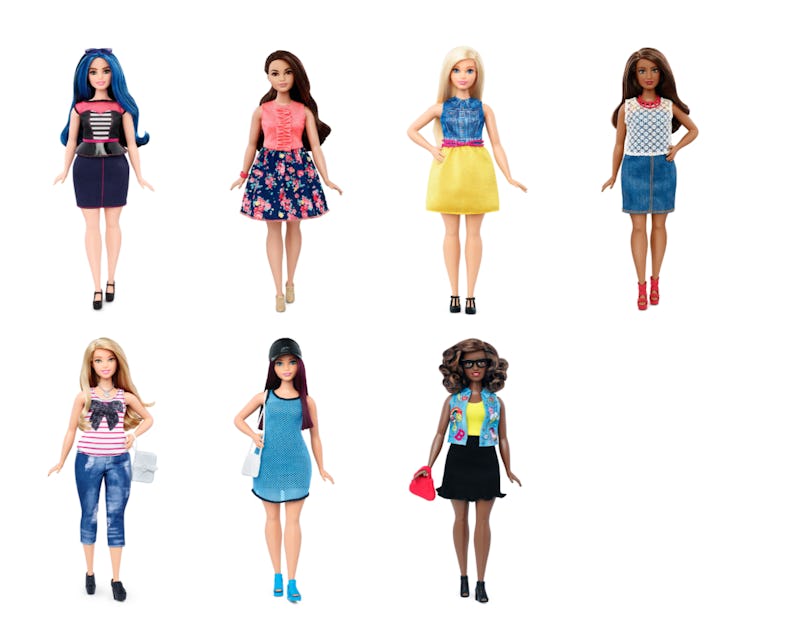 A fashion icon just got a major makeover. Actually, she just got several of them! Mattel has launched three new Barbie types and with them, several new skin tones, hair colors, and textures as part of The 2016 Barbie Fashionistas Collection. #TheDollEvolves indeed. It's a new and thrilling era for the enduring doll, who arrived in 1959 and whose proportions and figure were always a bit questionable and suggested an unattainable beauty standard for the millions of girls who played with and dressed her form through the years. Well, it's the dawn of a new day. This generation of Barbies are diverse and they represent so, so many different types of women.
It's a beautiful thing and Barbie is a more beautiful doll because of it. So, how many new Barbie types are there?
Mattel has added three new Barbie shapes. She is offered in "petite," "tall," and "curvy," alongside the billion dollar business that is the original doll, according to Mashable. The Fashionistas also have differing skin and hair.
Here is a further breakdown of the numbers. The 2016 Barbies Fashionistas collection boasts 4 body types, 7 skin tones, 22 eye colors, and 24 hairstyles, to say nothing off their on-trend outfits and fashion forward accessories. Remember, Barbie loves her labels, like Moschino!
All told, there are 29 unique dolls.
Mattel explained its decision to craft the 2016 Fashionistas collection, posting this note on the Barbie website: "Girls everywhere now have infinitely more ways to play out their stories and spark their imaginations through Barbie. Along with more overall diversity, we proudly add three new body types to our line."
Barbie's new shapes, skin shades, and hair looks are certainly are much more realistic and representative of a wider range of actual females. Each doll is so gorgeous to look at. Aren't they all amazing? It's about time.
The Fashionista dolls will be released throughout the year and will be available as soon as the spring.
May I present you with The 2016 Barbie Fashionistas Collection?
1. Curvy
So stylish and edgy — with blue hair and beyond!
2. Tall
So many leggy ladies!
3. Petite
OMG! Petite powerhouses with mermaid hair and major accessories.
4. Original
The "Original" shape will rock all sorts of hair types and looks. Amazing!
#TheDollEvolves
Want more body positivity? Check out the video below, and be sure to subscribe to Bustle's YouTube page for beauty hacks and tricks!
Images: Barbie/Twitter (1): Barbie.com (4)