15 Crock-Pot Desserts For The Lazy Baker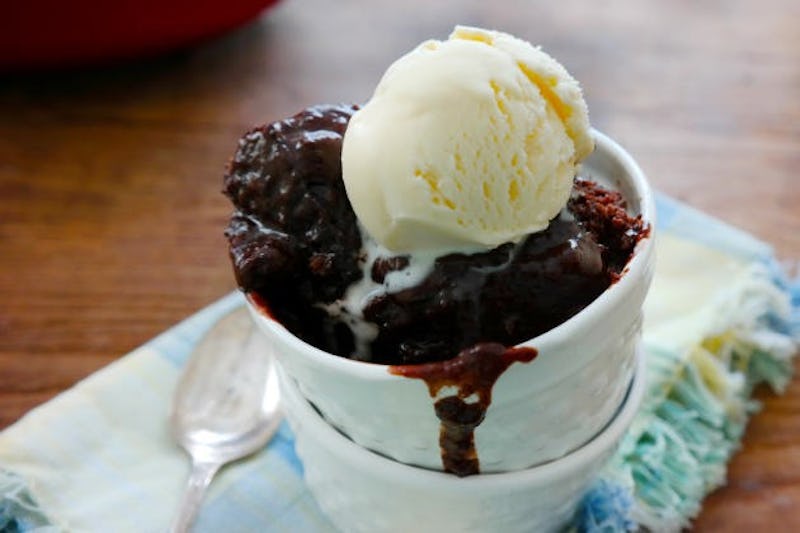 You all know the days I'm talking about. Those days when you just want something sweet after a long day's work, but you have no desire to do much of anything by the time you get home. That's exactly where these Crock-Pot dessert recipes come in. Time to get your lazy dessert-making skills going.
My Crock-Pot is my best friend, especially when it's colder outside. By the time I get home from wherever I've had to brave the cold to get to, all I want is something sweet and comforting to warm me up from the inside out. The truth is, at the end of the day, the idea of whipping up a batch of cookies from scratch or assembling a cake sounds like absolute torture. Instead, I turn to my oh-so reliable Crock-Pot that'll get the job done for me while I'm out running errands like a mad woman.
Coming home to a house filled with the scent of a decadent dessert is one of the simple pleasures in life that I could not live without. Trust me, just try any one of these Crock-Pot desserts, and you'll know exactly what I'm talking about. Why put in effort when there's a perfectly capable machine sitting on your counter, just begging to be used so it can make your belly happy when you get home? Are you ready to satisfy your sweet tooth in the laziest way possible? I sure am.
1. Crock-Pot Caramel Apple Crumble
This gooey mess of caramel and apple from How Sweet It Is is comfort food overload for an apple pie-loving lady like myself. You could practically melt into a bowl of this crumble. Top it with a scoop of vanilla ice cream to really put it over the top.
2. Slow Cooker S'mores Brownies
Kick traditional s'mores up a notch with these s'mores brownies from Something Swanky. The marshmallow topping is almost too dreamy to handle.
3. Crock-Pot Peanut Butter Cup Cake
There are actual peanut butter cups in this cake from Cookies and Cups, people. If that doesn't have you jumping up and down for joy, I don't know what will.
4. Crock-Pot Berry Crisp
For those days when a heaping pile of chocolate isn't hitting the spot, get a little fruity with your dessert. This berry crisp from What's Cooking, Love? is summer in a bowl (well, technically a Crock-Pot), and the bright flavors will be dancing from your taste buds right down to your belly.
5. Slow Cooker Triple Chocolate & Peanut Butter Cake
The combination of three chocolates and peanut butter in this slow cooker cake from Pass the Sushi has me one foot out the door already. The classic peanut butter and chocolate combination in a warm, gooey cake will have you eating dessert first tonight.
6. Four-Ingredient Slow Cooker Coconut Cake
If you didn't already make it simple by using a slow cooker, try only using four ingredients to get your dessert satisfaction. This cake from Willowbird Baking is ridiculously simple to make, and will have you dreaming of tropical vacations with all that coconut flavor.
7. Slow Cooker Chocolate-Covered Peanut Clusters
When I found out you could make candy in a slow cooker, I nearly lost my mind. Who knew those gorgeous chocolate-covered peanut clusters from Brown Eyed Baker could be made so easily in a slow cooker? You'll never go back to painstakingly making chocolate-covered candies again.
8. Crock-Pot Candy
Another Crock-Pot candy recipe is definitely necessary in this roundup. These candies from Cookies and Cups have endless possibilities written all over them. You can load them up with nuts, pretzels, or even stuff a mini peanut butter cup inside them.
9. Slow Cooker Pumpkin Pie Cake
Pumpkin spice lattes ain't got nothing on this pumpkin pie cake from Mom on Timeout. All the pumpkin pie flavors you love, in a warm, moist cake that no one will ever think could have been made in a slow cooker. Win.
10. Triple Chocolate Slow Cooker Cake
Triple your chocolate intake with this intense chocolate cake from Never Enough Thyme. The mass amount of chocolate will cure any bad day craving you might have.
11. Slow Cooker Chocolate Lava Cake
Think lava cakes can only be made in restaurants? Think again. Food Fanatic makes it possible to indulge in a gooey center of hot melted chocolate right in your slow cooker.
12. Gooey Slow Cooker Caramel Blondies
If you've got a hankering for some rich caramel, Taste and Tell has you covered with these caramel blondies. The rich caramel flavor is just enough to satiate any sweet tooth without leaving you in a massive sugar coma.
13. Slow Cooker Hot Fudge Peanut Butter Pudding Cake
Pudding cakes are the ultimate comfort food for a down-home girl like me. This hot fudge peanut butter version from Mel's Kitchen will take you back to your grandmother's kitchen, except with half the effort it took her back in the day.
14. Slow Cooker Peach Cobbler
Who can resist a heaping pile of warm peach cobbler at the end of a long cold commute home from work? A Spicy Perspective makes your southern pie dreams come true with this slow cooker peach cobbler. The only thing that'll be missing is a rocking chair and some sweet tea.
15. Pumpkin Mocha Cupcakes
Cupcakes just got easy with this pumpkin mocha cupcake recipe from Damn Delicious. It's seriously hard to believe such gorgeous, delicious, and flavorful cupcakes could be made right in your slow cooker.
Throw the ingredients in, and let the machine do the work for you. Now that's dessert done right.
For more ideas, check out Bustle on YouTube.
Images: How Sweet It Is; Something Swanky; Cookies and Cups; What's cooking, love?; Pass the Sushi; Willowbird Baking; Brown Eyed Baker; Taste and Tell; Mom on Timeout; Never Enough Thyme; Food Fanatic; Taste and Tell; Mel's Kitchen; A Spicy Perspective; Damn Delicious