16 Books To Read If You Hate Valentine's Day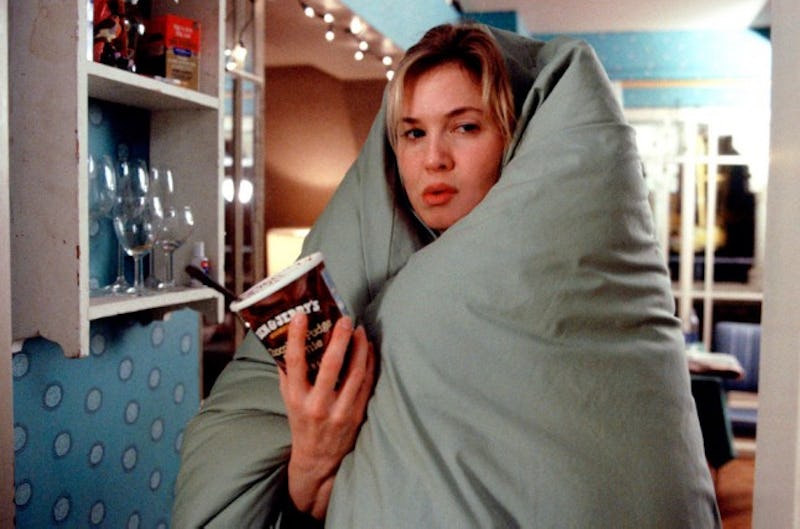 I am not a big fan of Valentine's Day. It's not that I'm against love — it's just that I don't enjoy the forced, canned version of romance that the holiday seems to inspire. People who are in relationships feel obligated to buy bright red teddy bears and cheap chocolates for each other, and people who aren't in relationships feel obligated to buy the candy for themselves so they can throw it angrily at the rom com on TV like in Legally Blonde. OK, maybe that's just how I imagine it, but I guess it just seems less genuine when romance involves a checklist of things that you should do, none of which has to do with your SO's actual interests. Whatever happened to the days of buying foil Valentines at the store, taping candy to them, and giving every single person one at school? Now THAT I could get behind. Shrek Valentines forever.
Inevitably around this time of year, everything comes in pink and red with little hearts on it, and suddenly bookstores feature their romance sections even more prominently. While I love romantic books (by that I mean, I love Jane Austen), the rebel in me wants to read things that aren't romantic at all come Valentine's Day. If you feel the same way, buy yourself some candy and some of the following books to have a canned romance-less Valentine's Day.
1. The Awakening by Kate Chopin
The original title of this novel was A Solitary Soul, so you already know it's perfect for Valentine's Day haters. Protagonist Edna Pontellier doesn't fit into her society's rigid ideas for femininity, and begins to explore her own desires and thoughts.
2. Modern Romance by Aziz Ansari
How has our pursuit of romance changed with the advent of technology? Comedian Aziz Ansari teams up with NYU sociologist Eric Klinenberg to pursue this question, and basically research how love works in the modern era. So if you hate certain modern romantic ideals, but also are curious about them, this is the perfect pick.
3. The Family Fang by Kevin Wilson
A Wes-Anderson-ish story about a family of performance artists, The Family Fang is quirky and emotionally detached. Perfection for those who want to avoid Valentine's Day sentimentality.
4. A Tree Grows In Brooklyn by Betty Smith
Ok, maybe you're not DEVOID of emotion, you just want to AVOID the kind that Valentine's Day inspires. No worries: there's a classic for that. Betty Smith's coming of age story about Francie Nolan, a girl living in Williamsburg, Brooklyn, will make you feel all kinds of things — just not the feeling of sappiness.
5. The Art Of Racing In The Rain By Garth Stein
This book is about a race car driver, and it's narrated by a dog. What more do you need to know?
6. Atonement by Ian McEwan
If you're more of a, "read an intense romance-gone-wrong book for Valentine's Day" person, this is the book for you. The beautiful prose will rope you in, and you'll stay to get to the end of the heartbreaking story of Briony Tallis, her sister Cecilia, childhood friend Robbie Turner, and a horrible crime that affects all of their lives.
7. The Bell Jar by Sylvia Plath
There is something demoralizing about watching two people get more and more crazy about each other, especially when you are the only extra person in the room. It's like watching Paris from an express caboose heading in the opposite direction — every second the city gets smaller and smaller, only you feel it's really you getting smaller and smaller and lonelier and lonelier, rushing away from all those lights and excitement at about a million miles an hour.
Valentine's Day feels?
8. In A Dark, Dark Wood by Ruth Ware
Leonora goes to a bachelorette party in a glass house in the snowy English countryside. But the weekend turns out to be a lot darker than the anticipated fun and games. If you're a fan of thrillers (and enjoy reading about bachelorette parties gone wrong), you'll love this creepy novel.
9. Anne Of Green Gables by L.M. Montgomery
Though romance comes into play later in the series, at its core this sweet story is about a young woman coming of age. If you want to read something that will bring a smile to your face, but will also shatter canned romance with its protagonist's originality, this is the book for you. Anne Shirley is basically awesome.
10. Rebecca by Daphne Du Maurier
This modern gothic made me gasp out loud several times: the young narrator marries Mr. Maxim de Winter and travels to his beautiful mansion, but she can't seem to escape the shadow of Maxim's late first wife — Rebecca. This book has it all: twists, turns, beautiful prose, and a lack of mushy romance.
11. The Elegance Of The Hedgehog by Muriel Barbery
Renée is the concierge of an upscale Paris apartment complex. Paloma is the 12-year-old genius daughter of two residents. Their unlikely friendship changes the course of their lives, and they don't need any stuffed animals or Ferrero Rocher. Actually, Renée does like chocolate.
12. Never Let Me Go by Kazuo Ishiguro
If you want to get as far away from romance as possible, so that you make it into the realm of "bawling your eyes out," this is the book for you! Kathy, Ruth, and Tommy were students at an exclusive boarding school called Hailsham, which seems bright, until you discover its dark purpose.
13. Code Name Verity by Elizabeth Wein
This YA novel tells the tale of Verity and her best friend Maddie, a passenger and a pilot who crash their British spy plane in Nazi-occupied France. If you're looking for a young adult read that focuses on friendship as opposed to stereotypical romance, this is a great pick.
14. Point Your Face At This: Drawings by Demetri Martin
Do you just want to laugh this Valentine's Day? This hilarious book of charts and drawings by comedian Demetri Martin takes convention, and flips it around humorously.
15. The Turn Of The Screw by Henry James
This novella is far from romantic: a governess looks after two children at an English country estate, but soon becomes wrapped up in a psychological ghost story. It's a short, thrilling read — perfect for a Valentine's Day night spent inside with a creepy book.
16. Princesses Behaving Badly: Real Stories from History Without the Fairy-Tale Endings by Linda Rodriguez McRobbie
Forget conventional fairy-tale endings. This nonfiction, historical book tells the stories of some pretty hardcore princesses throughout history. From pirate princesses to princesses with bizarre beauty routines to warrior royalty, this book shows there's a lot more to life than a cookie-cutter story.
Image: Miramax