Roy's 'Arrow' Return May Be Shortlived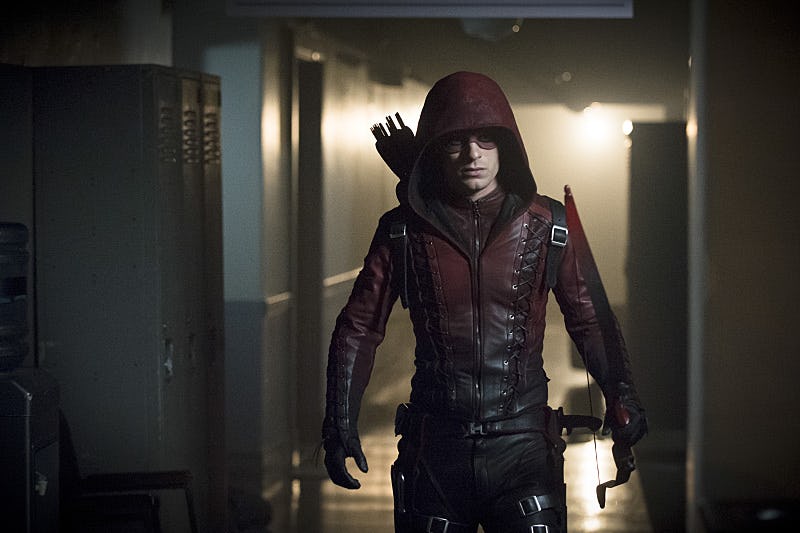 Die-hard fans have known for months that a favorite character would be reappearing in Star City, but The CW only recently released a sneak peek of this week's episode of Arrow, which shows Roy Harper's return. Colton Haynes, previously a series regular, left the show in Season 3 when Roy took the fall for Oliver's vigilante exploits. He faked his death, had a touching goodbye with the team, and then passed the mantle of Arsenal to his girlfriend, Thea Queen — a mantle she's picked up wonderfully, by the way, and renamed Speedy after her childhood nickname. Now the former vigilante is set to return for this week's episode titled "Unchained," and the question on everyone mind is: will Roy's return to Arrow last?
Unfortunately, there seems to be more evidence that Roy's return will be more of a quick visit than a full-on resurgence of his character. First and foremost, Haynes chose to leave Arrow on his own last year, though in a way that left the possibility of occasional visits possible. "Certainly, I don't want to say we tried to convince him [to stay] and he turned us down," Marc Guggenheim, Arrow showrunner, told E! News. "He's got a big movie coming out, he's got a huge career ahead of him. For us, it was more of a conversation of how do we continue to go forward. There's a reason why we didn't kill off Roy. We want Roy Harper and Arsenal to remain in this universe that we're creating and Colton was completely game for that." The big movie in question was 2015's San Andreas, which Haynes starred in opposite Dwayne Johnson. With another movie already lined up and filming ( Triumph I ), it doesn't seem like Haynes is planning to ditch the movie biz in order to stick around Arrow for too long.
However, like Guggenheim said, they've kept Roy alive for the specific purpose of bringing him back whenever it works for the story and Haynes has the free time in his schedule IMDb also has Haynes listed as appearing in this season's "Taken," airing on Feb. 24, so this may not be the only time we see Roy this season alone. And as you can see in the clip above, he's still very much a part of the team, so much so that he's been personally targeted by their newest villain, The Calculator.
His stay might not be permanent, but this likely isn't the last we'll see of Roy Harper either. The better question here is how will Team Arrow deal with two red archers?
Image: Cate Cameron/The CW