World, Meet Your New Favorite Shows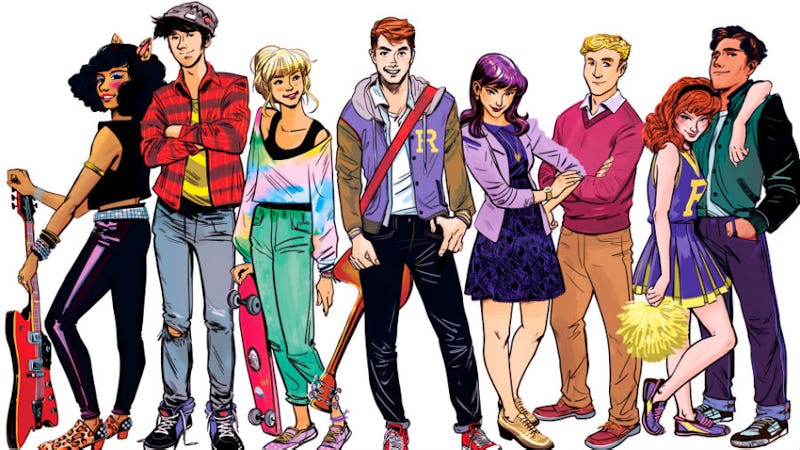 The home America's Next Top Model and Gossip Girls has some pretty excellent new shows coming our way. The CW has ordered six new pilots, including the Archies reboot Riverdale. All of these shows are still in their early stages — the CW has only ordered their pilots, meaning that not all of these ideas will necessarily make it to air — but the prospect of the shows, along with their summaries, is enough to make anyone excited.
A lot of the new shows are genre-related, which makes sense for a network that has produced The Vampire Diaries and Supernatural. It's also had a lot of successes with superhero shows The Flash and Arrow (not to mention Smallville, which was on the air before every network had a superhero show). I imagine that their new offerings might be a tiny bit different, from their descriptions and from the recent direction that the network has taken. CW shows have recently earned more critical attention than ever before: Jane the Virgin and Crazy Ex-Girlfriend are beloved by critics and awards shows alike.
Whatever the case, pretty much all of these new shows sound like winners. Here's what we know about the new CW shows so far.
No Tomorrow
No Tomorrow, executive produced by Jane the Virgin EPs Corinne Brinkerhoff and Ben Silverman, along with Scott McCabe and Tory Stanton, is a comedy about a career-obsessed woman working at an Amazon-like company. She falls in love with her opposite: A guy who lives in the present because he thinks that the apocalypse is imminent.
Riverdale
A modern and subversive take on the Archie comics, the live action Riverdale will explore the setting and characters of the wholesome teen comic, but focus in on the darkness of small town life. It sounds kind of like if Archie met Twin Peaks — count me in. Even better, it's in the good hands of the folks behind Arrow and Supergirl.
Frequency
A drama based on an unmade film, Frequency explores the relationship between a detective and her dead father, whom she is mysteriously able to speak to through an amateur radio. The series is produced by Jeremy Carver of Supernatural, John Rickard, Dan Lin, Jennifer Gwartz, and Toby Emmerich, who wrote the source material.
Untitled Mars Project
This untitled series appears to still be in its earliest stages, but it centers on the intriguing premise of a group of explorers who set out to join an existing colony on Mars, only to find that it's disappeared. It's produced by Doris Egan, Frank Marshall, and Robert Zotnowski and loosely based on the mystery of the Roanoke settlers you might remember from US history class.
Transylvania
A period drama set in the late 1800s in which a young woman travels to Transylvania to find her missing father, joining forces with a Scotland Yard detective to confront some of the world's most infamous monsters. It's written by Hugh Sterbakov, who also wrote for Robot Chicken.
Untitled Paranormal Project
Possibly building off the momentum of shows like American Horror Story, this show will follow a young woman who visits a parapsychologist to attempt to deal with her paranormal visions. Kevin Williamson, who created The Vampire Diaries, will serve as showrunner.
I don't know about you, but I almost don't know how I'm going to handle waiting for all these shows to premiere.
Image: Veronica Fish/CW, Giphy (5)