25 Easy Dress-Up-Dress-Down Dresses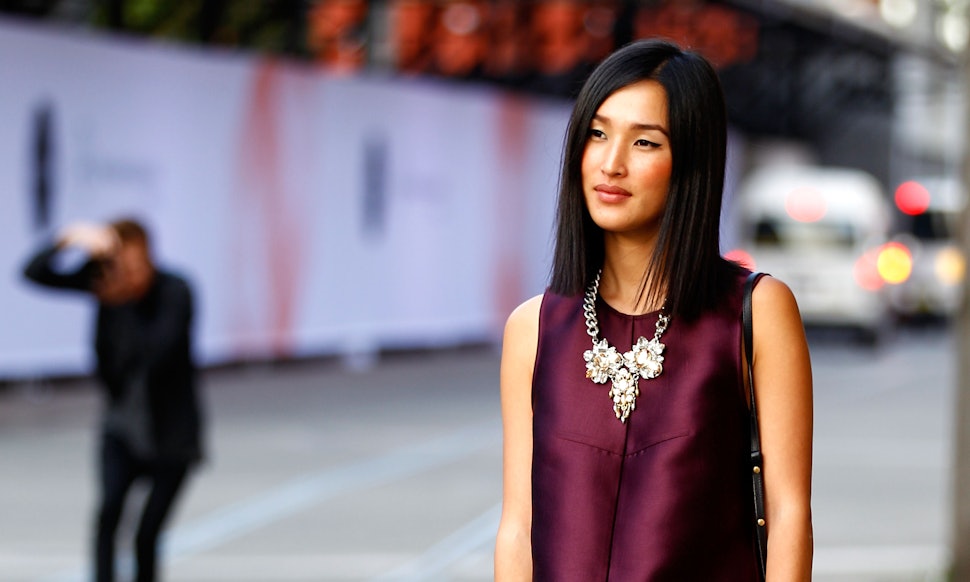 Caroline McCredie/Getty Images Entertainment/Getty Images
There's a reason designers want to spend their time making dresses: they're the best part of any girl's closet. Not only do they make you look damn good, but they're also the most versatile thing you own. Besides their ability to function as an outfit alone, a dress can go between a casual brunch with friends and sexy night on the town with just an accessory switch. But you've got to have to right frock to pull it off — and here are 25 great dress-up-dress-down dresses that fluidly transition between day and night.
A-line Dress
A winter wonderland white hue, this dress has a graphic vertical stripe pattern that is cute enough to work for date night, yet can easily transition into an office appropriate garb with some black stockings and knee length riding boots.
Calvin Klein Women's Sleeveless A-line Dress, $105, Over Stock
Graphic Wool Dress
The black color on the back of this flattering dress extends onto the front in a sinuous line that graphically cuts through the bone white front, and its neutral color scheme makes this dress über versatile.
Colorblock Virgin Wool Dress, $138, Halston
Baroque Printed Sheath Dress
Ornately curled fleurs make an artsy yet bold statement on this sheath dress, allowing for it to take center stage in a variety of settings ranging from weekend casual to cocktail hour. Plus, the shoulder cut outs are a fun way to show a little skin.
Hale Bob Georgina Cold Shoulder Dress, $116, Zappos
High Neck Sleek Dress
With a knee length, high neck, and a richly indulgent red hue, this skin-tight dress may be the only time you'll strike that balance between office-appropriate yet undeniably sexy.
Sleek Crepe Woven Dress, $15, Forever 21
Flippy Dress
Cute, short, sweet — the three perfect words to describe this adorable lime green dress. Plus it looks just as great with heels as it does in a pair of low heel booties.
Topshop Crepe Seam Flippy Dress, $92, Top Shop
Boho Tropics Dress
This dress has a relaxed vibe, especially with the super comfy ruched waistband, making it ideal for casual settings. But the oversized floral print also allows it to be special enough for that need-to-impress work party.
Trina Turk Roatan Short Sleeve Printed Jersey Dress, $298, Bloomingdales
Neoprene Watercolor Dress
Colorful and cool, this dress is as eye-catching as it is fun. Throw a blazer over your shoulders for an afternoon shopping trip or add heels for a night out (and to better show off the sexy sheer side panels).
Carson Watercolor Dress, $395, Nicole Miller
Mod Houndstooth Dress
This '60s-inspired dress has graphic appeal, while its knee-length makes it office appropriate. It's also a great choice for mod cocktail attire.
Mod Houndstooth Midi Dress, $18, Forever 21
Architectural French Terry Dress
A traditionally casual fabric, french terry is the definitive material of classic loungewear. With architectural pleating and a tweed print, this dress not only molds into a sophisticated staple, but is also given the ability to transform into the perfect Happy Hour dress.
Tibi Spring Tweed Gathered Dress, $298, Shopbop
Flowing Animal Print Dress
This dress has side slits that up the sexiness on an already seductive animal print dress. Its ease of movement makes it both comfortable and versatile.
Cheap Monday Leona Dress, $100, Shopbop
Faux Wrap Jersey Dress
Arguably the most flattering dress ever created, the wrap dress has become synonymous with dress-up-dress-down chic. This slate Catherine Malandrino version is fitted and draped in all the right places.
Faux Wrap Dress, $237, Catherine Malandrino
Lasercut Shift Dress
Shift dresses are famous for their ability to hide both bloat and the dreaded after dinner belly bulge. Lasercutting and faux leather combine to make this dress modern, chic, and utterly desirable.
Cynthia Steffe Denni Sleeveless Shift Dress With Faux Leather and Lasercut Hem, $268, Bloomingdales
Casual V-neck Silk Dress
The loose cut of the top and bottom are casually brought together with a gathered waistband. But it's the silk material and the elegant stripe pattern that elevates this otherwise basic dress into a versatile goldmine of occasions to wear it to.
Theyskens Theory Cream Multicolor Print Silk Dress, $340, Stylebop
Harlequin Knit Dress
This harlequin dress is subversively preppy. Its graphic print also gives this dress the ability to seamlessly change from a downtown casual look into a more polished and after-work appropriate getup.
See By Chloe Printed Dress, $220, Stylebop
Floral Wrap Dress
A hyperrealistic floral print literally blooms off of this feminine wrap dress, thereby turning this frock into a multitasking work of art.
Juicy Couture Blooming Rose Wrap Dress, $149, Revolve Clothing
Sexy Ruched Dress
The kind of dress that would at first blush seem best suited for the club, the loose draping of the pleated top and the short sleeves allow this dress to work even at the office.
James Perse Pleated Front Dress, $186, Revolve Clothing
Lacework Chiffon Dress
Light and frothy, this chiffon dress has a casual flair, especially when paired with a thick pair of boots. But it also has the ability to evolve into so much more when paired with some delicate heels and long chandelier earrings.
Chiffon Dress, $30, H&M
Mixed Print Dress
Graphic latticework combines with a flowing wavelike pattern to create this visually arresting fitted dress.
Elizabeth and James Agron Dress, $187, Revolve Clothing
Blouse and Skirt Dress
The ultimate in economical pieces, this dress looks like you have combined a top with a skirt, but it is in reality a fully formed outfit in one. The tuxedo cut of the blouse allows this dress to be uplifted to a special occasion, but the simplicity of both cut and color give the dress its casual base.
Blouse Dress, $35, H&M
Side Ruched Dress
Relaxed Graphic Dress
A tessellation-inspired print enlivens a relaxed silhouette to allow for both dressing up for that night out as well as dressing down for a late morning brunch.
DKNYC Graphic Dress, $50, 6pm
Fit and Flare Dress
A bold monochromatic floral print adds edge to a feminine hourglass silhouette, while a dramatic back keyhole adds a bit of flair.
Keepsake The Label Adventure Print Fit and Flare Dress, $228, Nordstrom
Pencil Wrap Peplum Dress
A peplum is almost universally flattering and the pencil cut of the skirt make this dress extremely sophisticated. The addition of flats would transform this dress into something more downtown ready.
Vesper Pencil Dress With Wrap Peplum, $49, ASOS
Front Tie Waist Shirt Dress
Shirtdresses are known for their ease of wear and casual edge, but the silk satin finish allows this one to be dressed up.
Celia Shirtdress, $365, Danielvosovicny
Wrap Front Jersey Dress
The jersey material on this dress is so soft that it would seem obvious that it would be made for casual wear. Yet the cut is so interesting and almost edgy, that you could easily dress this up into something that could possibly reach the level of cocktail-worthy garb.
American Vintage Jersey Wrap Front Dress, $107, ASOS