11 Chilling Photos Of Lee Harvey Oswald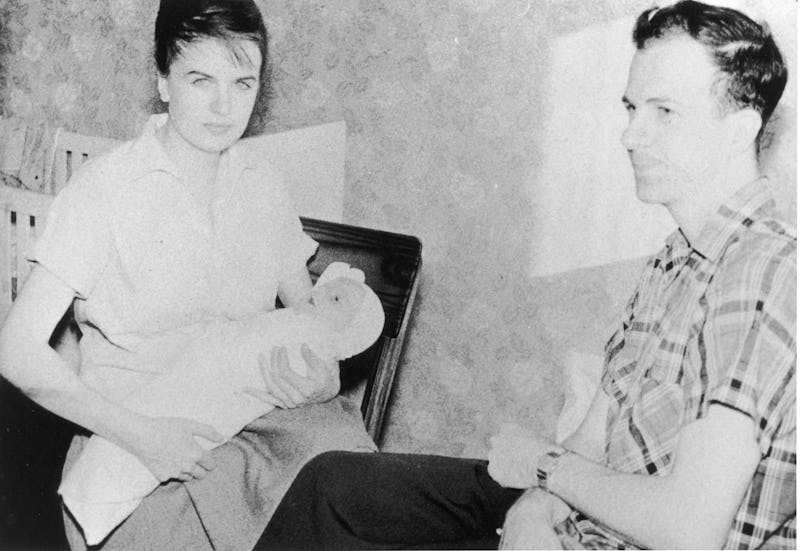 On November 22, 1963, President John F. Kennedy was assassinated. The 35th president was shot and killed while riding in a open-top convertible in Dallas, Texas. One hour later, Lee Harvey Oswald was arrested for the crime. Now, 52 years later, we're still able to examine the chilling photos of Lee Harvey Oswald before and after he was jailed for killing JFK.
As Oswald was sitting comfortably in a move theater just 10 minutes from where Kennedy was assassinated, the police captured him and dragged him out of the building. Many people today know Oswald as the cold-blooded murderer of JFK. However, that wasn't always the case. In fact, Oswald served in the Marines in 1957, and was stationed in Japan.
Oswald undoubtedly had a concerning history, though. He once improvised the role of a serial killer with a group of college students when he lived in Belarus. He also attempted suicide in Russia because he couldn't become a Soviet citizen. This confusing and violent history only add to his story as JFK's assassin. These 11 photos from before and after Oswald killed JFK are haunting, and help us learn more about the man who fatally shot a beloved president.
In the early 1960s, he looked like just your average kid who was living the American Dream and wanted to join the army.
This is a family photo of Oswald, his wife Marina, and their baby, June, in the 1950s.
Here he is with Marina in Minsk, Russia in the 1950s. Oswald reportedly enjoyed his time there. He wrote in a journal that he desperately wanted to become a Soviet citizen.
Here Oswald is pictured as the ~cool guy~ (the one in sunglasses in the middle) with a group of college students he befriended in Russia. You know, the same friends who have a video of him improvising being a serial killer. It's casual.
On April 11, 2013, the Newseum — a Washington, D.C. museum dedicated to journalism — featured a special exhibit on the assassination of JFK. Included were these contents from Oswald's wallet, including a photo of his wife and a photo of himself in his Marine uniform.
When the police captured Oswald after JFK's assassination, they escorted him out of the Texas theater where they found him. Nearly 15 Dallas police officers found Oswald, who had snuck into the film War Is Hell without paying.
Dallas police officers took Oswald into questioning immediately after removing him from the theater.
Oswald appeared completely emotionless when detained on the way to questioning. According to the Dallas Police Department's interrogation notes, Oswald said he was a Marxist since age 15, and he denied ordering a gun through the mail.
Oswald's infamous mugshot, taken by the Dallas Police Department on November 23, 1963. The cut about his right eye could be from resisting the police as they escorted him out of the movie theater. Oswald's stern, pursed lips make him look remorseless.
On November 25, 1963, the Daily News published this, from the night Jack Ruby, a Dallas nightclub owner, fatally shot Oswald.
Two days after Oswald shot President Kennedy, Jack Ruby shot and killed Oswald. Here, Oswald was being carried out on a stretcher by police after the fatal shot. Oswald was only 24 years old when he died.