Faux Leather Moto Jackets That Only Look Expensive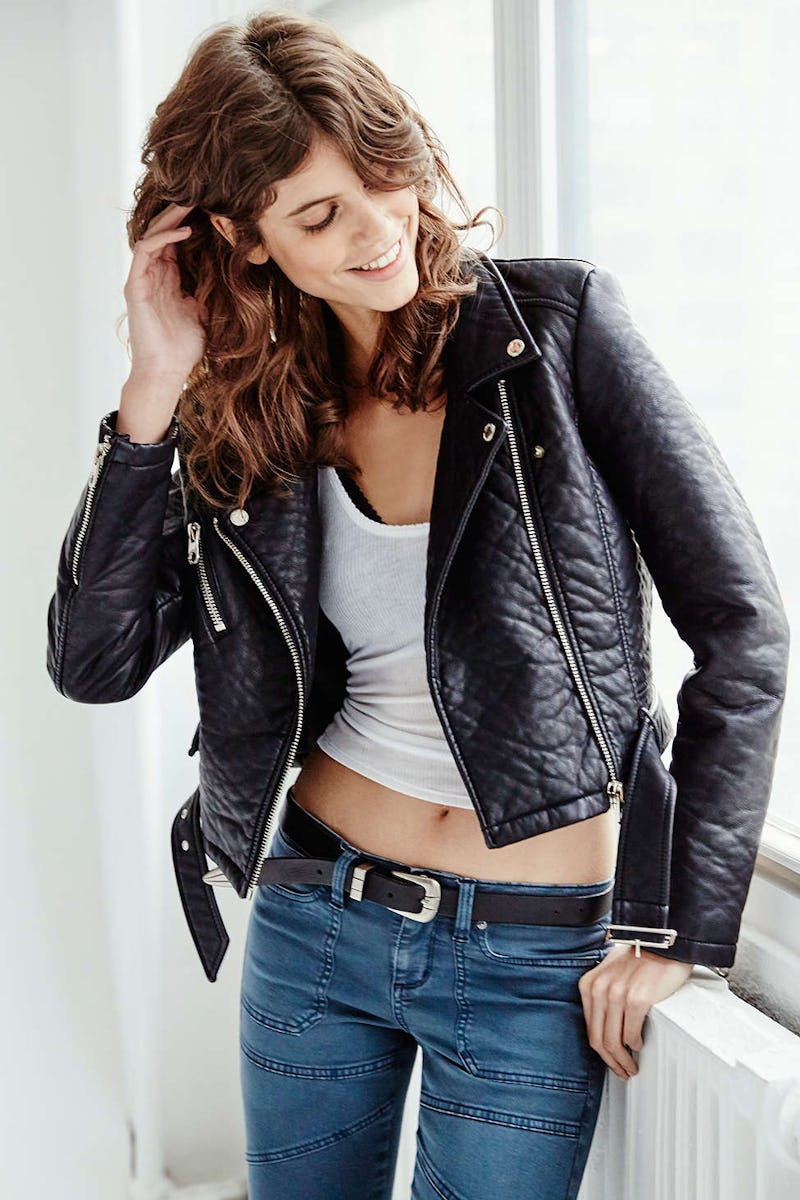 There's a reason James Dean, Indiana Jones, and Jessica Jones all look so badass — Because they're rocking the classic leather jacket. This spring, it's time to get on board and shop some faux leather jackets that only look expensive, but won't break your well-earned piggy bank. Cause ain't nobody got time for an empty wallet.
Here's the thing about the moto jacket: It instantly makes any outfit look extra polished, in an edgy way. There has never been one look that hasn't been enhanced with one. It's like bacon — Everything's better with it on top. Be it a slip dress for date night, or a distressed tee, ripped denim, and booties for a night out with your friends, the moto jacket is the perfect last touch you throw on before running out the door.
It's also the perfect layer for every single season. On a breezy summer night, it looks super chic draped over your shoulders, blogger style. In the fall, over a flannel, and in the winter, I often throw a super thick puffer vest over it on a milder day. And once spring hits, it looks super cute with a mini dress and tennis shoes. Basically, like the perfect white tee, it's the ultimate wardrobe staple to splurge on.
But, if you're not about splurging (bills, rent, and student loans are a thing...) there are definitely faux moto jacket options out there that won't cost you an arm and a leg. And when styled correctly, look equally as expensive.
1. The Winter White
BLANKNYC Doctor Faux Leather Moto Jacket, $118, Nordstrom
The perfect going out look.
2. The Classic Black
Max Studio Asymmetric-Zip Faux-Leather Jacket, $79, Neiman Marcus Last Call
See this? Perfect fall look.
3. Quilts
Worthington Faux Leather Jacket, JC Penney
Love the little details of this jacket that make it stand out.
4. The Crop
Thalia Sodi Cropped Faux-Leather Moto Jacket, $89, Macy's
A cropped moto jacket usually looks best with an adorable little mini dress.
5. Baby Blue
Forever21 Plus Size Faux Leather Moto Jacket, $40, Forever 21
Cause sometimes, you just need a little color.
6. The Convenient Hood
Top Shop Faux Leather Hooded Biker Jacket, $105, Top Shop
For when your hair needs protection!
7. The Extra Long
Eloquii Studio Sleeveless Faux Leather Jacket, $110, Eloquii
Love how versatile this sleeveless one is — Perfect for layering sweaters underneath.
8. In Pink
Guess Natalie Perforated Faux-Leather Moto Jacket, $108, Macy's
For Wednesdays. You know, when we wear pink.
9. Suede Patches
Bisou Bisou Zip Moto Jacket Plus, $90, JC Penney
A mix of leather and suede is always a super fun combination.
10. The Colorful Trim
Fillmore Moto Cross Mixed Media Faux Leather Jacket, $70, Nordstrom Rack
For a pop of color, if you're into that.
11. Wrinkled
Members Only Pebbled Vegan Leather Jacket, $159, Urban Outfitters
Perfect look for heading to the movies or just chilling with your friends.
I'll say it once and I'll say it again: The faux leather jacket is probably the most important wardrobe staple to have. It instantly elevates every single look. So if you're in the market — Don't hesitate. Its moto jacket time.