I Tried To Find The Best Blush For Oily Skin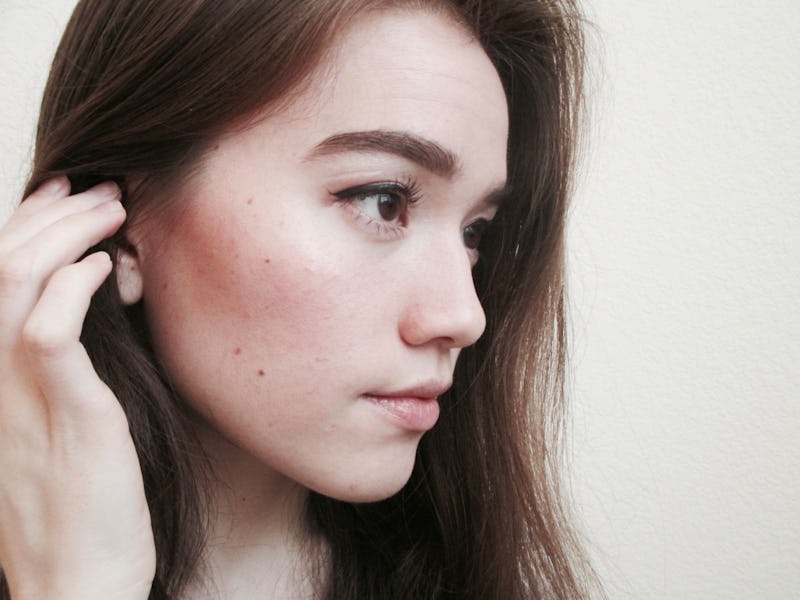 Those of us with oily skin will know the struggle of finding makeup products that actually last on our faces all day long. Our natural makeup-melting abilities can make it hard to find those holy-grail products. One I have particular trouble with is the best blush formula for oily skin. Sometimes it seems like it just doesn't exist. Within hours, once-rosy cheeks have lost their luster, and I just want to know: Where the eff did it go?? Because when I take my makeup off at the end of the day, there's always foundation residue on my makeup wipe, but there's hardly ever any blush. How can one stick around and not the other? It just doesn't make sense.
So it's time to settle which type of blush lasts the longest on oily skin: powder, cream, or liquid? Before jumping in, I asked Sonia Kashuk, Makeup Artist and Founder of Sonia Kashuk Beauty, to weigh in on the best way for oily-skinned ladies to get the most wear-time out of their rouge. She let me know that it's all about layering: "Start with a creme blush to give a natural, translucent flush to the skin. The creme will have great adherency and give the skin a beautiful glow. Follow with a light dusting of powder blush in a corresponding color to set the product in place and add longevity to wear." Did layering a powder over a cream blush actually last longer than any of the formulas on their own? Here's what happened when everything came in contact with my oily, oily skin.
Below: All pictures on the left are immediately after application in natural daylight, and all pictures on the right are after six hours of wear-time in artificial, white light.
Powder
First up: The obvious choice. I almost always reach for powder foundations over cream or liquid ones because I know it's the formula that will hold up the longest on my skin. So honestly, I had the most faith in a powder blush. But instead of just any ol' powder blush, I tested the longevity of one with an actual claim: Urban Decay's Afterglow 8-Hour Powder Blush (in Crush).
Urban Decay's Powder Blush, $26, Sephora
I didn't expect this highly-pigmented blush to last the whole eight hours — those kinds of claims are rarely made to handle oily skin. But I'll admit I was surprised that there was still some color left after six hours. I didn't quite feel like I needed to touch up at this point, but it definitely would not have hurt.
Cream
Honestly, I've always been afraid of cream blush. (Well, cream products in general, but especially blush). Besides the fact that I expected it to last oh, maybe 30 minutes on my oily skin, I would have to break that rule about not applying creams over powders (it usually doesn't apply smoothly— cream blushes are best over bare skin or liquid foundations). But I was totally shocked by the Sonia Kashuk Crème Blush (in Petal).
Sonia Kashuk Creme Blush, $25, Amazon
Using a small stippling brush, I blended the cream blush into my cheeks, and it went on flawlessly — no weird patchiness or anything. After six hours, well it's no surprise that it didn't last as long or as well as a powder blush, but there was still a hint of color there! Sure, it definitely needed to be reapplied for anyone besides myself to tell that a flush was once on those cheeks, but it didn't totally disappear.
Liquid
I'd never used an aerosol blush before, so I had no idea what to expect from the Sephora Collection Perfection Mist Airbrush Blush (in Such a Peach). While this blush can be sprayed directly on the face, that idea kind of freaked me out, so instead I sprayed it on a stippling brush and then applied it. The first thing I noticed is that this stuff is sheer. So if you can be a little heavy-handed with the rouge, this might help you out. It's totally buildable though, and I applied about four layers to reach my desired intensity.
Sephora Collection Perfection Mist Airbrush Blush, $32, Amazon
Like the cream blush, this also went on fine over powder foundation, and I really enjoyed the finish. While this also faded by around the six-hour mark, it wasn't totally gone. I was left with about what one layer of the blush looks like, and I probably would have reapplied another layer at this point. Just keep in mind that it's also possible that this type of blush could last longer (and appear more opaque) if sprayed directly onto the skin instead of the way I chose to apply it.
Cream + Powder
In order to put Sonia Kashuk's tip to the test, I first applied the same cream blush mentioned above. But instead of a long-wearing powder blush, I wanted to see if just topping it off with a regular blush would help extend the wear-time. So I swept the Hourglass Ambient Lighting Blush (in Ethereal Glow) over it.
Hourglass Ambient Lighting Blush (in Ethereal Glow), $38, Amazon
First I just have to say that I'm kind of obsessed with this combo, and have been wearing it a lot. And while I do feel like I was left with a slightly better flush after six hours than with the long-wearing powder blush alone, the results were pretty similar. Did I feel like I needed to touch up? No. But would it have been overkill if I had? No.
So, Which Was Best?
Is it super cheesy to say that I'm feeling more optimistic about wearing different types of blush on my oily skin? I was pleasantly surprised that there are actually cream and liquid blushes that don't slide off of my face after only two hours. And while powder blush foreseeably performed the best on its own, layering any powder blush over a cream or liquid will help squeeze out some more wear-time. For the best budge-proof blush though? Try layering a long-wearing powder blush (like the Urban Decay) over a cream-to-powder blush (like the Sonia Kashuk) or even over a waterproof, liquid blush (like the Sephora Collection). You just may be able to make it through the day without having to reapply.
Images: Miki Hayes