20 Cheap Valentine's Day Gifts For $20 Or Less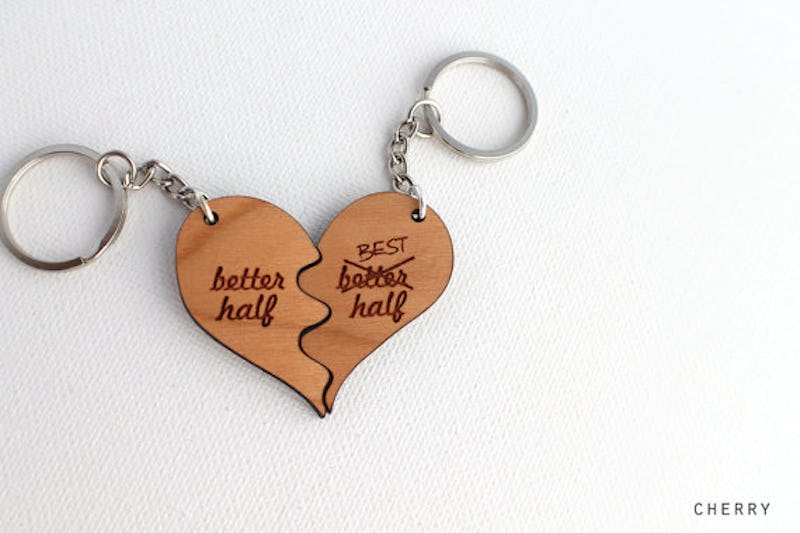 I'm not sure what a rich person's Valentine's Day looks like, but I imagine it's full of pretty flowers, new dresses, and a fancy dinner where the chef cares more about plate presentation than how much food you get. The good news is that there are cheap Valentine's Day gifts that are just as good, if not better than whatever the top one percent has planned. It's true that money doesn't buy happiness, but money certainly buys gifts. And lots of them.
Even if you can't afford four dozen roses or dinner at Per Se, you can still say "I love you" with presents. And a thoughtful card, of course. There are plenty of options if you are on a budget. You can go the classic Love Coupons route and write a few adorable, or kinky, redeemable notes. You can cook dinner for two, and simply spend the night snuggled up together at home in front of your favorite movie. You can buy some pretty daises from the corner store and a beautiful vase from Anthropologie for a stunning bouquet. The options are endless once you think outside the box. All of the gifts below cost $20 or less, and are sure to put a smile on your significant other's face.
1. Let's Cuddle Pillow Case
Let's Cuddle Pillow Case, $20, Etsy
As if you need a reminder.
2. Kanye Loves Kanye Mug
That's a whole lot of love.
3. Wanna Spoon
Wanna Spoon spoon, $9.95, Etsy
Finally a spoon that gets right to the point.
4. I Like Your Mug
Weiner Mug, $14.95+, Etsy
You don't need to be a dog owner for this mug to be a great gift.
5. Love Coupons
Love Coupons, $7.34, Etsy
Love coupons are a classic, and these are also an instant download, so they are perfect if you are looking for a last-minute gift too.
6. Your Side My Side Pillowcase
Pillow case, $15.95, Etsy
These pillowcases are as about as honest as it gets.
7. Better Half Keychains
Better Half Keychains, $20, Etsy
This small gift is a sweet reminder of your relationship, and you can carry it everywhere you go.
8. Pocket Notebooks
Pocket notebooks, $10, Rifle Paper Co.
These notebooks may be tiny, but they can hold great ideas, and even love notes.
9. Gift Card
Gift Card Envelope, $5, Etsy
This adorable envelope is the perfect way to gift someone a subscription to your favorite streaming service.
10. Postcard Couple
Postcard couple, $3.90, Etsy
This postcard is sweet enough to be hung as art.
11. Stay Weird
Stay Weird Banner, $19+, Etsy
An adorable banner for your adorable weirdo.
12. Pizza Shirt
Pizza Shirt, $20, Etsy
For lovers who also love pizza, I present the perfect t-shirt.
13. Love Pin
Love Pin, $12.26, Etsy
Now you really can wear a heart on your sleeve.
14. Couples Light Saber Keychains
Light Saber keychains, $18.95, Etsy
You and your SO are as great at Han and Leia. Never forget with this pair of keychians.
15. Heart Headphone Splitter
Heart Headphone Splitter, $12, Urban Outfitters
Never again do you need to only wear one earbud when you share music with your bae. This headphone splitter might save your relationship.
16. What I Love About You
What I Love About You Book, $10, Urban Outfitters
This fill-in-the-blank book is a wonderful love note to your SO.
17. Q&A a Day
Memory Journal, $16.95, Anthroplogie
For the sappy couple, this three-year-memory journal is perfect.
18. Letters To My Love
Love Letters, $14.95, Anthropologie
This is a year all about love letters, so get on it. This book does most of the work for you — you just fill in the mushy stuff.
19. Coffee and Tea Calendar
Calendar, $10.80, Rifle Paper Co.
For the coffee lover in all of us, this beautifully illustrated calendar can brighten any room. Plus it's 50 percent off right now.
20. Faceted Gem Vase
Vase, $14+, Anthropologie
After you pick up those Valentine's Day flowers, pop them in this stunning vase.
For more ideas, check out Bustle on YouTube.