31 Ankle Booties That You'll Never Get Tired Of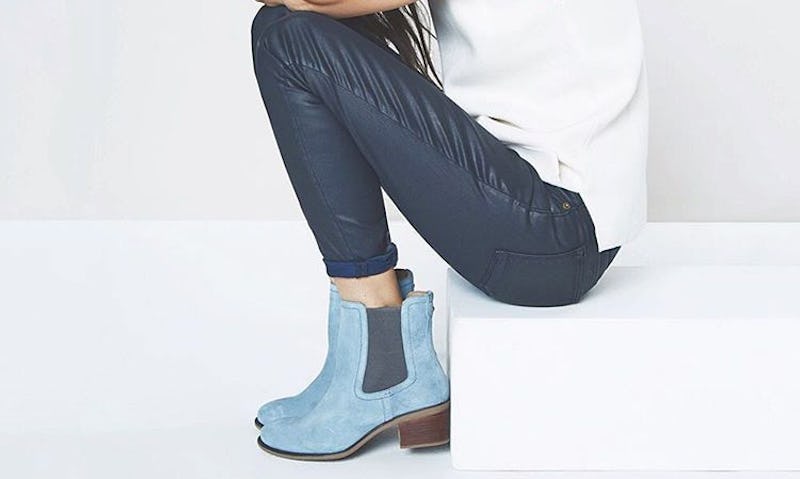 "How do I love thee? Let me count the ways." I'm pretty sure Elizabeth Barrett Browning was thinking about ankle booties when she wrote this powerful poem. If, in fact, I did count the ways, I'd never stop writing. But the main reason I love them? Their versatility. You can wear them during every single season, and they go with absolutely everything.
You know how people get excited about sandal weather? Like finally, it's warm enough to let our toes roam free in sandals, and we can say goodbye to socks for a solid few months? Well, I kind of feel the exact opposite. Living in a city like New York, garbage, dirt and you know, germs lurk everywhere. I officially stopped wearing sandals for about two months after I accidentally stepped into a puddle in the middle of summer, on a 90 degree day. I quietly whimpered, walked into a coffee shop, and wiped my poor foot. I then solemnly swore to stay away from any open-toed shoe of any kind.
Enter, the ankle bootie. Not only do they look super chic, but they protect your feet from the evils of dirt, pee, poop, and everything else this city wants to throw at you. Want to wear jeans? No problem. A skirt? You got it. A dress? Even better! Booties literally go with everything, and are dressed up enough for practically any occasion, whether you've got a date, or have to run to a meeting.
So while I won't be listing all the reasons I love booties, I will be listing 31 pairs of booties that you'll never get tired of wearing. Consider them your solemates. Get it?
1. The Slit
Jeffrey Campbell Oriley Cutout Ankle Boot, $195, Urban Outfitters
A pair of fun socks make these boots even more amazing.
Sam Edelman Petty Suede Ankle Booties, $140, Nordstrom
A classic suede bootie like this will become your go-to shoe.
Swedish Hasbeens Zip It Emy Ankle Boots, $180, Athleta
Obsessed with the little heel on this one — it gives you just a touch of extra height.
Jeffrey Campbell Truly Ankle Boot, $145, Nordstrom
If you're looking to throw it back to the '90s and add some edge to your outfit, these boots are for you.
Michael Kors Saylor Calf-Hair Ankle Boot, $275, Nieman Marcus
'Cause sometimes, your feet want to boogie, too.
Ronan Patent Ankle Boots, $150, French Connection
A pointed toe plus a Chelsea style make this the ultimate chic ankle bootie.
Report Signature Poe Black Lug Sole High Heel Boots, $34, Lulus
When it's raining, but you still gotta add some height, these boots are your answer.
Michael Kors Pierce Suede Ankle Boots, $93, Net-A-Porter
For a crisp fall day. Or spring. Or winter. Heck, even summer!
Grey City West Suede Ankle Boot, $205, Grey City Shoes
How cool are these for the transitioning months between fall and winter?
Hakka Inside Zip Boots, $160, Topshop
Thick heels are way better on your feet than skinny ones, plus they'll still give you some height. Win-win!
Ted Baker Lorcan Nubuck Ankle Boots, $255, Nordstrom
Who doesn't need a little patterned pink in their life?
Steve Madden Lauuren Navy Nubuck, $130, Nordstrom
A wooden block heel equals ultimate comfort.
Jigsaw Erica Suede Block Heel Ankle Boots, $170, Nuji
For when you've got a more formal event to attend.
Oasis Premium 70's Suede Ankle Boots, $61, Asos
Flower power to the rescue.
Dolce Vita Ginnee Bootie, $200, Nordstrom
Hardware is perhaps my favorite thing in an accessory or shoe, and this boot does not disappoint.
Black Point Toe Stretch Side Inserts Ankle Boots, $42, Sheln
Hello, beautiful. These will definitely be a summer staple for me.
Hudson London Geneve Black Leather Cut Out Heeled Ankle Boots, $184, All Sole
The heel gives you just enough height to avoid the icky streets.
Suede High Ankle Boots in Khaki, $50, Yoins
Neutrals really never looked so good.
19. The Low Chunk
Chunky Heeled Combat Boots, $35, Wet Seal
If these don't make you want to go out and kick ass, I don't know what will.
Truffle Collection Chloe Tassel Western Heeled Ankle Boots, $18, Asos
For Western lovers — these are for you.
ACE Back Buckle Boots, $140, Topshop
Why not show off a little ankle?
Marc Fisher Leather Stacked Heel Chelsea Boots, $53, QVC
This deep red color is too beautiful to resist.
French Connection Robrey Patent Leather Ankle Boots, $160, Lord & Taylor
Just as easy to put on as it is to take off!
Dolce Vita How The West Side Was Born Bootie, $130, Dolce Vita
Love the perforated leather on this bootie.
Jack Rogers Marianne Suede Ankle Boots, $100, Nordstrom
Why go straight when you can go scallop?
Isabella Buckle Ankle Boot, $89, Urban Outfitters
With a block heel and gorgeous hardware, this is the perfect modern-day bootie.
Bare Your Seoul Bootie, $45, Trend For Women
When you want to show some skin, but also keep your toes warm.
Mango Heel Suede Ankle Boot, $130, Mango
How chic do these look with a pleated skirt like this?
ASOS Reckon Leather Ankle Boots, $58, Asos
These are literally the perfect ankle boots.
Paul Green Delgado Ankle Bootie, $159, Tradesy
A little dip in the front is a lot flirty.
Landa Nellie, $70, Hush Puppies
There are so many reasons to love this comfy bootie, but the fact that you can wear it in the rain makes it a must-have for winter and spring's unexpected showers.
Images: @hushpuppies/Instagram; Courtesy of Brands