Watch Kylie Jenner's Guy Friends Do Her Makeup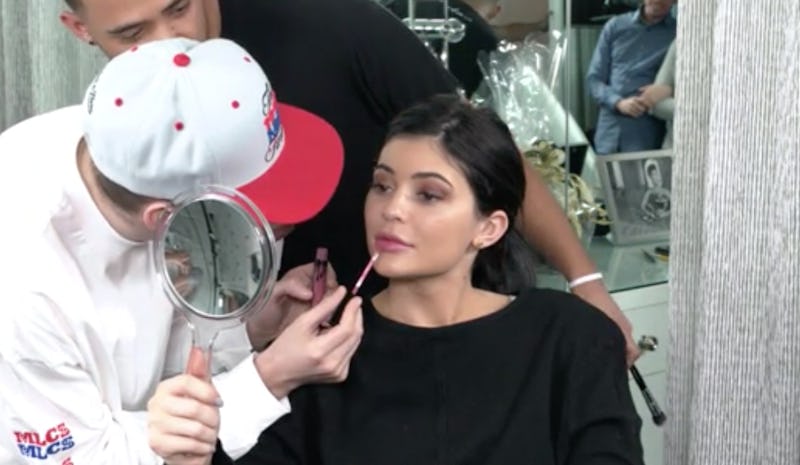 "Fellas, when you're doing this for your girl, be very gentle." Yes, it's true: Kylie Jenner's guy friends know how to blend out a contour with a soft touch. Watch Kylie Jenner get her makeup done by two of her guy friends, and be pleasantly surprised by their skills.
Kylie Jenner took to her app to share some fun in the glam room with her two guy friends, singer Harry Hudson and tattoo artist Josh Woods. With two talented and artistic guys coming together to accept the challenge of doing her makeup, it's really no surprise that Jenner's final look was not half bad! It sounds like they studied up, because Hudson knew it was "all about the blend."
YouTube is full of "husband/boyfriend does my makeup" videos where partners hilariously attempt to navigate the mysterious waters of foundation and mascara. They mess up lipstick and put on heinous amounts of rouge, and rarely every pull off a wearable look. Woods and Hudson, however, tapped into their artistry skills to deliver some serious glam.
Jenner posted the video, with the caption: "Who knew Harry and Josh were such good little makeup artists, lol! See what happens when two of my guy friends do my glam ... they actually weren't that bad, right?" In the almost two minute video, the boys introduce themselves as "Makeup by Harry" and "Makeup by Josh" and really live up to the alter egos.
They both blended foundation and concealer well, and lightly dusted some shimmer brown shadow on her lid before topping it all off with her infamous lip liner and what looks like her new Lip Kit by Kylie shade, Posie K.
Kylie shared her critique in the video by exclaiming, "You guys, how good does my face look?!" And she's totally right! The guys rocked it.
I hope Kylie Jenner make Hudson and Woods frequent guests on her videos. Perhaps they try to do her hair next? I'd watch that!
Want more style tips? Check out the video below, and be sure to subscribe to Bustle's YouTube page for more hacks and tricks!
Images: KylieJenner.com