Death Wish Coffee Is Your New Favorite Drink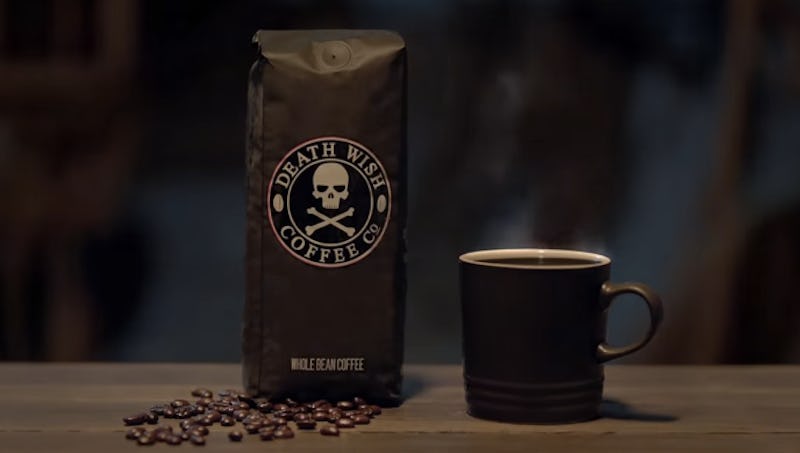 If, like me, you can't go without regular caffeine shots, then a particular brand may have caught your eye during the Super Bowl. That brand would be Death Wish Coffee. While their name may be extreme, the company is becoming more and more popular, and it's easy to see why. With a catchy concept, and a hardworking team of people, Death Wish Coffee Co. won a prestigious competition run by software company Intuit for the chance to have a Death Wish Coffee commercial screened during the Super Bowl. A total dream come true, and the brand is sure to become a staple in households across the US, but where exactly can you buy Death Wish Coffee. I'm sure you want to order some right now.
Death Wish Coffee, $19, Amazon
Luckily, there are no shortage of places that can get you your fix of Death Wish Coffee pretty much instantly. The best and easiest place to get it from is to order direct from the Death Wish Coffee website. Whether you want their original recipe coffee, or their Valhalla Java blend which has notes of chocolate in it (yum!), the Death Wish Coffee Co. website is the place to be — especially since the coffee is available in pod form for all you coffee machine aficionados.
Death Wish Coffee, $20, Amazon
Aside from ordering direct from Death Wish Coffee's own website, some of their products are also available on Amazon. As the Death Wish website says, "You can buy Death Wish Coffee products either on this website or on Amazon.com. We do not sell in stores." While this is the case at present, it's likely to change following the unveiling of their latest commercial and all of the people who will watch it. After all, the Super Bowl is renowned for having a massive audience (in 2015, it had upwards of 114 million viewers). That's a lot of potential customers, and future fans, of Death Wish Coffee.
Announcing the company slogan, the commercial says, "Death Wish Coffee — fiercely caffeinated." Watch the full Super Bowl ad below to see what all the fuss is about.
Click Here To Shop Death Wish Coffee.
Images: QuickBooks/YouTube