6 Ad Campaigns Where Male Models Have Wrinkles, But Female Models Look Frozen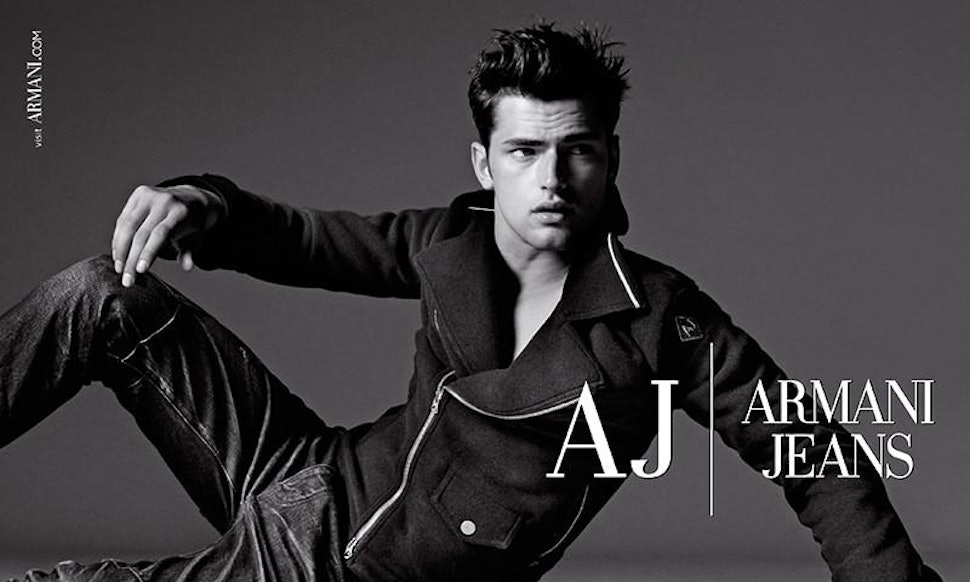 I was walking past an Express store over Christmas, when I saw something that made me stop short and fumble around in my purse for a jar of smelling salts. The male model on the poster in the window had a furrowed brow. I'll say it again, slowly: The dude had wrinkles. Imperfections. And wait — was that a little gray hair tucked behind one ear?
In stark contrast, the female model in the next window looked about 15 years younger than he did, her face as smooth and glowing as the moon in a children's book. No creases on her forehead, or lines spiderwebbing out from the corners of her eyes when she smiled. No sir.
As I sashay through my 20s, I've learned something kind of radical. Everybody has lines on their faces. Not just mummified bog bodies! Even my little sister, who's in high school, has a few lines on her face that help her — get this — form facial expressions. Who knew? The human face folds when we talk, cry, smile, and convey surprise. It doesn't matter how young or old we are — when we raise our eyebrows, our foreheads crinkle.
In the following ad campaigns, men get to keep those lines. (Call them wrinkles, call them facial expression aftermath, whatever.) It makes them look sexy, distinguished, mysterious, troubled, suave. But the women? I think you already know what happens to the women.
Boss Orange S/S 14
A funny thing happens when this guy raises his eyebrows — his forehead moves with them. What black magic is this?
Boss Orange S/S 14
That's more like it — slightly shocked expression, mirror-smooth forehead.
Armani Jeans F/W 12
Something terrible must have happened to this man to cause such horrible facial scarring. Oh, it's hard to look.
Armani Jeans F/W 12
Gap Back to Blue Campaign F/W 13
911! Excuse me? Excuse me? Is anyone listening? Someone needs to help this guy, he's got bags under his eyes!
Gap Back to Blue Campaign F/W 13
Don't let the "messy" hair fool you — her face moonlights as a cheese plate, an ironing board, or a silk duvet cover.
Banana Republic Holiday 2013
Real Life Man casts an appreciative glance at Robo-Woman, impressed at the authentic contours of her design.
Banana Republic Holiday 2013
His eyes crinkled when he smiled, but hers didn't. He had smile lines, but hers were nowhere to be found. It was true, then — opposites did attract.
Coach S/S 2013 Campaign
Years of hard manual labor as the face of Coach had clearly taken a toll on him. When he returned home for Christmas, even Squishy, his beloved childhood dog, didn't recognize his ravaged visage.
Coach S/S 2013 Campaign
Later that week, his girlfriend told him he was weak. "When you're truly a master of your emotions," she said, cracking an egg on her steely cheekbones, "Nothing shows through."
Express March 2013 Campaign
When would he find his perfect woman? He gazed into the sun, furrowing his brow in despair. He'd dated around, sure. Models, actresses. A brief fling with a Real Housewife. But was his dream completely unachievable? To find a woman whose face — it was too radical to even whisper aloud — moved when she spoke?
Express Holiday 2012 Campaign
Every morning, the world's most beautiful sisters had coffee, took a shower, and then "put on their faces" — as the vintage lady magazines used to phrase it — straight from the cryogenic freezer.