'Batman Vs. Superman' Isn't Quite 'Dark Knight'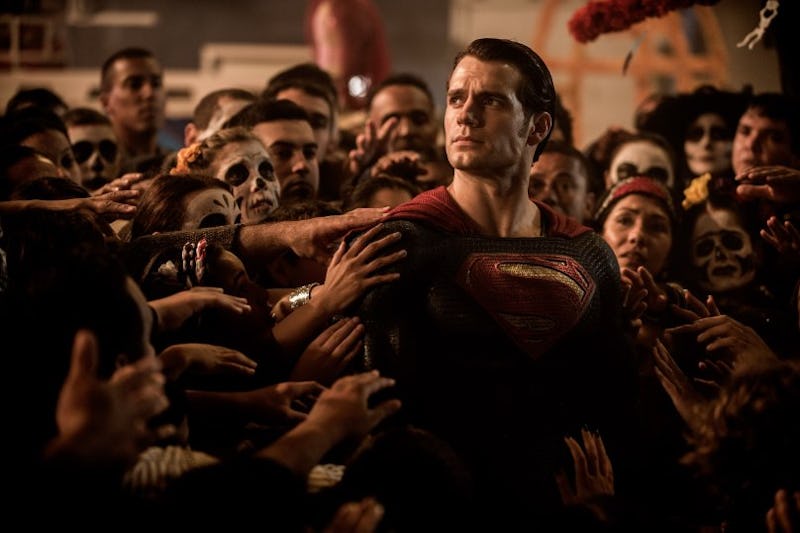 Batman Begins reinvigorated comic-book adaptations. With Christian Bale in the title role and Christopher Nolan behind the wheel, the 2005 Batman reboot would spawn two sequels — The Dark Knight and The Dark Knight Rises — and reignite the contemporary superhero franchise craze, as well as earning Heath Ledger a posthumous Oscar. One of those reinvigorated franchises is Man of Steel, the 2013 Superman adaptation that stars Henry Cavill in its title role and marks DC Comics' answer to the expanded Marvel universe. It'll take DC a bit of time to catch up to the significant head start Marvel has made, but it's moving ahead with Warner Bros. Studios: Two more titles will be added to its roster this year, Suicide Squad and the Man of Steel follow-up, Batman Vs. Superman: Dawn of Justice. Given that the last Dark Knight film premiered in 2012, it might seem like the perfect time for Christian Bale's Bruce Wayne to make an appearance — is Batman Vs. Superman part of the Dark Knight series?
To put it bluntly, no. There is a Dark Knight comic entitled Batman Vs. Superman: The Dark Knight Returns . Batman Vs. Superman: Dawn of Justice is not an adaptation of that comic. The Dark Knight series was based on a story by Frank Miller, and it's that story that formed the basis for Bale and Nolan's interpretation of the superhero's story. Rumors abounded following Comic Con in 2013 that Dawn of Justice director Zack Snyder had brought Miller on board as a consultant, according to io9, but it's turned out to be a more informal consultation. (A few fan sites have commented that The Dark Knight Returns might eventually get its own cinematic treatment as a crossover film — Dawn of Justice just isn't it.)
Then, there's the film's star: Ben Affleck, whose last comic book hero turn came as Daredevil in the 2003 film of the same name, will play a new Bruce Wayne opposite Henry Cavill's Clark Kent. Movieweb reported that Affleck's Batman will occupy that time period between Man of Steel and the Dark Knight, at which point Bale's Batman comes out of quasi-retirement. It treats Nolan's Dark Knight trilogy as "canon," according to Movieweb, so it looks to be an attempt to bridge the gap between disparate modern interpretations of the Batman legend. Snyder told the Guardian that Affleck's Batman is "war-weary"; that he's been through the mill and looks significantly older (Affleck is 43, but Batman will look to be in his fifties). With a different man playing the title role and in the hands of a different director, it's by no means a successor to Nolan's Dark Knight, but it seems to be a kind of spiritual successor.
According to Slash Film, Snyder himself said in 2008 that he hopes to adapt The Dark Knight Returns one day, which features a face-off between the two comic book heroes. And, despite the above disclaimer that Dawn of Justice isn't a successor to the Dark Knight trilogy, Snyder has confessed to taking cues from the comic book (and from Nolan). The comic will "influence the history" of his film, Snyder said, according to Screen Rant.
" Dark Knight Returns was such a big influence on me, that I wanted to honor him through imagery in the movie," Snyder told the Guardian in October 2015, adding that the parallels didn't go so far as to preclude a film adaptation of Returns in the future. (Slash Film has already compared the trailer's visuals to scenes in the comic, with promising results for fans of the Frank Miller material.)
The Dark Knight Returns focuses on the fraught relationship between Batman and Superman; Batman Vs. Superman: Dawn of Justice will also introduce other characters that will prove integral to the expanded DC Comics universe. It will introduce Gal Gadot as Wonder Woman — the first of three DC films for Gadot — and Jesse Eisenberg as Lex Luthor. Whatever Dawn of Justice holds in store, it's only the beginning of a future empire to rival that of Marvel Studios.
Images: Warner Bros. Pictures (2)