Your 2016 Girl Scout Cookie & Wine Pairing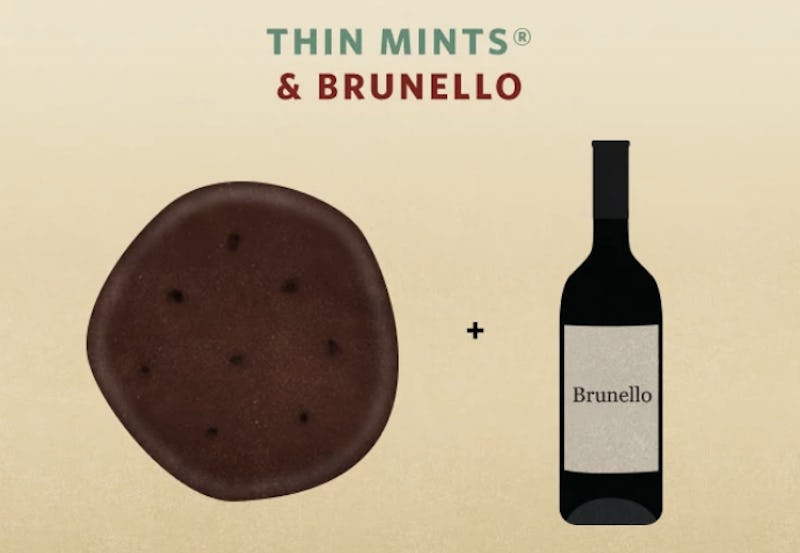 Like peanut butter and jelly, pizza and couches, Jim and Pam – some things just go together. While it's incredible that nobody had thought of this before, our friends over at Vivino have taken it upon themselves to list the most ideal wine and Girl Scout cookie pairings, and the results are absolutely divine. There are officially 12 different flavor profiles available in the cookies and naturally, someone with a more attuned taste in various wines would have to do the good duty of letting the rest of us know how we can get our wine on while indulging in a childhood favorite. (Like I said, some things just go together.)
Tracy Byrnes over at Vivino gathered together her best girlfriends — who happen to be über wine experts — and started pairing. While you may think that good wine and good cookies would go together no matter what (they usually do), they've truly taken it to the next level mixing and matching the flavor profiles of different drinks and snacks, and the results are nothing short of our next #WeekendGoals. (If you don't make plans to order cookies and pick up the specific wines recommended, you're totally doing yourself a disservice.) So check out the amazing lists, even more beautiful artistry, the even more incredible self-control it takes to evaluate the tastes of cookies and wine rather than just consuming them blindly, and try not to drool too much over your keyboard. Without further ado: the best combination of girl scout cookies and wine known to (wo)mankind:
Thin Mints & Brunello
Brunello recommendations:
Do-Si-Dos & California Zinfandel
California Zinfandel recommendations:
Trefoils & German Riesling
German Riesling recommendations:
Tagalongs & Amarone
Amarone recommendations:
Cranberry Citrus Crisps & New Zealand Pinot Noir
New Zealand Pinot Noir recommendations:
Samoas & Rioja
Rioja recommendations:
Rah-Rah Raisins & Bordeaux
Left Bank Bordeaux recommendations:
Lemonades & Italian Roero Arneis
Roero Arneis recommendations:
To learn more about the new cookie varieties and find Girl Scouts selling cookies near you, visit www.girlscoutcookies.org or use the official Girl Scout Cookie Finder app.
Images: Courtesy of Vivino (8)