Why Too Faced's Chocolate Bar Is A Must-Have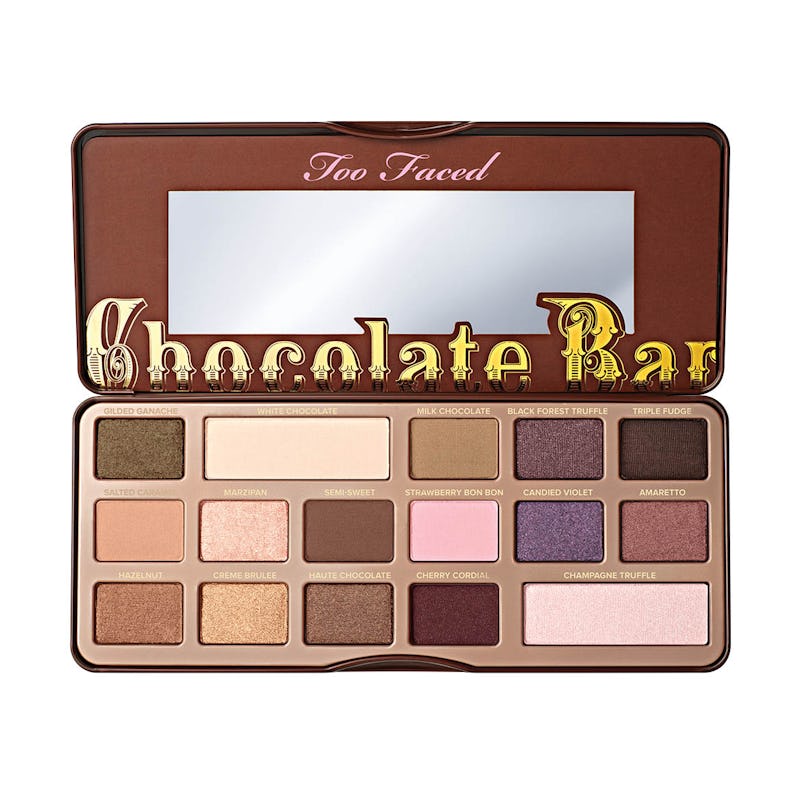 How can you not love something that smells like chocolate? Mix the smell of sweet, tasty treats with makeup and I'm in heaven. But just because it smells great doesn't necessarily make it a must-have product, unless of course it's one made by beauty brand Too Faced. If you're wondering " Is the Too Faced's Chocolate Bar is worth it?," here's the rundown.
Too Faced released the Chocolate Bar Palette in 2013 and since, have released the Too Faced Semi Sweet Chocolate Bar and the Chocolate Bon Bons palettes. The original Chocolate Bar Palette contains sixteen shades ranging from matte cream to deep, shimmering plum browns.
Too Faced Semi Sweet Chocolate Bar, $40, Amazon; Chocolate Bon Bons, $48, Amazon
A great palette depends on durability and capability for travel, a range of pigmented colors that are both warm and cool, matte and shimmering. If you're going to drop $50 on a palette, it should be wearable for all occasions and you want to love more than just a few shades.
Personally, I am in love with the Too Faced Chocolate Bar Palette. It's a great palette if you love warm brown shades, but if you prefer cool tones this is not the palette for you. There is one shimmer violet shade and a cool pink highlight shade, but that's it. If you do prefer cool tones in your everyday looks, the Chocolate Bon Bons Palette is a better option with it's matte cool grays, browns, and shimmery purples.
In terms of travel, this is a great palette with plastic packaging and a magnetic close. It'll hold up in a suitcase, and the colors are versatile enough to create a day or night look while you're on the road.
Too Faced Semi Sweet Chocolate Bar, $40, Amazon
Overall, it's a great palette if you love warm tones and want to carry eyeshadows and highlights in one place. I love that they made the highlight shades larger for better accessibility, and chose both a matte and shimmer formulation.
Urban Decay Naked Palette, $66, Amazon
For less than any of the Urban Decay Naked palette options and with more shadows, this is a great buy with, some might even argue, better formulations. UD Naked palettes retail for $54 with only 12 shadows, while Too Faced's Chocolate palette line retails for $49 with 16 shadows. When it comes to my personal collection, this palette takes the cake!
Want more style tips? Check out the video below, and be sure to subscribe to Bustle's YouTube page for more hacks and tricks!