No GoDaddy Super Bowl Ads This Year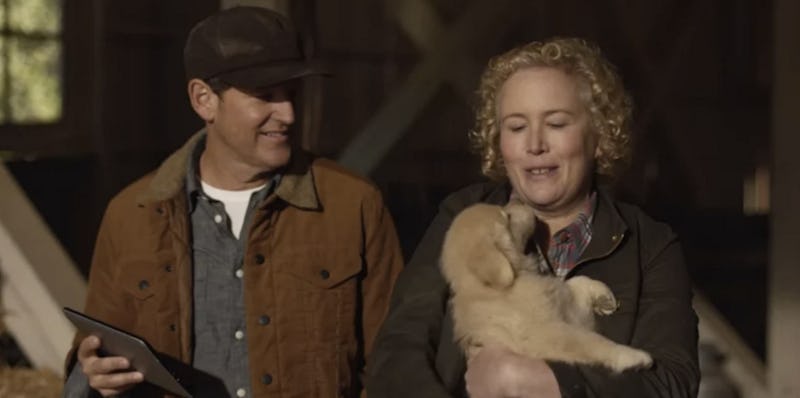 Sexism, homophobia and, finally, animal cruelty have all been claims lobbed at GoDaddy Super Bowl ads in the past 10 years. But, after years of offending people, GoDaddy is sitting out this year's Super Bowl. That's right, there will be no GoDaddy ad during Super Bowl 50 and the company has given a reason for taking a seat on the bench this year. According to AdWeek, skipping the big game is part of the company's new strategy. The site quoted an email statement from GoDaddy:
"The Super Bowl has been a great platform for our domestic brand building … It's done its job to get our name out there. Now, we can move beyond the generic megaphone of a Super Bowl campaign to a more targeted brand of marketing."
Of course, this comes in the wake of the company's years of ads that offended various groups, from women to animal activists. The ads, which were known for objectifying women, alienated female football fans and viewers by always reverting to overt sex appeal. The risqué ads became a Super Bowl staple in 2005, according to an AdWeek.com article. And, after a decade of often banned or outrageous commercials, GoDaddy's Super Bowl 2015 ad was the straw that broke the camel's back — I'm talking about the infamous puppy ad.
The commercial depicted a puppy struggling to return home to its family after falling off a truck. The harrowing journey ends with the happy puppy home again, only to find his owners are breeders who sold him online as they load him straight into a van. Yes, the ad was intended to be a humorous spoof of the Budweiser puppy campaign. But, not only did it miss the mark, many people saw it as promoting animal cruelty. GoDaddy pulled the ad and removed it from YouTube following the backlash, according to AdWeek.
While the puppy was the last straw for viewers, GoDaddy commercials have been problematic long before that, having degraded women and relied on sex to sell the company's services on numerous occasions. The scandalous Bar Refaeli GoDaddy ad from 2013 showed the supermodel kissing a stereotypical "nerd," explaining that it was the combination of "smart" and "sexy." The kiss was intended to be "gross," which seemed to imply that only kisses between "sexy" people are OK on national TV. And, of course, there had to be a man brought in to be the embodiment of intelligence.
The ads also launched a series in which then spokeswoman and Nascar driver Danica Patrick encountered professional women in her (faux) everyday life, like a police officer or masseuse, only to have each woman insist on giving an impromptu audition to be a GoDaddy girl (generally involving clothing being ripped off, and dancing on nearby poles or cars) — it's the old can you read my screenplay? joke. The women are generally belittled for their desire to be GoDaddy girls (cue Patrick looking embarrassed when the impromptu performance starts). So the message was at the very least confusing, and at the most, an excuse to cater these commercials to the male gaze.
In addition to the sexist commercials which mocked breast augmentation, depicted nagging wives, and downgraded flight attendants to "sky waitresses," GoDaddy also made the now infamous Lola ad, which used every gay stereotype in the book to make fun of the commercial's fictional protagonist, an ex-football player turned flamboyant lingerie designer.
Recently, however, GoDaddy has tried to focus more on small business owner-focused ads (see: the TV spot with the family who all have questionable celebration dances below), instead of its vintage "sex sells" campaigns.
Let's hope that GoDaddy's days of sexist ads are actually behind them and that the brand will do a better job producing humorous, small business-themed ads in the future. And if that means skipping the Super Bowl this year, that's fine by me.
Image: GoDaddy/YouTube