'RHOA' Viewers May Enjoy The Super Bowl Instead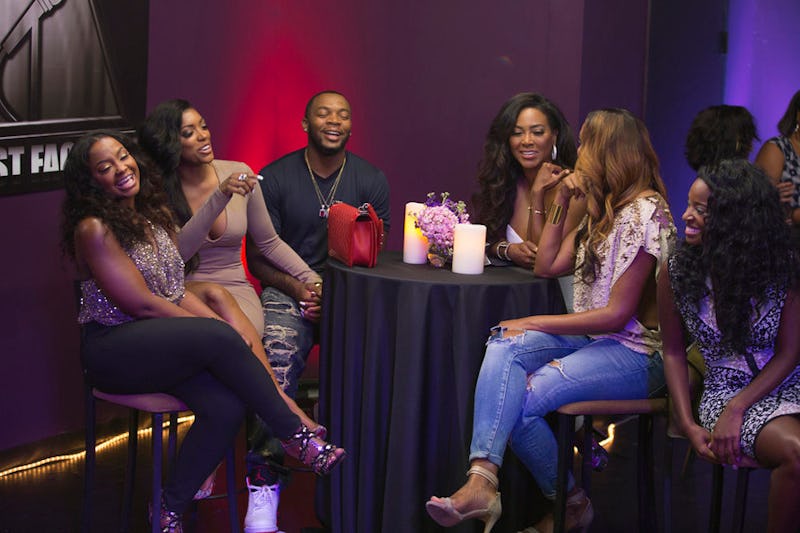 With Super Bowl 50 coming up on Sunday night, pretty much the entire nation's TVs will be tuned into CBS to find out who wins, the Denver Broncos, led by Peyton Manning, or the Carolina Panthers, rallying behind Cam Newton. The matchup is sure to be good, but for those who prefer reality TV to sports, I have some bad news: a new episode of The Real Housewives of Atlanta won't air on Super Bowl Sunday. That's right, Bravo is taking the night off, and won't be airing a single new episode (so Real Housewives of Potomac fans, you're out of luck too). Instead, you're free to catch up on RHOA Season 8 with a marathon of the first 13 episodes, which will be airing on Bravo on the day of the game.
But allow me to recommend an alternative solution, if you're disappointed that the second part of the cast's Jamaica trip won't be revealed until next weekend. Since almost everyone else will be tuning into the Super Bowl, why not join them and check it out? There are actually a surprising amount of similarities between the big game and The Real Housewives of Atlanta, even though on the surface they may seem very different.
Both Feature Teams
The same way people have their strong opinions about whether they're rooting for the AFC or NFC, whether they support Denver or Carolina, or whether they prefer Manning or Newton, RHOA is always divided. Currently, it seems like those teams are Everyone v. Kenya Moore, but in the past it's been more (or should I say Moore) evenly split between two camps. And just like the Super Bowl, it changes every year.
There's One Person No One Likes
The aforementioned Kenya recently had a descent back into villainy, but before that, the rest of the ladies were circling around new addition Kim Fields, whose "beatless brunch" and insistence on bringing or mentioning her husband and kids on every trip was wearing down the rest of the ladies' nerves, the same way some people seem to passionately dislike Cam Newton.
There Will Be Lots Of Credit Given To A Higher Power
The RHOA and the NFL can be frequently religious institutions. And just as often as you see a player point upwards to indicate his relationship with a higher power, so too does a "Hallelujah" often leave the lips of the Atlanta 'wives.
Both Are All About Commercials
Tons of people watch the Super Bowl in order to see the commercials, which have a reputation for being particularly funny or original. And, of course, the RHOA are all in Jamaica in order to film Cynthia's "Cynthia Bailey Eyewear" commercial.
Both Feature Veterans Who Are Back In The Game
Peyton Manning is back in the Super Bowl, returning in hopes of securing a victory after losing miserably to the Seattle Seahawks in 2014. And this season of Atlanta actually features two returns, Sheree Whitfield and NeNe Leakes. And, surprisingly, the two are actually getting along pretty well! If that can happen, then Manning should be able to figure out how to snag a victory.
Half The Fun Is Tweeting About It
Season 8 of Real Housewives of Atlanta has consistently topped the Trending Topics list. Meanwhile, on the show, even the simplest of comments can be misread if posted online, prompting a new 'wife on 'wife feud. And, of course, people will be reacting to and joking about the Super Bowl on social media all night long — so if you spend all your time checking the #RHOA tag, then maybe try swapping it out for a #SuperBowlL.
Images: Mark Hill/Bravo; Giphy (6)