The 'Magic Tree House' Is Heading To Theaters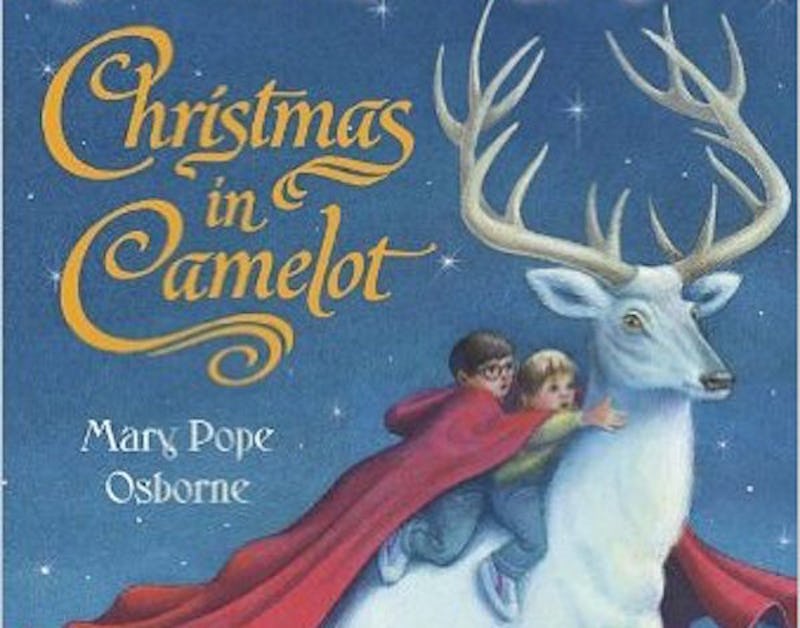 If you're like me, you spent a good portion of your childhood going on adventures with Jack and Annie and their time traveling magic tree house in the 54-book series by author Mary Pope Osborne, The Magic Tree House. And now all of us — as well as the next generation of young readers — can enjoy the reality of seeing these worlds and historical moments come to life right before our eyes on the big screen. Yep, you read that right. Lionsgate will be adapting The Magic Tree House books into a series of live action films.
While, right now, it's unclear as to exactly how many films we can expect, the first film is already set to be based off of Osborne's 29th book in the series, Christmas in Camelot. So will it be released around Christmas time? I would assume so. However, the only hard facts we have about the first film so far is that Osborne herself is executive producing the films — meaning she'll have a say on all things regarding the live creation of the tree house — and her husband, Will Osborne, has adapted the script along with playwright Jenny Laird.
Despite all of the excitement over this news and the idea of actually seeing Jack and Annie in Camelot, there's still this looming question in my mind. What books might we see in the series moving forward? Here is a ranking of the top ten books from The Magic Tree House series that I would love to see adapted next.
10. Vacation Under The Volcano
As the 13th book in the series, this adventure consisted of Jack and Annie living through the destruction that was Pompeii during the Roman Empire. And, honestly, having a kid-based historical depiction of Pompeii in theaters would be pretty awesome.
9. Midnight On The Moon
A science fiction movie centered around two kids on the moon sounds like perfection. I mean, if Star Wars was such a huge family hit, this would have to be also, right?
8. Mummies In The Morning
If they're thinking about releasing a film come Halloween time, this would be the perfect one to make. In just the third book of the series, Jack and Annie are confronted with Egyptian culture and a real life mummy.
7. Earthquake In The Early Morning
Recreating the famous San Francisco earthquake of 1906 couldn't be that hard, right? This movie would be the perfect way to teach kids about the historical event, as well as providing them with the reality of staying safe in an unpredictable emergency situation.
6. High Tide In Hawaii
Book number 28 would be a glorious trip to a place full of hula dancing and surfing. That is, until the tidal wave shows up. However, it would still be a good choice for a summer adventure film.
5. Night Of The Ninjas
In just the fifth installment of the book series, Jack and Annie learned how to become ninja masters when the tree house brought them to explore ancient Japan. And would I like to see Jack and Annie kick some butt ninja-style? Yes, I would.
4. Dolphins At Daybreak
This ninth book in the collection would bring the magic of the ocean to the big screen, and I can't even comprehend how amazing that would all look. With dolphin riding, coral reefs, and even an encounter with a shark, this movie would be a must on my list of films to go see.
3. Tigers At Twilight
This book had to be one of the biggest "edge of your seat" providers in the series. What's more exciting than reading about two kids running from tigers in the jungles of India? The film-watching experience would be both thrilling and magical.
2. Dinosaurs Before Dark
This one has to be one of my all time favorites. It's like Jurassic Park for kids, aAnd it also happens to be Mary Pope Osborne's very first book in the series. If that's not reason enough for this one to get made, then I don't know what is.
1. Twister On Tuesday
I don't know about you, but, when I first think about the Magic Tree House books, I think about this one. As number 23 in the series, this particular adventures centers around Jack and Annie undergoing the reality of twisters during the pioneer times, and that's something I can easily see being put on film.
With the production company behind The Hunger Games and Divergent backing it all up, Osborne herself executive producing, and the fact that Osborne has successfully sold over 130 million copies of her books, I honestly think we're in for a real treat with this adaptation.. And Lionsgate seems to be pretty confident about it all as well. "We're always looking for magical worlds to expand into potential motion picture franchises, and this is an iconic property that is beloved and recognizable around the world," says Lionsgate co-President Erik Feig, "The Magic Tree House books have been cherished by generations of readers, including my own children."
I'm personally excited to see who is cast as Jack and Annie in this live-action version, but, as for right now, where can I find a magic tree house? I'm hoping on board before that thing leaves without me.
Images: Random House Books (11)