O.J. Simpson Makes Many Calls On 'Crime Story'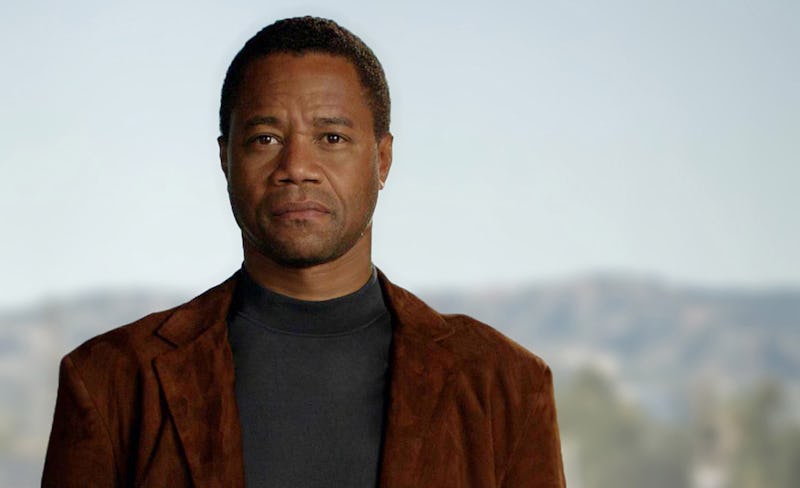 Sometimes truth is stranger than fiction — that's what new FX series The People Vs. O.J. Simpson: American Crime Story has proved in its exploration of the events surrounding the "Trial of the Century." The new series is based on a 1996 book by journalist Jeffrey Toobin, titled The Run of His Life: The People v. O.J. Simpson. The book, and subsequently the series, is about the events surrounding the murders of Nicole Brown Simpson and Ronald Goldman, as well as the trial of O.J. Simpson for the crimes, of which he was found not guilty. This piece of American history includes some familiar names, most notably "Kardashian." In a clip for episode two of the series, Simpson calls Robert Kardashian from his Ford Bronco, and since Kardashian was a close friend of Simpson's and part of his "Dream Team" defense, you have to wonder: did this phone call really happen?
According to people close to American Crime Story, it will attempt to be as close to a retelling of history as possible. Television writer Scott Alexander told Entertainment Weekly in January of 2016 that the writing staff was "very proud to how close [they] stayed to the truth while creating drama out of recent history." However, if there are some differences between the truth and the television version, said executive producer Brad Simpson, "it's because we have to consolidate things. It's a dramatic retelling. We've consolidated time ... But in terms of the truth of what happened, I feel like we've been really honest."
That may explain why, in this new clip from the second episode of the anthology series, it appears that Simpson makes a phone call to Kardashian during the infamous chase in his Ford Bronco:
So did this happen in real life? It's unclear, but no recorded timeline of the events of the police chase suggest that Kardashian actually received a call from Simpson. However, Kardashian was definitely part of the day's events in another way. While Simpson was in the Bronco, Kardashian read Simpson's alleged suicide note at a press conference held by defense attorney Robert Shapiro. The end of the note, which we see Simpson pen in the FX series, reads:
"Don't feel sorry for me... I've had a great life, great friends. Please think of the real O.J. and not this lost person. Thanks for making my life special. I hope I helped yours. Peace and love. O.J."
American Crime Story's depiction of Simpson calling Kardashian may be one of those changes made in order to condense the timing of events, rather than alter history. However, given the show's commitment to retelling these events accurately, it likely won't change much of the overall story.