The 'Jason Bourne' Trailer Features A Big Comeback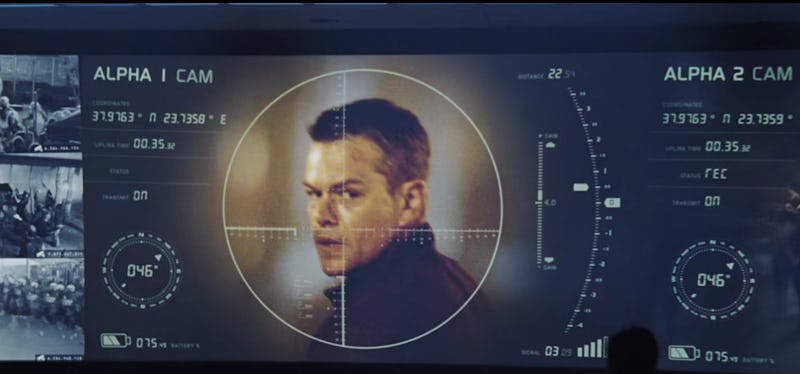 Jason Bourne is back and better than ever. In the new film, Matt Damon steps back into the shoes on the deadly assassin for the first time since 2007's The Bourne Ultimatum, and he doesn't miss a beat. See for yourself and watch the Jason Bourne trailer below, which shows that Bourne is still tough, even after all these years. Of course, it's understandable that Damon and Bourne are more badass than ever — Damon spent the years between Bourne movies going to space in Gravity and The Martian, winning a Golden Globe for The Martian, and being nominated for Academy Awards for Invictus and The Martian.
The trailer is the first look at Jason Bourne, the fifth Bourne movie in the franchise. The Bourne Legacy came out in 2012, but neither Damon nor director Paul Greengrass, who has helmed all of the other Bourne titles, were involved in it. Bourne declares in the trailer that he knows who he is and he remembers everything, but he is quickly rebuffs by a female voice: "That doesn't mean you know everything. The world is at war. We need the perfect weapon." The trailer shows the Bourne we know and love on a motorcycle, fighting shirtless, sharp shooting, and just him being his own badass self. Julia Stiles, Alicia Vikander, Tommy Lee Jones, and Vincent Cassel co-star in this new thrill espionage ride, which will be released in July.
Back in 2007, Damon told Collider that he didn't want to do a fifth Bourne movie. "For me I kind of feel like the story that we set out to tell is has now been told. I love the character, and if Paul Greengrass calls me in 10 years and says, 'Now we can do it, because it's been ten years and I have a way to bring him back,' then there's a world in which I can go, 'Yeah, absolutely.'" For the record, it's only been eight years, but who's counting? We're all glad to have him back.
Watch the Jason Bourne trailer below and rejoice at Damon's big return.
For more of Bustle's football coverage, check out the video below: