Why These Hourglass Powders Are Worth The Money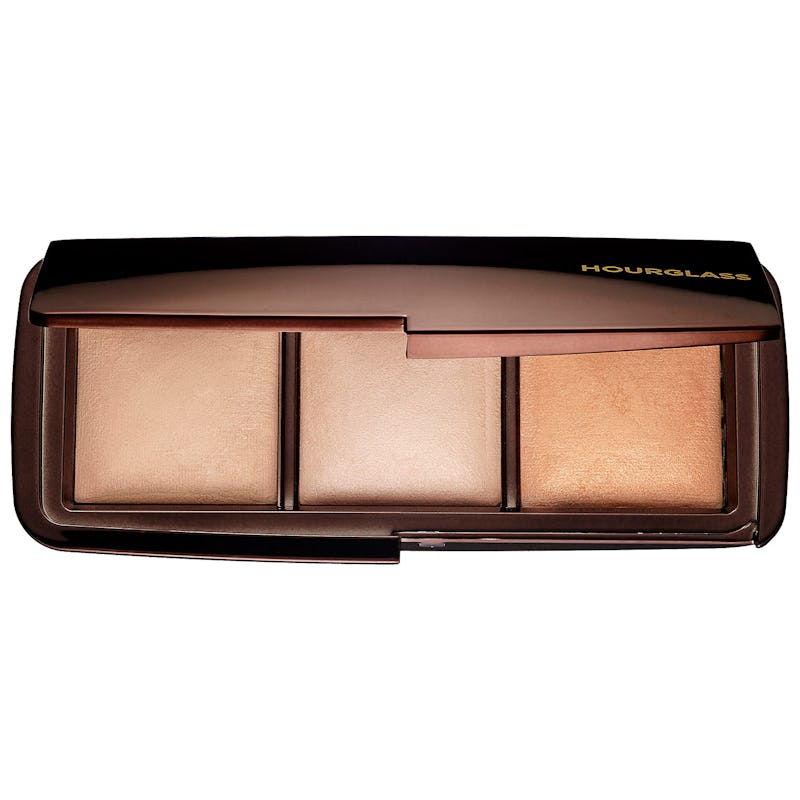 Hearing the concept of the Hourglass Ambient Lighting Powders, these little powder packets may seem too good to be true! Who doesn't want a cheat to look good in every single light? However, there's a catch: each little bundle of joy is $45 a pop. The three-shade palette is $58. All six shades together are approximately $300. Essentially, this is a commitment.
Each powder is supposed to create the perfect illumination for your face by diffusing and softening the look of your skin and filtering out any harsh light. They call it "Photoluminescent Technology." According to the Hourglass website, the founder of Hourglass, Carisa Janes, said that the powders were designed and inspired by her childhood home. Her mother had pink lights in all their lamps because it was the most flattering to her skin tone.
Hourglass Ambient Lighting P alette, $62, Sephora
However, the six shades are designed with a wide variety of women in mind. Each one uses different tones for different purposes. Ethereal mimics moonlight, Diffused conceals redness, Dim blurs imperfections, Mood brightens, Luminous creates a candlelit effect, and Radiant gives you that glowy summer-kissed look you've been dreaming about. Each separate shade is designed to give you a filtered effect, without having to use your iPhone apps.
The question now posed is this: is it worth it for you to purchase these powders? Fortunately for you, the entire beauty blogosphere has been asking the same question.
Hourglass Ambient Lighting P alette, $62, Sephora
Here's why you should give the Hourglass Ambient Lighting powders a try.
1. They Are Long-Lasting
Hourglass Ambient Lightening Palette Limited Edition, $132, Nordstrom
Nikkie of NikkieTutorials YouTube fame said on her blog that the powders are soft, long-lasting, and finely milled, adding that she, "got around 8 hours of wear out of it." Heck yes!
2. They're Awesome At Highlighting
MakeupbyTiffanyD reviewed five of the six finishing powders as well as the special Hourglass brush. She said that the powders looked good on matte finish makeup and that the colors were light, flat, and versatile and that she noticed she looked great on camera when using them.
3. They Blur Imperfections
YouTuber MissLizHeart also loves her three color Hourglass Ambient Lighting palette and demonstrates how she uses the color Mood Light as a base for her blush, Radiant Light to give dimension, and Dim Light almost every day in the video above. She said, "If you give it a minute and then look at yourself you'll notice that if you have larger pores or if you have dry spots, it just blurs it all out and it just gives you the most gorgeous finish."
4. They Are Subtly Beautiful
Stephanie Nicole describes each powder's effect per skin tone and explains the importance of makeup making a subtle difference. She said that they would make a wonderful addition to anybody's collection, and to "take a few pictures in different light" to decide which ones you want to try.
6. They Give You A Natural Glow
Wayne Goss explains that on the hands they look like they're laced with a lot of shimmer, but that it doesn't translate to the skin. Many people believe that they are highlighting tools, but they're actually a cross between a shimmer pressed powder and a pressed face powder. He loves them because, "They give the most gorgeous sun-kissed look."
7. They Work For Everyone
JoshCollierMUA explains how to use each of these finishing powders and talks about which ones work best for different skin tones. The main takeaway is that they are extremely versatile and there's at least one shade out there for everyone.
Most reviews online of these Ambient Lighting Powders are extremely positive. If you are looking for a subtle way to illuminate your skin, Hourglass has made that possible with these pressed powders. Invest in them separately or get the Ambient Lighting palette as a trial!
If you already know you like the Ambient Lighting powders, go check out their new Strobe collection for extra shimmer!
Want more beauty tips? Check out the video below, and be sure to subscribe to Bustle's YouTube page for more hacks and tricks!
Image: Sephora